Hike to Gettysburg Quarry perfect for families, history buffs
By Tara Schatz, Back Road Ramblers
DORSET — Looking for a fun hike that isn't too difficult and includes rare natural communities along with incredible geological and human history? The hike to Gettysburg Quarry in Dorset is a 2.5-mile loop that is perfect for families, history buffs and nature lovers.
Owl's Head Town Forest hides a rich geological and human history that includes old marble quarries, stone cellar holes, and abandoned industrial equipment.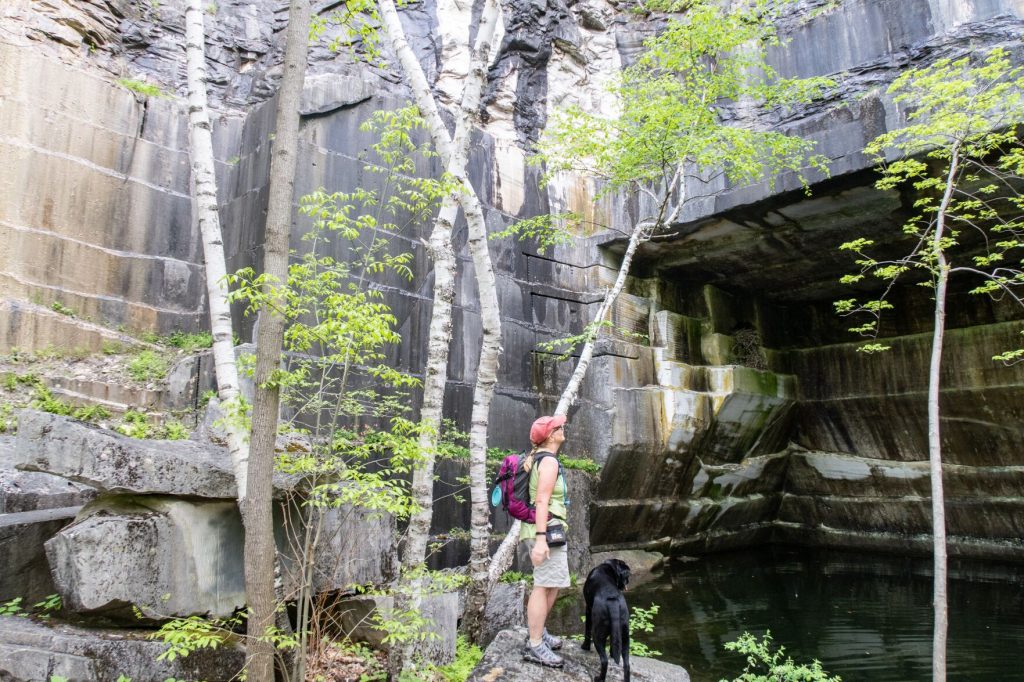 Gettysburg Quarry, along with many abandoned quarries in Dorset, is slowly being reclaimed by the forest. Wild columbine grows from crevices in the marble and water drips eerily into the turquoise pools framed by massive walls of cut stone. It's hard to imagine a bustling quarry in such a quiet and peaceful spot.
The area is also part of a rare natural community in Vermont — a temperate calcareous natural community, which includes plants found only on calcium-rich outcrops, such as yellow lady's slipper, hooker's orchid, spreading juniper, and four-leaved milkweed, among others.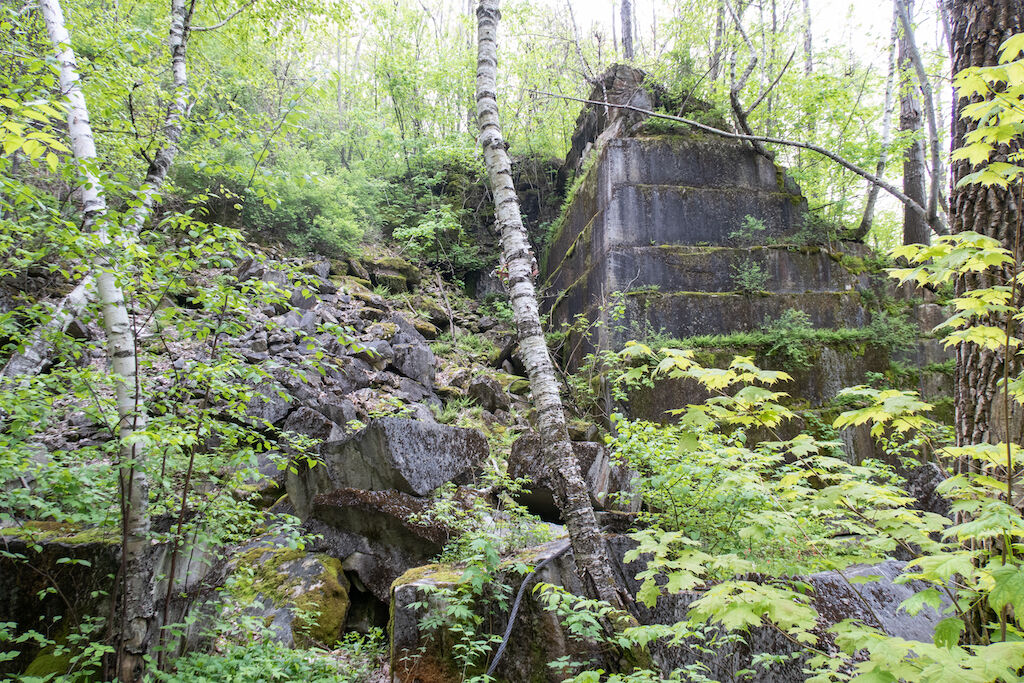 The 2.5-mile loop to Gettysburg Quarry is easy enough for kids and dogs and includes a nice viewpoint to the southwest.
More adventurous hikers can continue onward to the summit of Owl's Head (2,474 feet). The trek to Owl's Head doubles the length of the hike and is a steep trek through an enchanting hardwood forest.
Directions to the trailhead
From the junction of VT 7A and VT 11/VT 30 in downtown Manchester Center, head north on VT 30 for 4.4 miles. Turn right onto Raptor Lane and follow it for 0.7 miles to a small dirt road on the left, marked by a trail sign. Follow this to the end and park just beyond the trailhead. The parking lot (space for about six cars) is on the right.
Detailed trail guide to Gettysburg Quarry
From the parking area, enter the woods over a small footbridge near the trail kiosk. Hawks Pass Trail is blazed with yellow diamond-shaped trail markers.
This gradual uphill climb through a mixed hardwood forest showcases many of the diverse understory plants that are indicative of a Rich Northern Hardwood Forest — maidenhair ferns, wild columbine and Dutchman's breeches.
You'll quickly pass over the remnants of an old stone wall and turn left on a gravel road. This short section of trail brings you to a defunct parking area on private property. From here, the trail is blazed in both blue and yellow, heading uphill.
Continue to follow the yellow blazes, veering right off the blue-marked trail. The yellow-blazed trail ascends a wide, well-traveled path lined with wildflowers in the summer and shaded by young maple, white ash, cherry and beech trees.
After turning left at a grassy trail junction, you'll pass a huge pile of marble slabs that appear as if they've been tossed carelessly down the mountain. This isn't far from the truth — much of the marble found in this quarry dump wasn't good enough for the retail market, so it was piled up and left behind.
The quarry dump gives way to a sheer rock precipice on your right, followed by a blue-blazed trail junction leading up to Owl's Head. Bypass this trail, and continue straight to visit Gettysburg Quarry.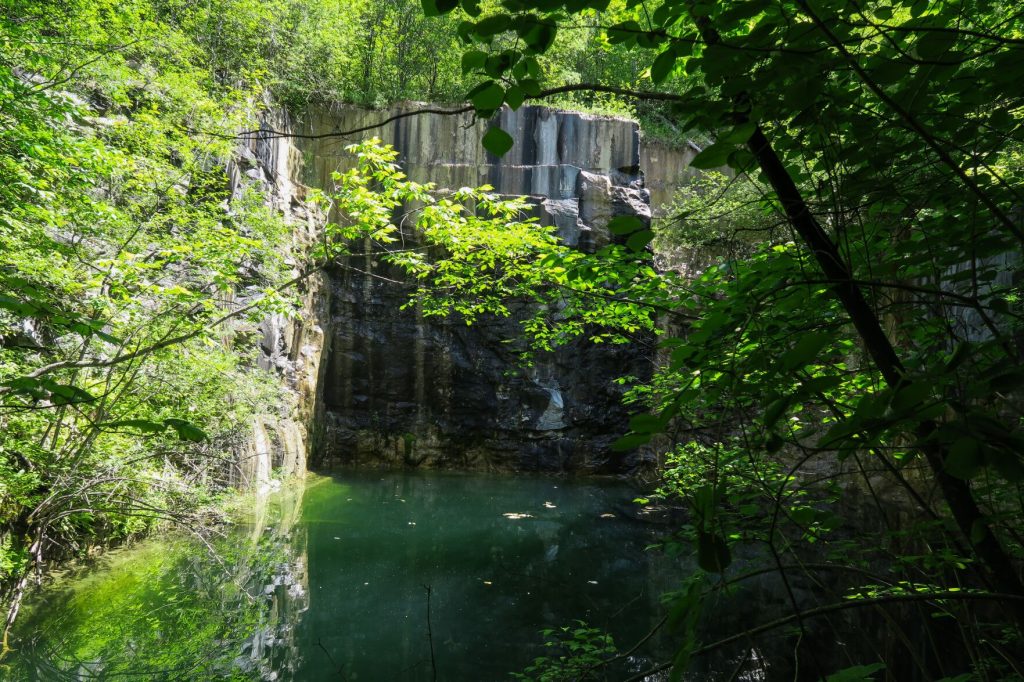 The diverse, wooded landscape you see here today would be unrecognizable 100 years ago when farmed fields covered the hillside, and numerous roads crisscrossed the hills leading to the quarries.
Workers have quarried marble in Dorset since 1785, and Gettysburg Quarry was in operation from 1866 until 1897. Most of the marble quarried at Gettysburg went to Philadelphia to be used for buildings and government contracts for cemetery headstones.
From Gettysburg Quarry, follow the spur trail to another quarry dump-turned-vista. Art's Bench, dedicated in 2016, honors Dorset resident, Arthur W. Gilbert, who worked for 30 years in Owl's Head Town Forest.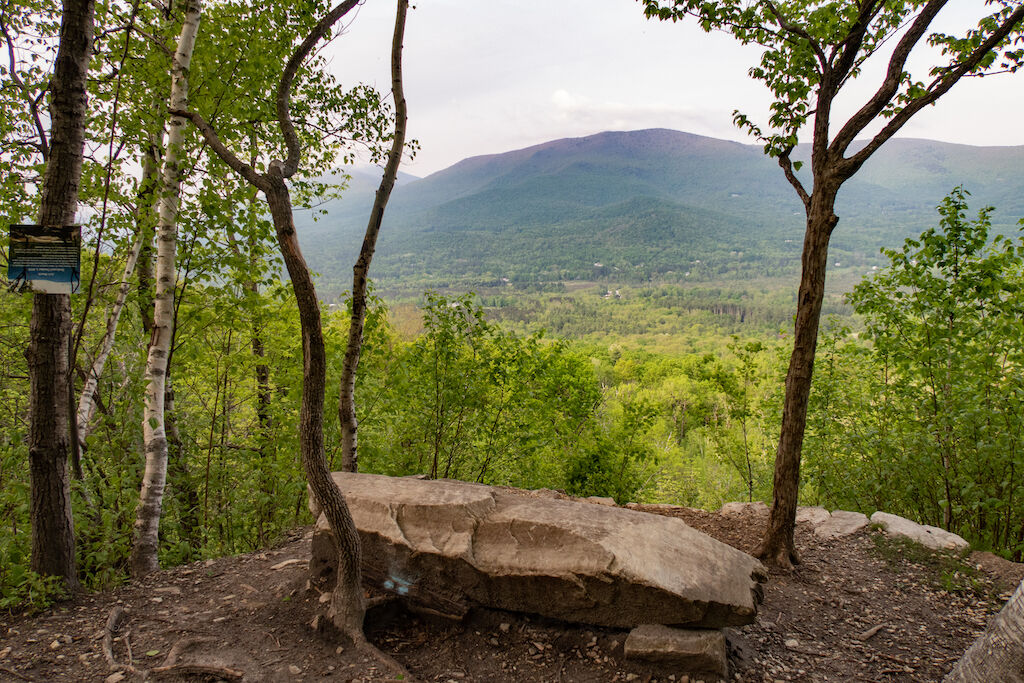 The marble bench was built by members of the Vermont Youth Conservation Corps. This spot provides excellent views of Mount Equinox (3,648 feet), Mother Myrick Mountain (3,361 feet) and Antone Mountain (2,600 feet).
From Art's Bench, retrace your steps and take a right to head downhill on the blue-blazed Gettysburg Quarry Trail. The trail descends 0.5 miles and intersects with the yellow trail.
Retrace your steps past the gravel road onto the yellow-blazed trail another 0.5 miles back to your car.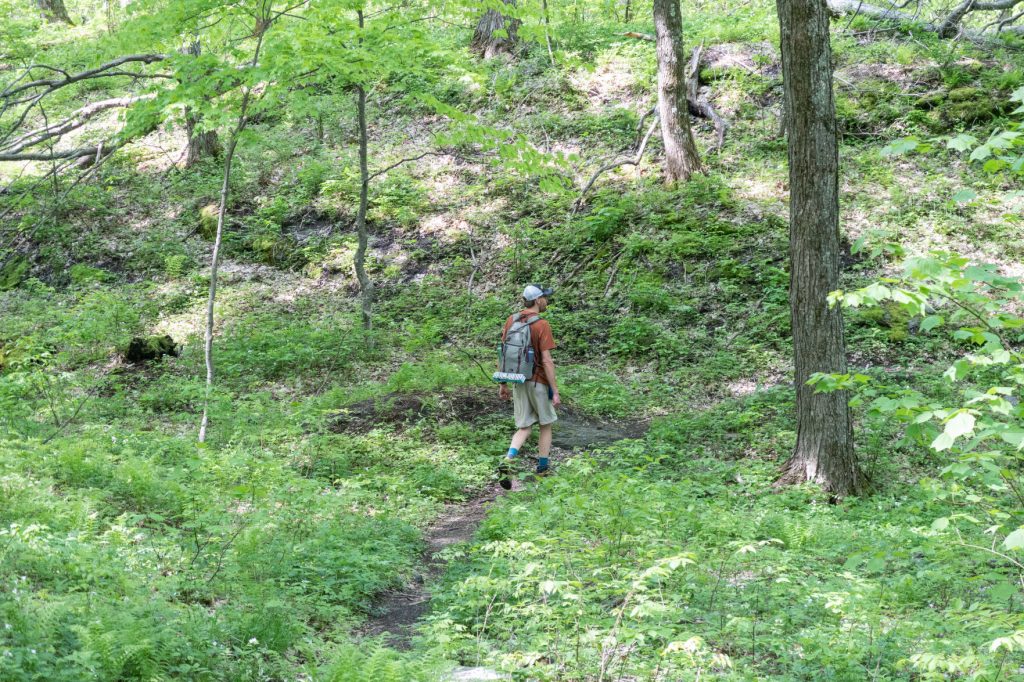 Extend your adventure in Dorset
After working up a sweat and an appetite on your hike, stop for a swim at the nearby Dorset Quarry, 0.2 miles north of the trailhead on VT 30. This is the oldest marble quarry in the United States, and you'll be in good company on a sweltering summer day.
From there, head into the town of Dorset and visit Dorset Union Store, where you can grab a sandwich from the deli, a drink from the cooler or an ice cream from the creemee stand in the front of the shop.