Violins, guitars and mandolins are this luthier's specialty
By Bob Audette
Vermont Country
BRATTLEBORO — If a workshop can be characterized as both tidy and cluttered, David Sullivan's shop on Spruce Street might just be the exemplar.
Light shines through the many windows upon work surfaces where tools of his trade — making and repairing violins, guitars and mandolins — rest for the next project on his list.
The floor is neatly swept, but in a nearby closet are stacked more than a dozen guitar cases, each housing a guitar in need of some sort of work, including a vintage Martin classical guitar, nearly 150 years old.
"My daughter says I have a collection of broken guitars," said Sullivan. "Like the Martin, which I'm slowly putting back into working condition and will probably sell. This does not have the original bridge. Somebody replaced this. It will have to come off in a very delicate way so that I can make a restoration bridge."
When he's done with the Martin, it will probably bring in between $4,000 and $5,000, and go to someone who is both a player and a collector.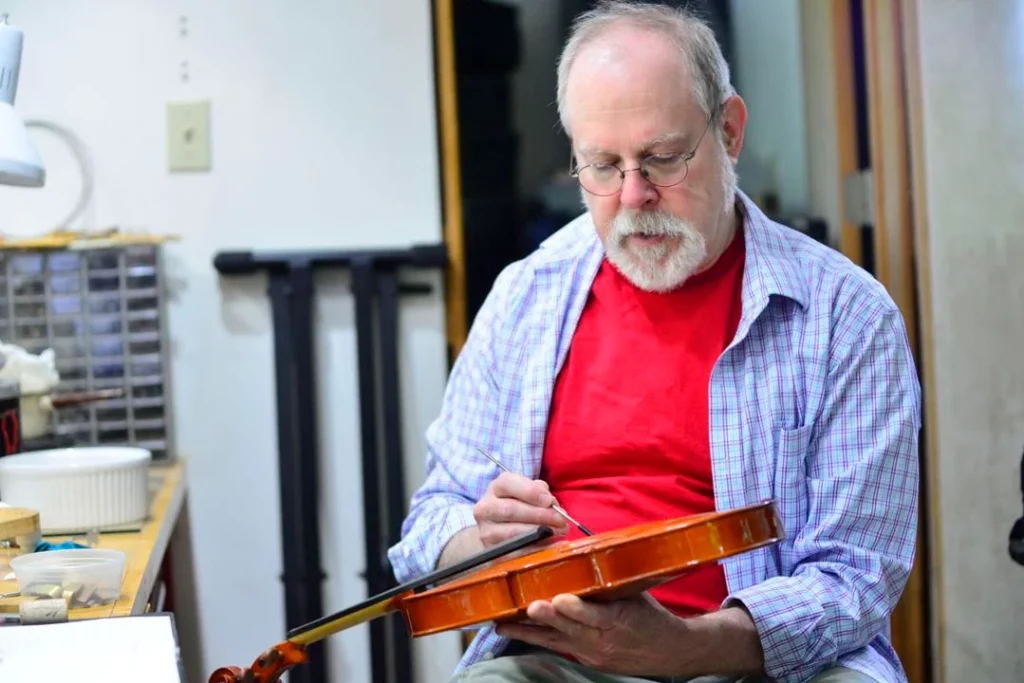 "I've got large projects that are constantly being interrupted by small projects," said Sullivan, while he tinkers with a violin. "It needs a little glue and a little adjustment, and I can take care of that and get it back to them as quickly as I can."
On a nearby bench sit guitar and violin bodies he has started on, and over that bench are about half-dozen violins in all states of repair.
"I have to take into consideration what kind of work needs to be done and does the instrument have a lot of value," said Sullivan, who's not going to ask a customer to spend more money on a repair job than an instrument is worth.
Sullivan graduated from State University at Albany in the early 1970s with a music major, but after graduation he went into carpentry, a time when he learned a lot of woodworking skills.
"There are certainly analogies one can make between the structure of a violin or guitar or house," he said. "There are certain workflows that are very similar. There are certain nomenclature that's very similar to plates, bottom plates, for example."
After working as a carpenter, he began to apply some of his skills to repairing musical instruments.
"I began this work as a college student, when my fiddle came open one winter," he wrote on his website. "Having always been handy with my hands, I bent some ears and found a good book on violin building, made some simple tools on a student's budget, and began my long and mindful journey into a lifetime of instrument repair, restoration and construction."
In 1988, he and his wife moved to Brattleboro from Northfield, Mass., where they had settled after living in New York City for several years.
Eventually he took a job as an assistant with Douglas Cox, a master violin maker in Brattleboro, and worked with him for about seven years.
"Working as his assistant, I refined a lot of my skills and gained a bit of insight," said Sullivan. "It was a wonderful experience for me."
While you might find one of Sullivan's instruments in a local music shop, most of his clients find him online through reverb.com, a website that helps people sell new and used equipment.
"It's a very well-organized way for me to sell," he said, and it also takes care of sales tax, shipping and all the accounting details.
Sullivan still does a bit of carpentry around the house, which he describes as "an unfinished project."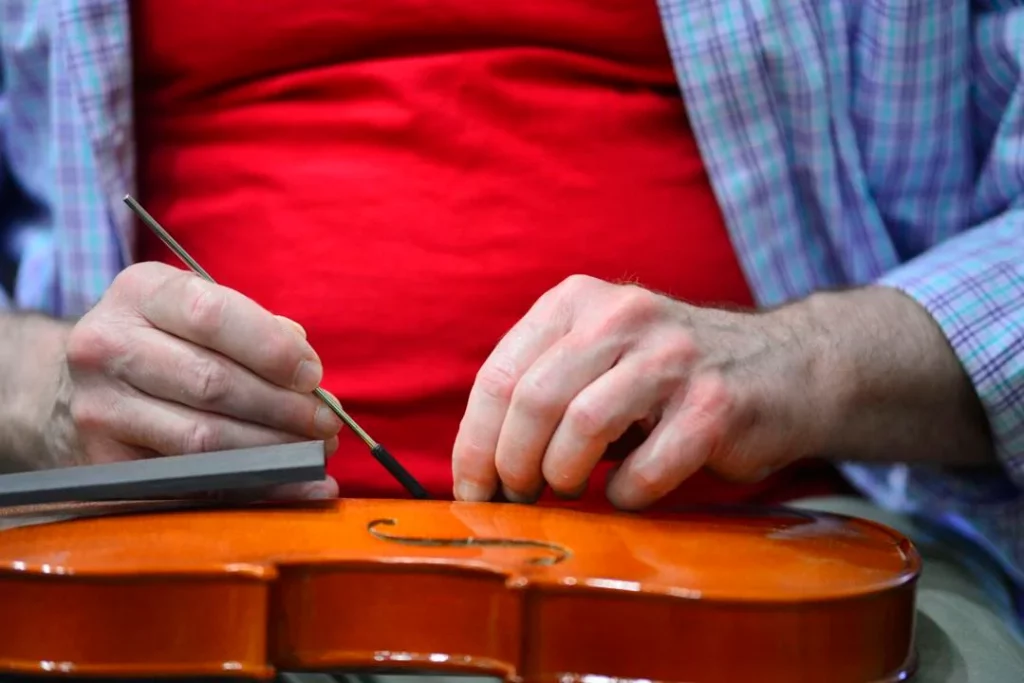 "Because I know I can do it myself," he says with a smile, "I won't hire anybody else to do it. It's probably something I need to get over."
Sullivan said he doesn't see retirement on his horizon, though he is slowing down his work and only taking on projects that intrigue him.
"This is a great place to spend my time," he said, gesturing around his second-floor workshop. "It's a really pleasant spot, and I really enjoy the work. I don't see any need to stop doing it."
To learn more, visit davidsullivan-luthier.com.
Bob Audette has been writing for the Brattleboro Reformer for close to 15 years. When he's not working or hanging out with his 6-year-old son, he can often be found on one of the many trails leading to the summit of Mount Monadnock, in southern New Hampshire.