These 3 Southern Vermont shops will tempt you with distinct treats that dare to go beyond mere maple (but they have maple stuff, too)
By Gena Mangiaratti
Vermont Country
When we think of sweet things in Vermont, we tend to think of maple syrup and maple candies. But as a certifiable sweet tooth, I couldn't help but notice the variety of chocolates and other locally made candies on the shelves of our co-ops, markets and The Coffee Bar in Bennington, where I noticed the goat milk caramels made at Big Picture Farm. The farm in Townshend became one of three local businesses I tracked down to ask about their sweetest confections.
Big Picture Farm
When I brought the box of the goat milk caramels into the newsroom, my co-workers were skeptical. "But does it taste like goat milk?" they asked.
We reached the consensus that the caramels, which come in multiple flavors, including sea salt and vanilla, maple cream and cider honey, do not, indeed, taste like goat milk. And those of us, including myself, who are not normally excited about caramel, were tempted to eat more.
"Goat milk is particularly well-suited for caramel for a lot of different reasons," explained Louisa Conrad, who owns the farm with her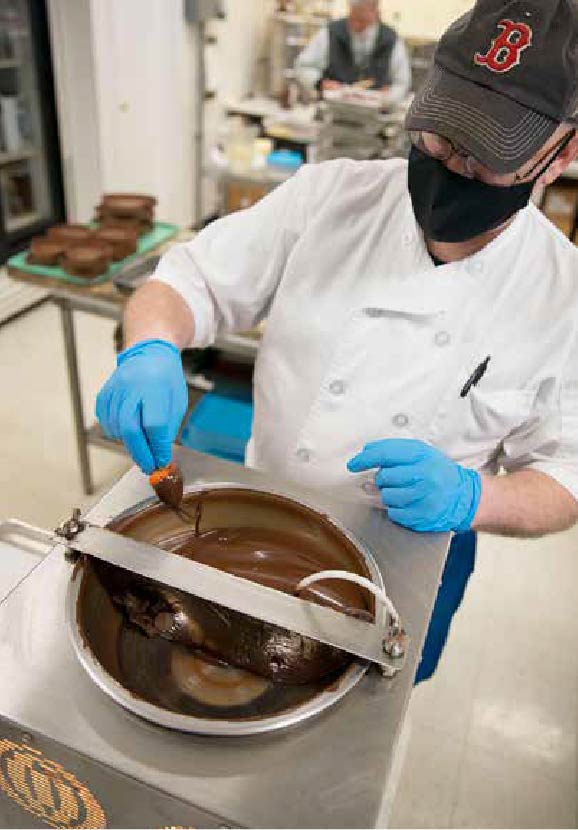 husband, Lucas Farrell. "The fatty acid chains are shorter, so when you cook the milk, it breaks down to make a smoother, more velvety confection than a cow milk would."
Conrad and Farrell started the goat farm, at 1600 Peaked Mountain Road, in 2010. They also make farmstead cheeses, but wanted to add something new and different to their menu. After researching specialty food stores, they decided on something sweet, and settled on caramel.
Each artfully crafted box includes information on the flavors, as well as the names of the goats on the farm, which is certified Animal-Welfare-Approved.
"My husband and I are artists and writers. We really wanted something you could send to someone as a gift," Conrad said. "We really wanted to tell stories of the goats and our farm and all that. So it seemed like a cool way to be able to sort of combine our skills."
Each flavor has its own color stripe on the wrapper. Others are chai, cocoa latte, wild chocolate mint, raspberry rhubarb and brown butter bourbon.
The farm also makes chocolate-covered caramels, goat milk truffles, original chocolate bars and more.
More information can be found at bigpicturefarm.com or by calling 802-221-0547.
Village Chocolate Shoppe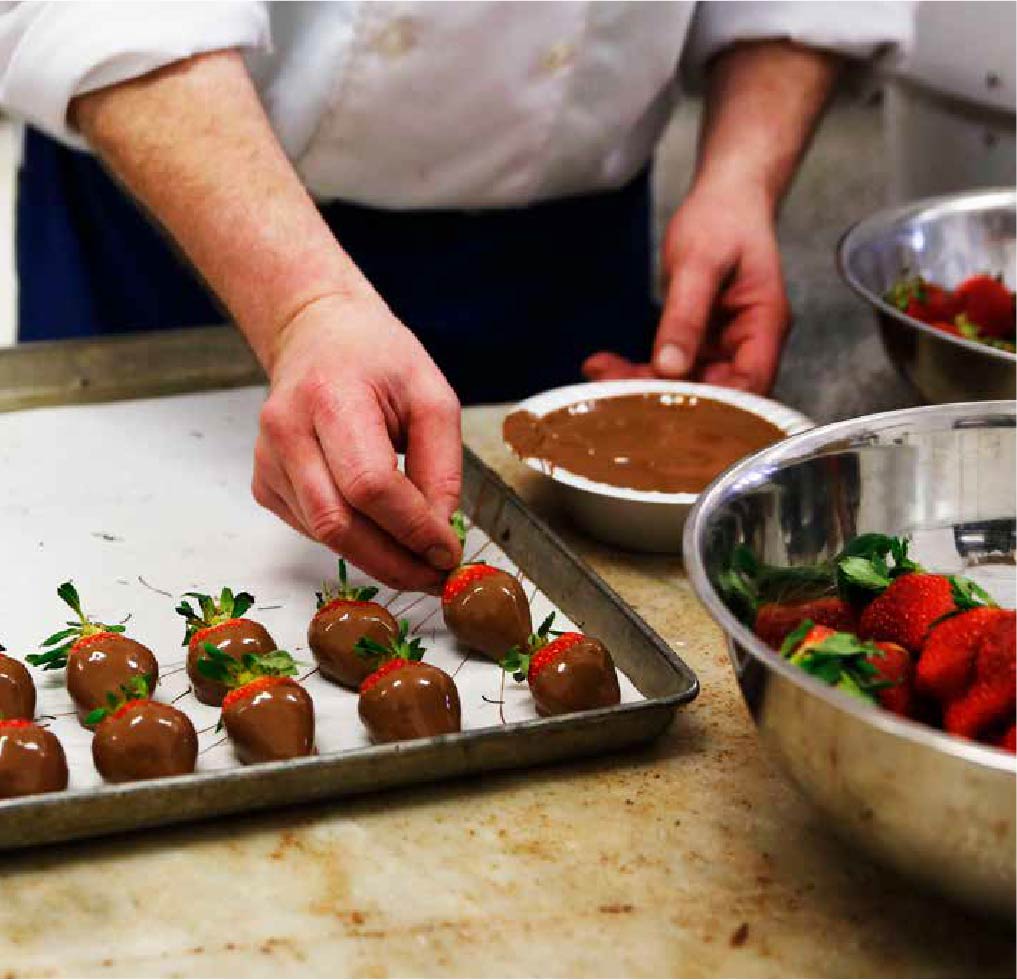 When he was younger, Nick Monte had a secret ambition to be a pastry chef.
"That didn't work out, but I'm making chocolate," said the co-owner of Village Chocolate Shoppe in Bennington.
It all started when he moved to Vermont 50 years ago. He had a general store, where he made fudge. When his family sold that business, they opened a small gift shop as a retirement project.
Now, the Montes — Nick, Judy, Denise, Sherry and Ken — have two stores: one in Bennington, where the chocolate is made, and the other in Arlington.
Options include exclusive chocolate bars, truffles, fudge, peanut butter cups, maple products and more, but Nick Monte said his favorite is still solid dark chocolate.
"Usually a good piece of dark chocolate will take care of me for the day. It's got a lot of cocoa content, and it's good for you — in moderation," Monte said, noting that dark chocolate can have positive effects on blood pressure and cholesterol, and contains vitamins and minerals, such as magnesium.
"Anything over 60 percent cocoa solids usually is what you should look for," Monte said.
Exclusive chocolate bars include the milk chocolate Monte bar — named after the family — with smooth peanut butter, peanuts, Rice Krispies, caramel and marshmallow; the dark chocolate Death by Chocolate bar, and the milk chocolate Death by Peanut Butter bar. Timber Logs, a homage to the local logging industry, feature vanilla fudge, caramel and cashews, covered in milk chocolate.
Monte said a maple walnut buttercrunch is among the popular items.
"Everybody makes a buttercrunch, but we make a maple walnut buttercrunch made with maple syrup, maple sugar and walnuts, and pure butter, lots of butter," Monte said. "Not one of those items that you should eat a lot of, but they're very good."
Village Chocolate Shoppe is at 471 Main St., Bennington, and 261 Old Mill Road, East Arlington. More information is available at villagepeddlervt.com and by calling 802-447-3789.
Tavernier Chocolates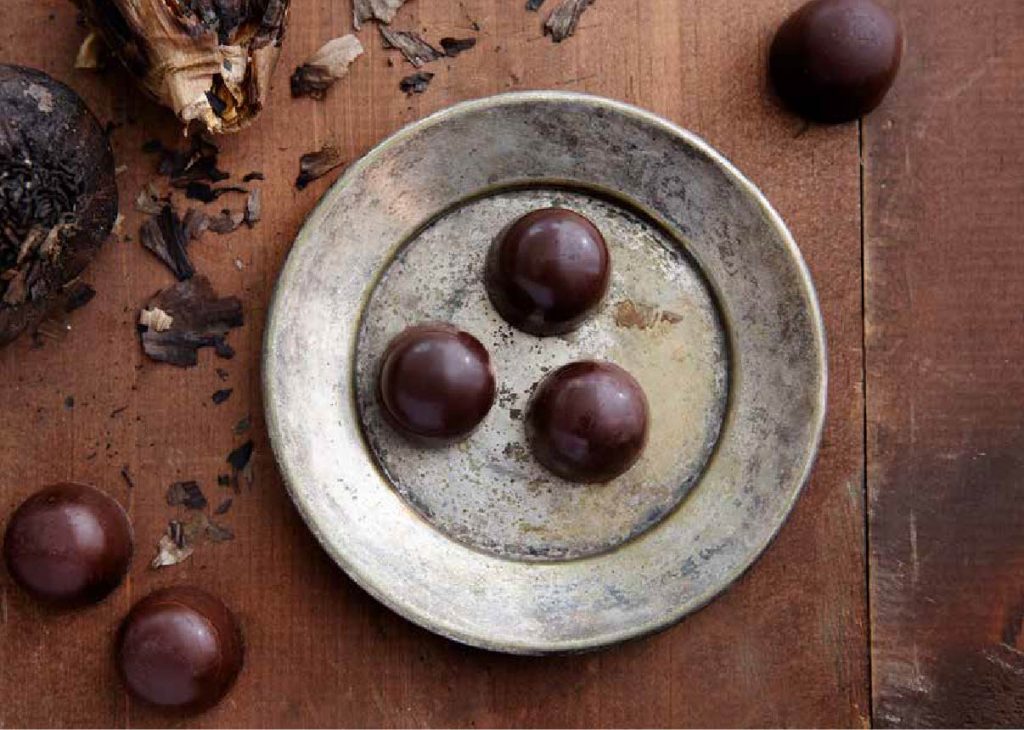 Ever been tempted to add chocolate to your cheeseboard?
The chocolatiers at Tavernier Chocolates went there, combining the unmistakable bittersweetness of chocolate with salty goodness in its chocolate charcuterie.
"It's the age-old problem of, 'I wish this thing existed,' basically," said Dar Tavernier-Singer, of how she comes up with the flavor combinations, which include black garlic, cheese, herbs and spices — "local things designed to be used on a cheeseboard."
The charcuterie comes in the form of spreadable pate, as well as sausage-style, like the Chocolate Salami, which includes dark chocolate, roasted hazelnuts, house-made rosemary shortbread and dried California black mission figs.
"We want it to be the full experience. We want it to be beautiful," Tavernier-Singer said.
She noted that the bonbon collection includes seasonal ingredients, such as mushrooms, and are often designed to look like something one would "stumble upon if out in the woods."
The shop is at 74 Cotton Mill Hill, A124, Brattleboro, but its most popular products, its chocolate bars and tablets, can be found at shops around New England. The most popular flavors include Rouge — dark chocolate, raspberry, hibiscus and pink peppercorn — and Golden Nugget — dark chocolate with Vermont maple sugar nuggets from a local farm.
"We want to tell a story with what we're making," Tavernier-Singer said. "We use a lot of spruce tips, other things that, for us, evoke our area, our surroundings. It is really important for us to work with people who are growing things or foraging things locally."
More information can be found at tavernierchocolates.com or by calling 802-257-5806.
Gena Mangiaratti — whose first name rhymes with henna, is arts and entertainment editor for Vermont News & Media. Her good-will can be bought with gummy bears. She lives in Brattleboro with her cat, Theodora.