Stratton Mountain Resort delivers downhill mountain biking, golf adventures, more for all abilities
STRATTON — It's never easy being all things to all people.
That said, Stratton Mountain Resort somehow makes it look easy, appealing to visitors and outdoor recreation enthusiasts for all four seasons.
This time of year, the mountain is in full swing, with its top-shelf golf course for those who like to hit the links with the Green Mountain State framing the foreground and a downhill mountain biking park that can satiate even the most hungry speed freak in your family.
To showcase what Stratton has to offer, Vermont Country dispatched two writers — a longtime golfer and an avid downhiller — to test the resort out, each in their own special way: Chris Mays, of the Brattleboro Reformer and Vermont Country, ripped up the dirt, while Tom Bedell, a member of the Golf Writers Association of America, traversed the greens.
Here are their experiences at the resort on a couple of recent near-summerlike days.
Feeling the berms at Stratton
Beginner or expert, you can send it flying on resort's downhill course
By Chris Mays
Vermont Country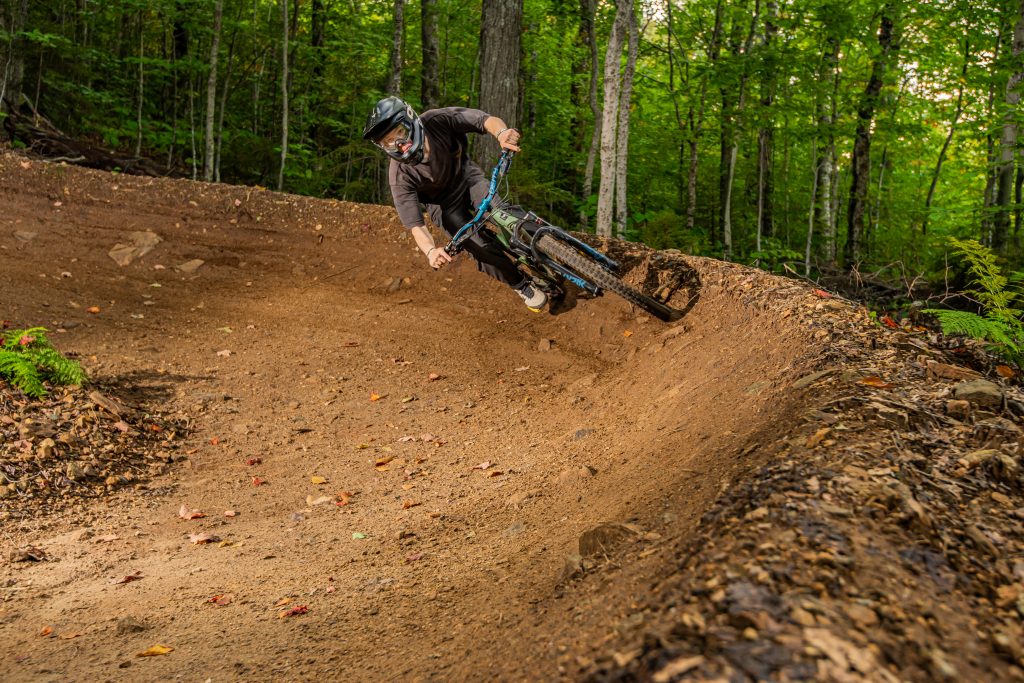 Simply put, Stratton Bike Park is a solid choice for any downhill rider. It's built for those seeking progression or just a good time.
Downhill mountain biking is a different beast than other types of cycling. It depends more on braking and navigating turns and tricky terrain than pedaling.
Having started downhill biking a decade ago at Mount Snow and traveled to different bike parks in the Northeast to ride over the years, Stratton's announcement in 2018 that it would soon have its own course excited me. On Memorial Day, I finally got over there to check it out.
Bermie Sanders is where the journey started. Obviously, the name was a factor in my choice, but I also remembered friends praising the run, and it did not disappoint. It sure lived up to its name. In addition to plenty of berms, I encountered small jumps, wooden structures and minor rock sections that helped kick the dust off my bike for the first ride of the season.
Taking it down a notch to warm up a little more for my second run, I hit Trail Forest One, a family-friendly beginner trail that's great for cruising. It's a longer, meandering trail with access to more difficult and novice trails.
Next, I took some of those offshoots, eventually ending up on a gravel portion of trail that tested my pedaling a bit but did not make me regret any of my choices. Gravitas, another berm-filled run that got me going fast, led to Loam Shark, which differed in texture from the other trails and is explained in the name.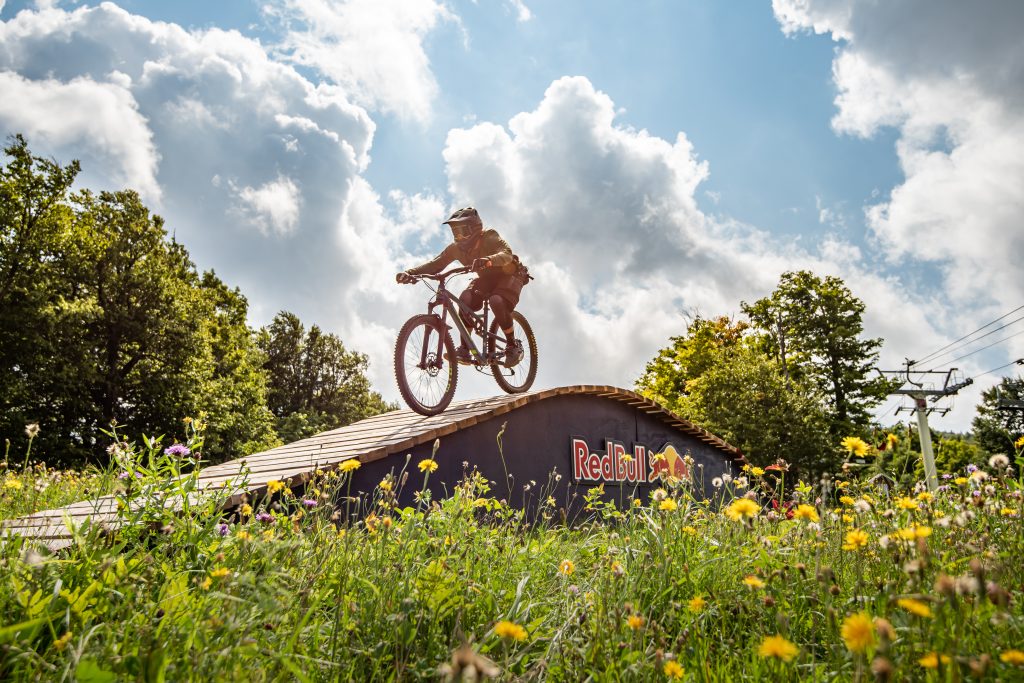 Deemed a black diamond in difficulty, Crusher brought me quickly down steep sections of the mountain underneath the American Express lift used for biking. I held on for dear life and enjoyed the technical aspects of the trail, such as rock gardens, roots, wood features and other challenging terrain.
Returning to Bermie Sanders, now warmed up and familiar with the park, I was able to send myself off the jumps a little more and go faster. The trail quickly became my favorite, as I returned to it a couple more times before ending my day back on Trail Forest One.
Stratton's downhill mountain biking trails stack up against the best in New England. Made up of about 6.7 miles of trails, with another approximately 3.4 coming this summer, the park was designed and built in 2019 by Sinuosity, a Vermont-based company that selected the natural terrain of the mountain to mix with machine-built lines and hand-shaped features.
Five new trails were being built at the time of my visit. Two or three of them will try to replicate the flowy freestyle vibe of Bermie Sanders, and one will be a beginner trail with access from the Cub Carpet lift.
A shop allows guests to come as they are and rent bikes and pads. Lessons also are available.
Base Plate, a taco truck next to the gondola, is a great place to grab food between going full tilt on the hill.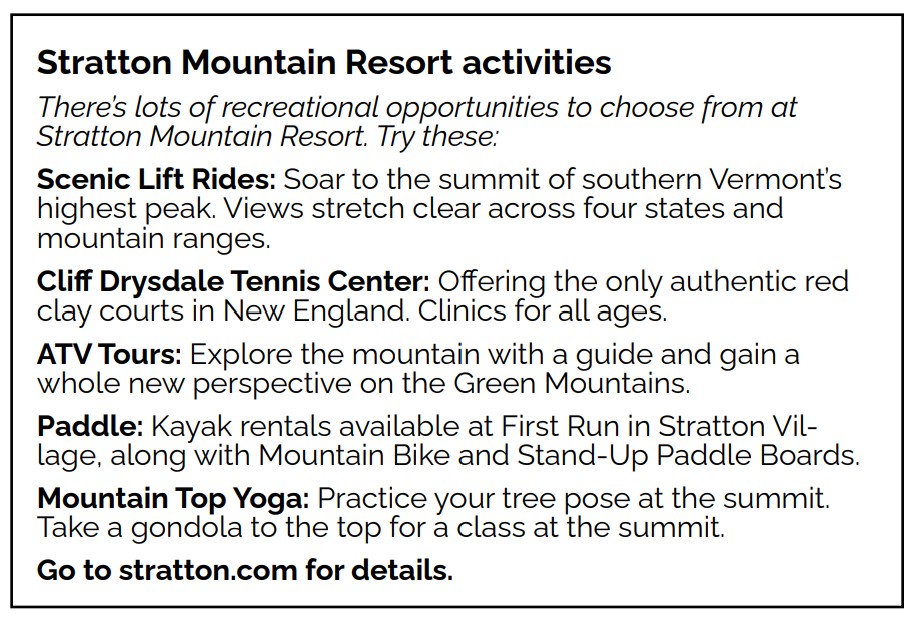 A feast of golf at Stratton Mountain
18-hole, three-part course touts 'most charismatic,' longest holes in Vermont
By Tom Bedell
Vermont Country correspondent
Stratton Mountain opened as a ski resort just before the New Year in late 1961. But even in Vermont's Green Mountains, snow melts. So in the warm months of 1964, the first nine holes of the Stratton Mountain Golf Course opened for play.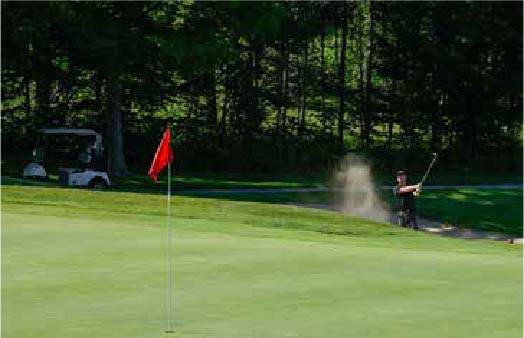 The course was laid out by the grand old man of New England golf course design, Geoffrey Cornish. He saw it through to completion — the second nine opened in 1969. (Cornish remained fairly active until his death at 97 in 2012.)
One man was impressed enough by the effort that he opened his eponymous Arnold Palmer Golf Academy at Stratton that same year; it's yet to reopen after its pandemic closure.
There was still more to come. Architect Brian Silva, then working for Cornish's firm, fashioned 11 new holes in 1986, and the routing was rejiggered to give golfers three distinct nine-hole tracks: the Mountain, Lake and Forest courses.
That same three-course treat is still thrilling golfers today. Players can feast on all 27 holes or choose one of the three usual routings: Mountain/Forest, Forest/Lake or Lake/Mountain.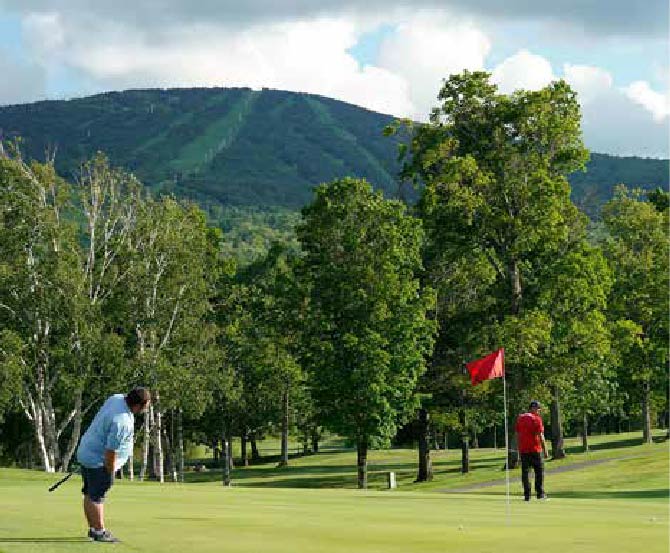 All are challenging but fair treks, though the Lake to Mountain combo was the course routing chosen by the Ladies Professional Golf Association when it played six professional tournaments here, from 1990 to 1995.
Good choice. The second hole on the
Lake Course played as one of the toughest during the LPGA years,418 yards from the tips with a bunker at the corner of a sharp dogleg left. The Mountain Course third was called one of the most charismatic holes in the state by Vermont Golf magazine, and it did play as the toughest hole during the LPGA years. Not only here, but also as the most difficult hole on any course in the 39 events of the 1990 LPGA season.
Then there's the amazing fifth hole on the Mountain Course, a roller-coaster par-5 that begins with a giddy 90-foot plunge from the tee and makes two stream crossings before arriving at the purported safety of the green. Play it from tips at 621 yards, and you've likely played the longest hole in Vermont.
The par-5 eighth hole on the Forest Course is almost the reverse of the Mountain fifth — all uphill this time. Lest this all sound too daunting, fear not. Pick the right tee, and the courses aren't really that long or tough. From the white, middle tees, the Lake nine works out to 3,066 yards, the Mountain at 3,041 and the Forest at 2,978.
Sure, there's ample challenge with numerous blind tee shots, tighter fairways on the Forest, and countless humps, bumps, creeks, hills and gullies. But the holes are actually at the base of the ski mountain (often in full and lovely view), and the slope ratings work out to a reasonable 122 (Mountain/Forest), 124 (Lake/Mountain) and 128 (Forest/Lake).
No matter one's approach, ponder topping off the round with a meal at the Green Apron clubhouse grill along with some of Vermont's award-winning craft beers.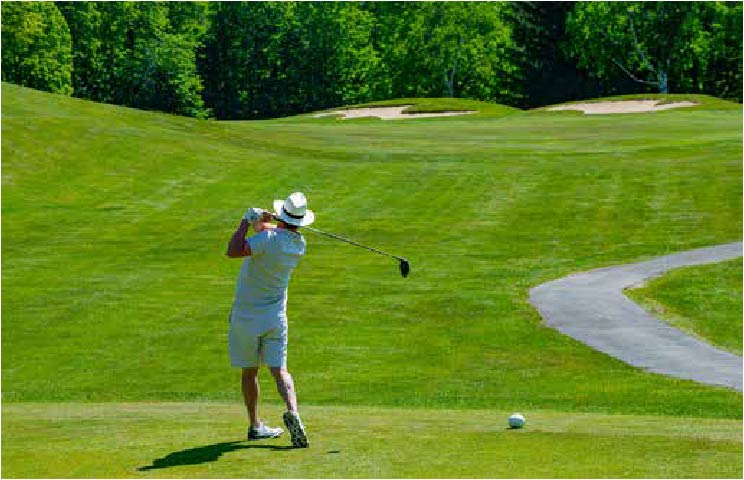 The club doesn't neglect locals, with daily tee times, memberships and a Tuesday Men's League. But as a resort course, it's ideal for visitors with its stay and play packages, with options to enjoy Stratton's downhill mountain biking courses, outdoor concerts, accommodations at the nearby Stratton Village and access to its amenities and other dining venues.
Chris Mays — is coming up on 10 years of reporting for the Brattleboro Reformer, plays guitar in several bands, snowboards as much as possible and loves his Yorkie named Lemon.
Tom Bedell — is a member of the Golf Writers Association of America. He lives in Williamsville.