By Miss Kitty.
This kitty feels it her duty to ensure all travelers who pass through her beloved "Viridis Montis" secure lodgings both remarkable and civilized. Of course, it is difficult for one to find the latter of these requirements when local Vermont tradition celebrates such barbarisms as dining over a Coleman stove or (one dare not say it!) use of an outhouse.
Alas, if it were up to this Kitty, all overnight stay would require lush carpet, brass elevators, Italian marble, Austrian crystal, English silver, evening turndown service, and morning mimosas — the last of which would be consumed in the soft embrace of Egyptian linen in the penthouse suite of the Waldorf Astoria — though the Mandarin would do.
However, this Kitty understands much of Vermont's charm lies not in the material but in the transcendental; among the bowed hemlocks, in the cool scent of moss, and the dry crackle of birch under paw. For this reason, she has carefully curated a list of unique accommodations, ones sure to honor the great majesty of her green mountains while also supplying the cozy kitty-comforts a discerning journeyer demands.
When Kitty must travel with the litter …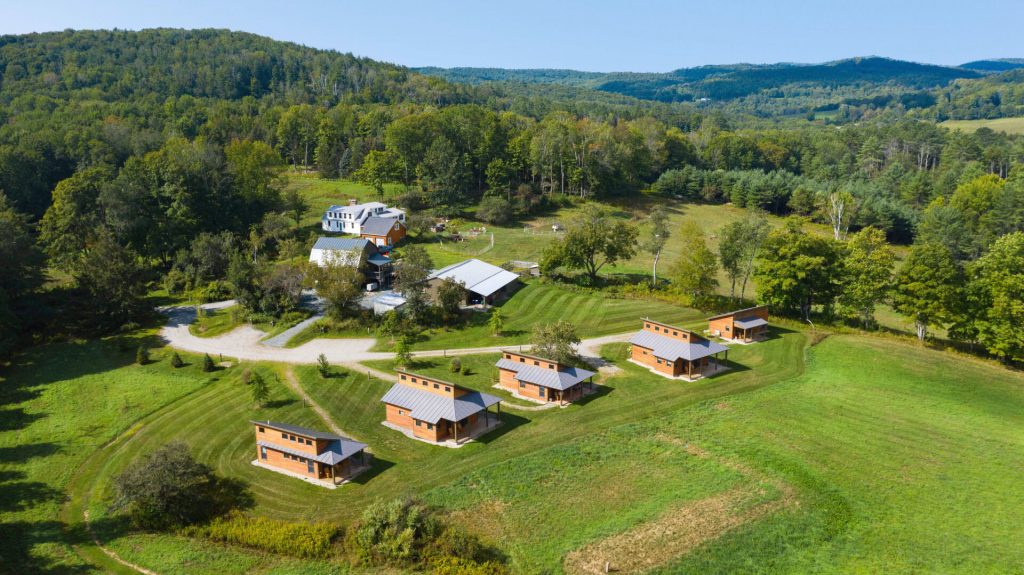 Hartland: If one is forced to travel with children (though Kitty does not suggest this as sticky fingers and a love of mozzarella sticks offends her nature) there is no better place to stay than Fat Sheep Farm and Cabins. Boasting five luxury cabins on 60 acres of wooded farmland, Fat Sheep Farm has all the modern amenities a kitty requires, while offering an on-sight playland of wholesome and educational activities sure to keep one's tiny sociopath occupied for hours. Activities include: an extensive natural playground offering many rustic adventures, walking goats, milking sheep, harvesting crops, collecting eggs, and (even this kitty's heart melts) cuddling a baby lamb.
In addition to sourdough bread baking workshops, proprietors Todd and Suzy host cheesemaking demonstrations as well as cheesemaking workshops for both adults and children.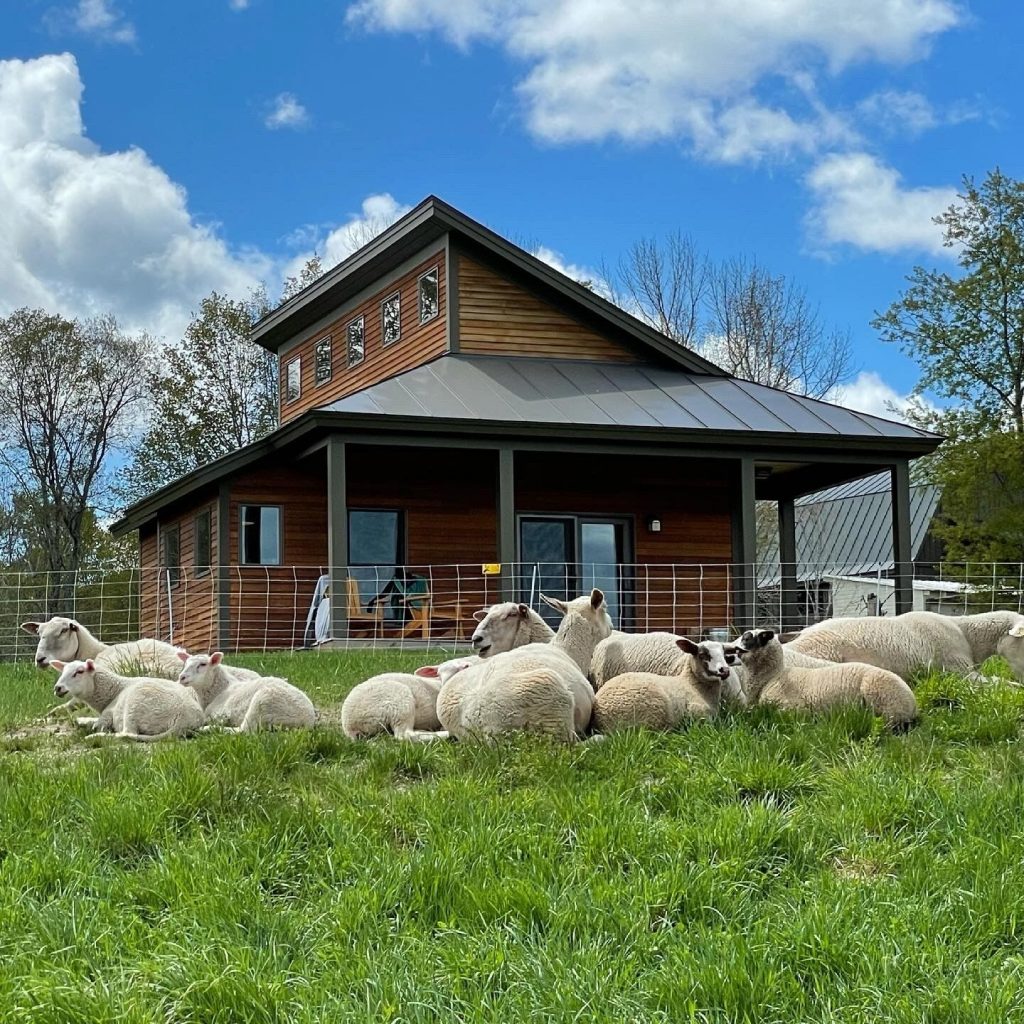 On cheese: One must visit Suzy's cheese cave where her "passion for exploration" has been inspired from local Vermont cheesemaking traditions all the way to the reaches of Sardinia. Suzy begins with a homemade culture and ends with a bounty of delicate to piquant heaven-on-a-cracker. Meow, meow, meow, meow, meow.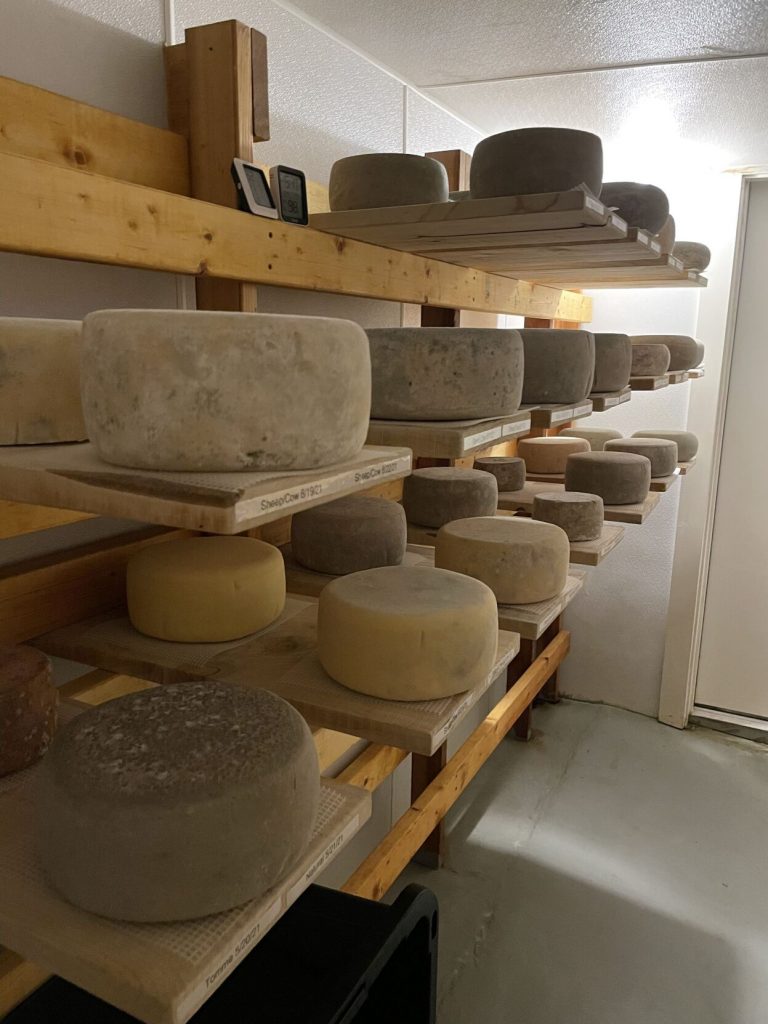 Important to note: Many of the cabins at Fat Sheep Farm are pet-friendly, but all boast modern furnishings and gorgeous views, making it not just a destination to bring one's bothersome litter, but also a lovely all-season couple's get-away. Enjoy lovely foliage in fall, cross-country skiing in winter and (if one insists on such ridiculous outdoor athletics) both Okemo and Killington are just a short ride away.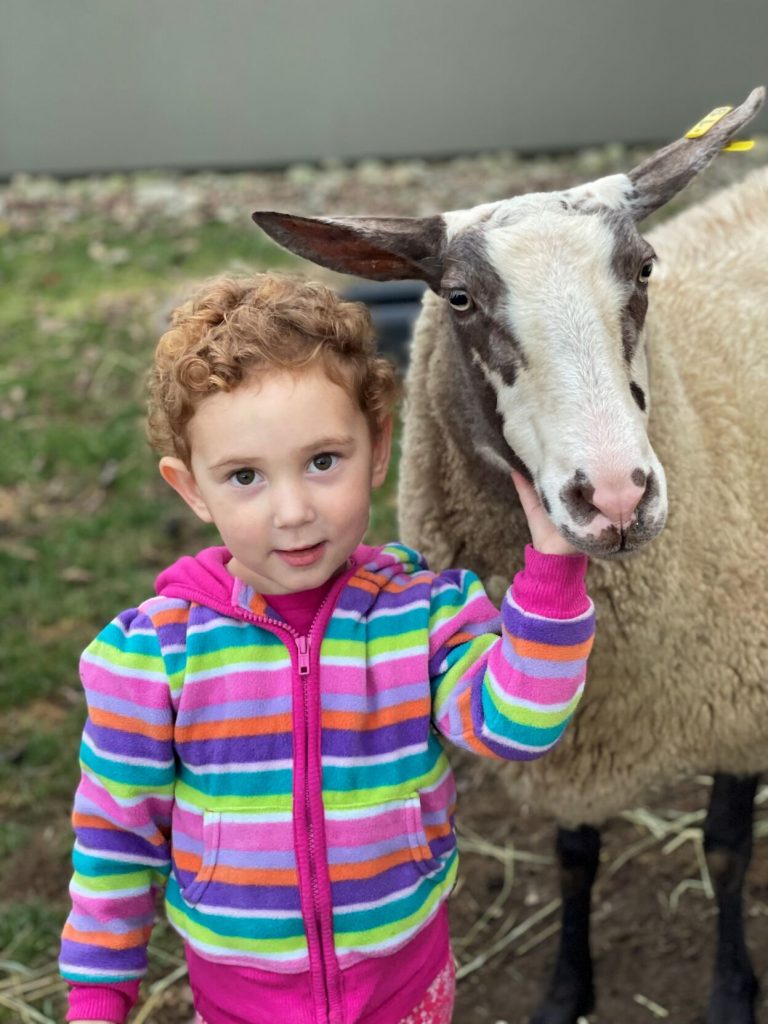 To book: 802-436-4696, info@fatsheepfarmvermont.com
When Miss Kitty gets all Beowulf …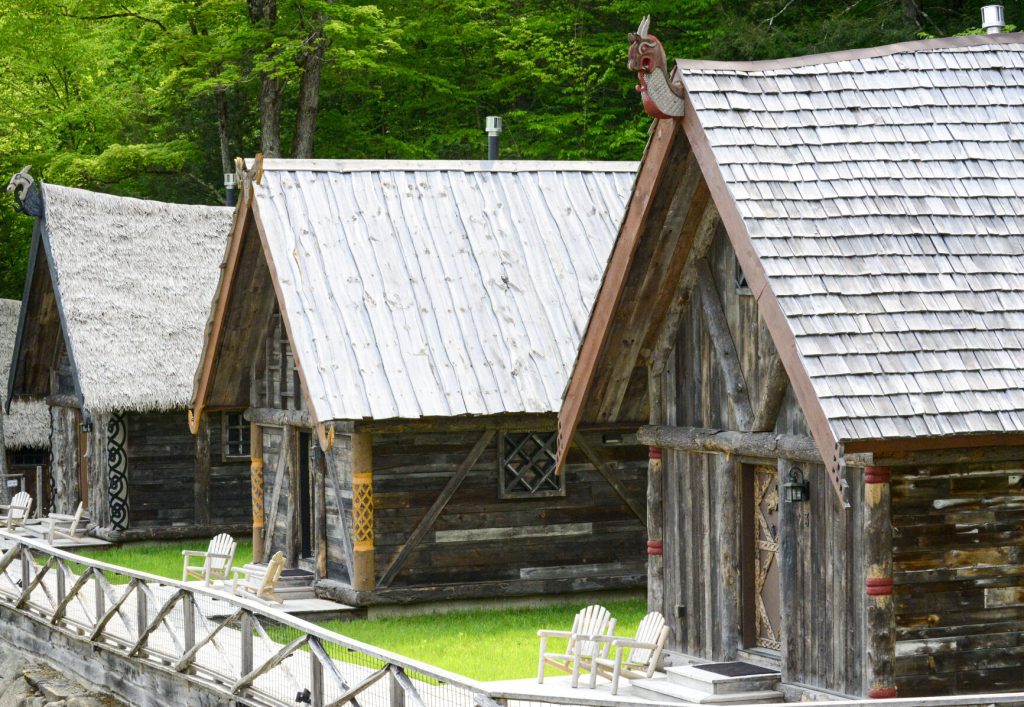 Guilford: In addition to being scholar in the art of not camping, this Kitty is a well-studied historian. She has spent much time researching the lesser-known ancestry of one Norse kitty clan, a particularly ruthless litter of felines who once hailed from Scandinavia. As legend has it, one brisk morning, said kitties became accidental stowaways whilst in pursuit of a river rat who happened to scamper aboard a great ship. The ship was bound for the Atlantic and belonged to none other than the big bad Viking explorer, Leif Eriksson (Meeeeeeeeow).
This kitty is aware the pedestrian anthropologist will claim that after arriving in Newfoundland, Vikings simply turned their ships back home. However, antient lore passed down by the Kitty clan stowaways tells a different story, one where Viking travels did not end in boring old Canada.
In truth, those strapping Norsemen climbed back in their long boats, then steered their way down what is now known as the Connecticut River.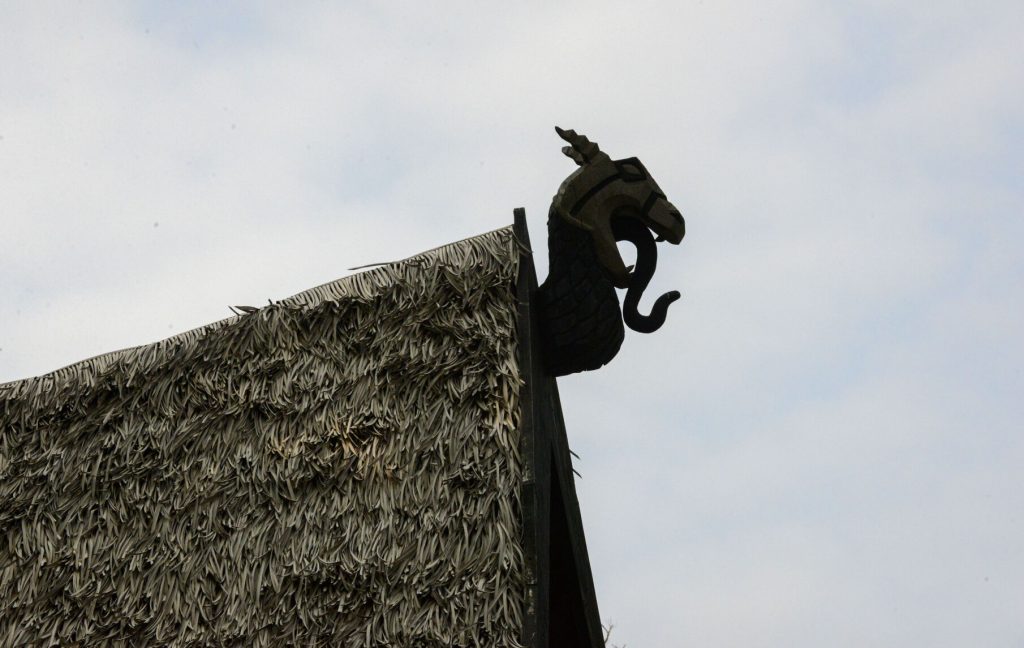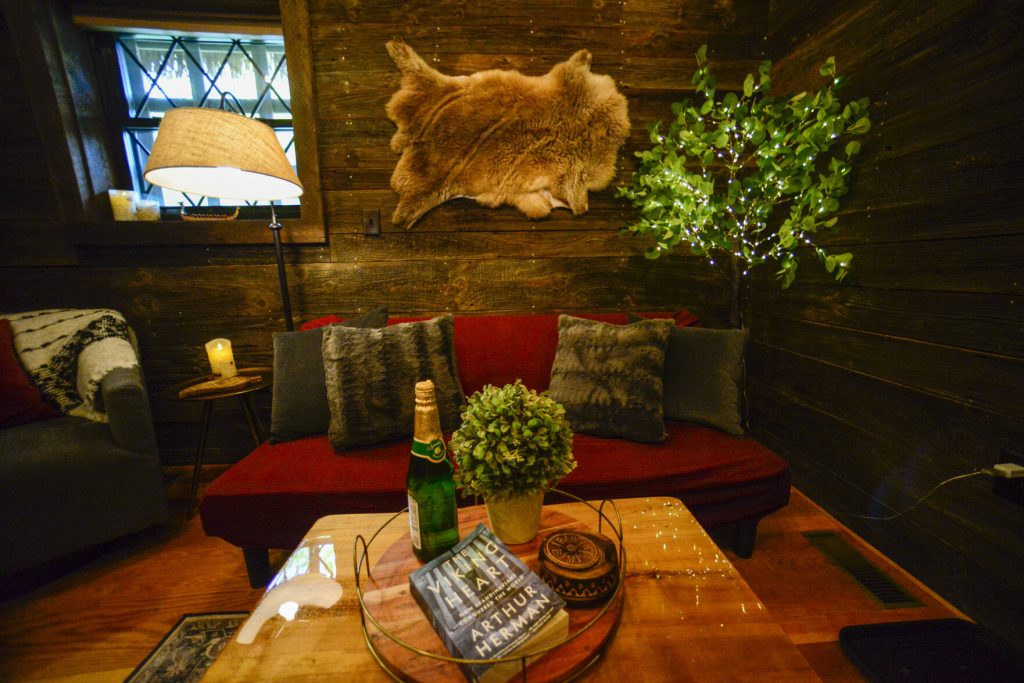 This Kitty is not pulling your tail. If one does not believe her, they must visit Viking Villages in Guilford, where the only Viking settlement in all of America remains hidden in the woods, perfectly intact. Upon entering the fortress walls, the journeyer will be transported back in time. Explore the Great Hall where mead and merriment once flowed in bounty. Stay overnight in one of the six pristinely preserved Viking longhouses, each adorned with Norse knotwork, thatched roofs, and unique, hand carved roof gables.
Most remarkable about this archeological gem, is evidence that Vikings were not just technologically savvy, but that they also had fabulous taste in furniture. Each longhouse is furnished with lovely kitchenettes and luxurious mid-century (we are not talking BC here) modern décor. Apparently, the Norse were also mad about Netflix because these stunning two-story 650 square-foot cabins boast smart TVs and lightning-fast Wi-Fi.
Viking Villages is just a 10-minute drive to restaurants, galleries, music venues, and the local Brattleboro food co-op. Adventurers who visit the village in winter, may also take tour of the nearby sugarhouse to learn how authentic Vermont Maple Syrup is made.
To book a cabin or to inquire about larger select functions, visit: vikingvillages.com
When Miss Kitty must pretend to be outdoorsy as to appear the wholesome type …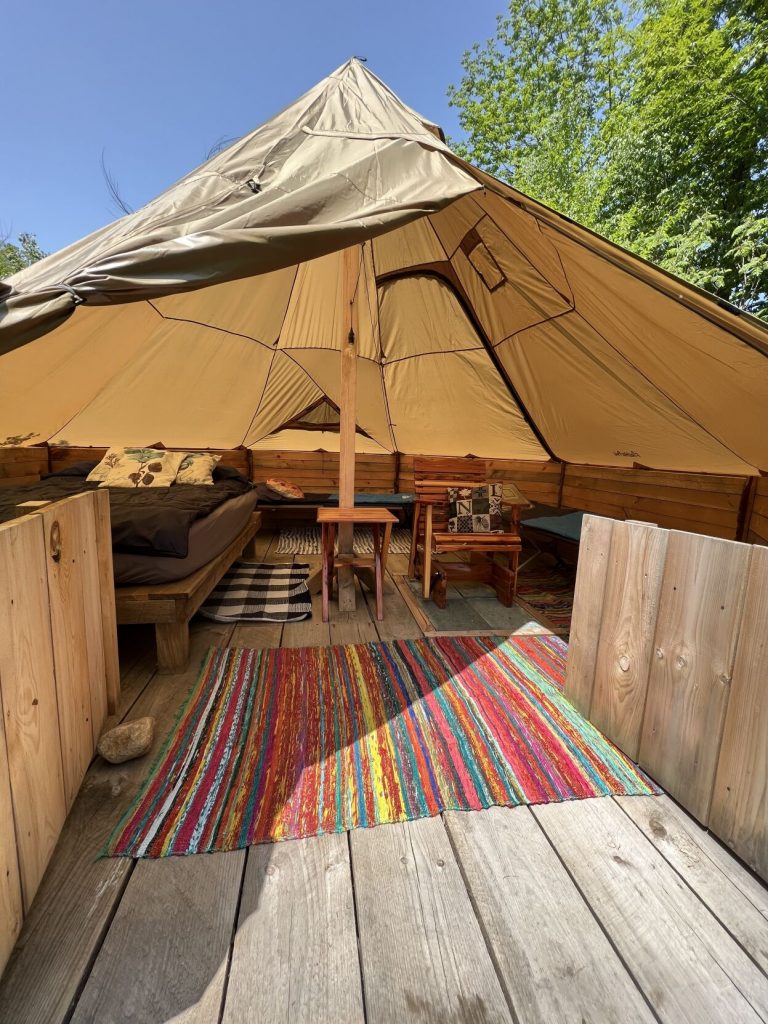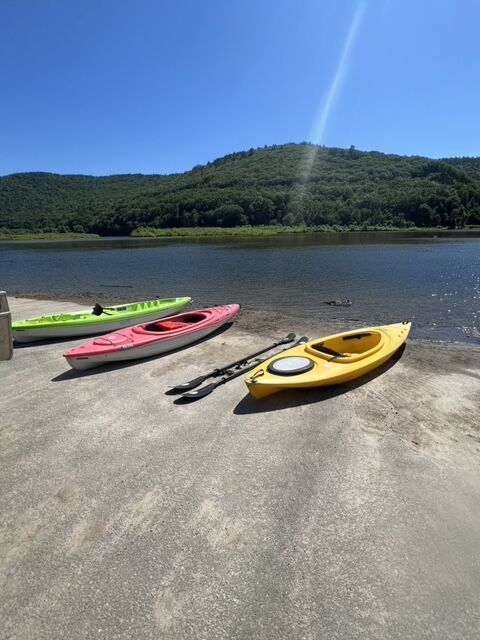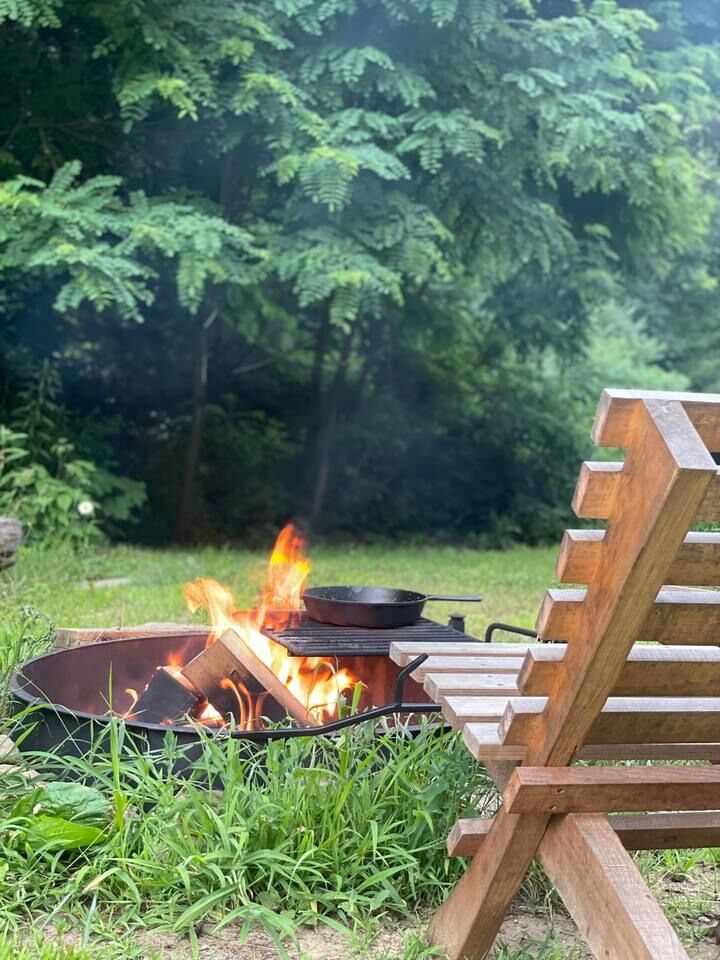 TOWNSHEND: This is not a new phenomenon: A kitty has been seduced by the biceps on some teetotalling, overly tanned rock climber. Perhaps the rock climber has an ex-girlfriend named "Liz" whom he talks about endlessly. Maybe the kitty finds out by way of the rock climber's annoying habit of oversharing, that Liz just loves the outdoors, that she spent five days climbing Mount Kilimanjaro, but only after working in the Peace Corps to help dig wells for villages in Haiti.
The rock climber then suggests he take kitty for a long romantic weekend in the woods. She likes camping, doesn't she?
Do not panic.
NV Farms Outfitters and Camping offers a rustic cowboy experience sure to impress your rock climber, while saving a kitty from the exhaustion and savagery associated with the customary tent-pitch. Falling somewhere between the "camp" and the "glamp," NV campsites are walk-in ready, equipped with solar lighting, single cots, queen-sized beds, and extra thick sleeping pads. Every camp has fireside seating, back-up firewood, and a covered kitchen area with any cooking utensils one might need. Other amenities that are all just steps from campsites include: a babbling brook, onsite kayaks one may take for a spin on the sparkling lake, endless hiking and biking trails, rivers for fishing, the longest covered bridge in the state of Vermont, not to mention a solar-powered shower house — the last of which will help a kitty freshen up before she takes a snuggle with her tom cat beneath the stars.
In addition to being pet-friendly (kitty approves!), NV Farms proprietor Denise Marcum runs an on-premises "general store," where one may purchase weekend warrior luxuries such as the "s'mores kit" as well as essentials like a toothbrush, comb, or other idols of the civilized world that may have been forgotten on a kitty's pilgrimage into the wild.
Do also check out Denise's food cart where she sells wagyu burgers made from her very own cattle as well as old-fashioned hot dogs and country mac n' cheese. And if one is (pretending) not to count calories, they must visit Denise's "Sundae Bar," a Willy Wonka level of ice cream service sure to knock the tiny socks off one's sticky-fingered interloper.
A bit more on Denise Marcum: In addition to being the owner of NV farms, she is also a grandmother who built the campgrounds, by herself, from the ground up. Whilst this kitty prefers not to get her paws dirty, she cannot help but puff with pride for a fellow female feline when observing such kitty bad-assedness.
To book: 802-289-1618 / 802-380-0576
NVFarms@yahoo.com
nvfarmsshedsandcabins.com/nv-farms-outfitters
When Miss Kitty has lost her flow …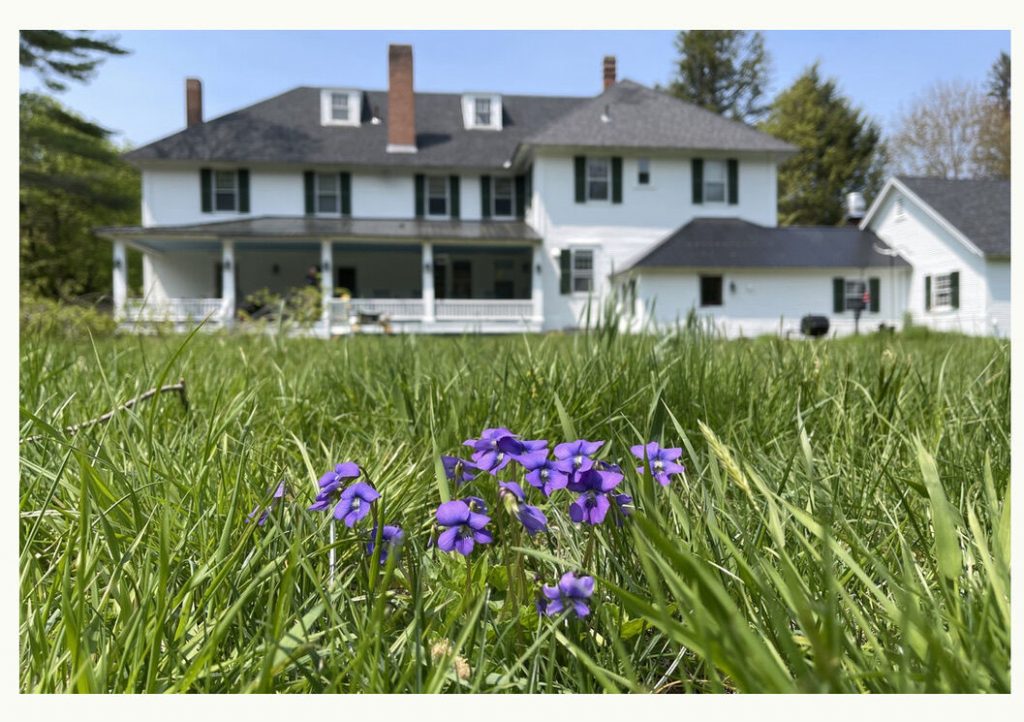 SOUTH NEWFANE: Dear Kitties, has the toxic tedium of life's everyday grind led you off your chosen path? Maybe, like this kitty, you have forgotten the primal rush of stalking a cardinal through the bushes, the simple pleasure of belly-creeping between the blades of grass. Have such rituals, ones that once made you feel connected to the world, now been replaced by the monotony of Zoom meetings, follow-up emails, and (meow, meow) extended happy hours?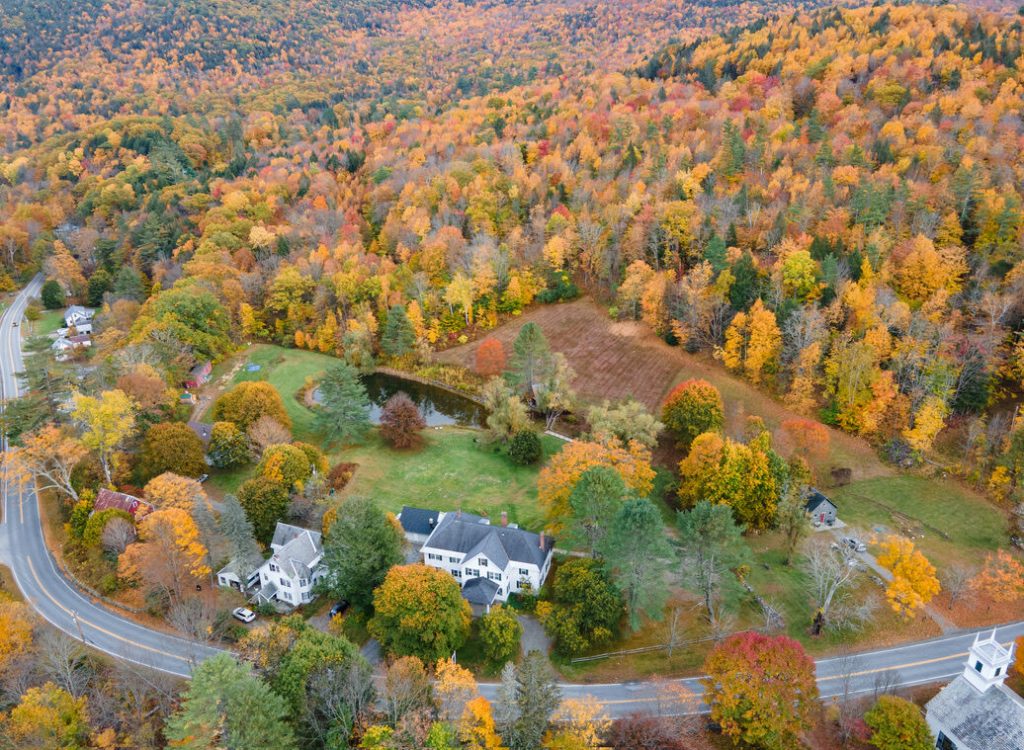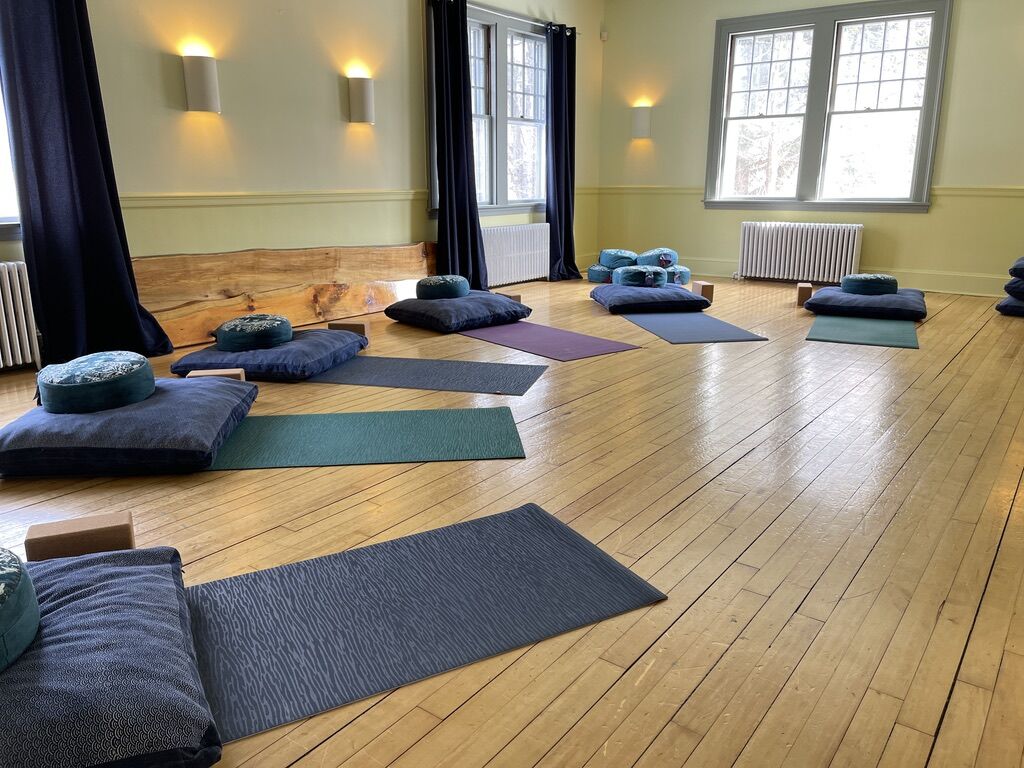 Fear not Kitties, Willow B&B and retreat center is a sanctuary for those who wish to reclaim harmony in their lives. Whether it be painting, meditation, yoga, or outdoor sports, retreat owners Tom and Ravi will nurture any passions you've put on the backburner while helping to integrate them back into your daily life.
Whether one chooses to come for an individual stay, sign up for a specialized retreat, or even host their own event, all will find quiet solace in Willow's main house, a charming colonial where guests may enjoy the grand foyer, a formal library, a sunny veranda, and a 14-person yoga studio. There are also six individual bedrooms, each equipped with AC, private bathrooms, electric fireplaces, and (as all Kitties must keep up with her stories) Smart TVs.
Partake in morning yoga classes with Tom, eat healthy Indian inspired meals cooked by Ravi, or just wander the grounds beneath the rustling giants who are the namesake of this peaceful oasis.
Sidenote on rustling giants: A kitty will find herself quite at home in Willow's privately situated Tree House, a fabulous two-story A-frame alchemy of Rudolph Schindler meets Swiss Family Robinson. Clad in both cedar and copper and supported by pine and willow, here a kitty may scamper about in her natural habitat with the comforting knowledge that a hot shower, locally made soaps, and fresh linens await her.
For info on retreats: willowvt.com/upcoming-retreats
Upcoming event at Willow: Exhibition of Contemporary Classical Realism featuring 18 artists of the Grand Central Atelier in Brooklyn, NY., Aug. 27, 1 to 7 p.m. Preview for pre-registered guests from 10 a.m. to noon. Willow, 369 Dover Road in South Newfane.
When Miss Kitty gets all retro …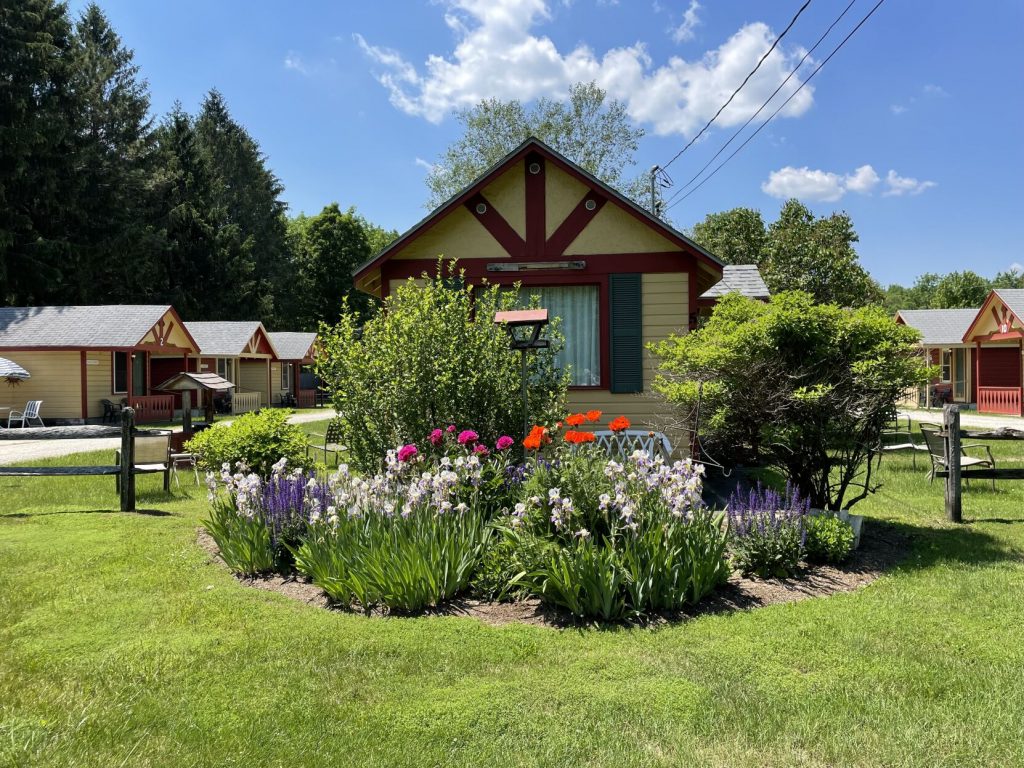 MANCHESTER: If one looks back with fondness upon the heyday of mid-century American travel, the Casablanca Motel will not disappoint. Though Humphrey Bogart (all kitties love Bogie) won't be making any cameos, a kitty will be reminded of simpler times as she gazes over the 3 acres of lush farmland dappled with vintage cabins, each restored in vibrant technicolor.
Named "Best Retro Escape" by Yankee Magazine, the small village that is Casablanca appears a whimsical summer camp for Santa's elves. One may play horseshoes or volleyball on the lawn, grill steaks by the screened-in gazebo, or just take a stroll through the Casablanca gardens. Each cabin is furnished with a private porch, AC, free Wi-Fi, and unique Vermont themed décor.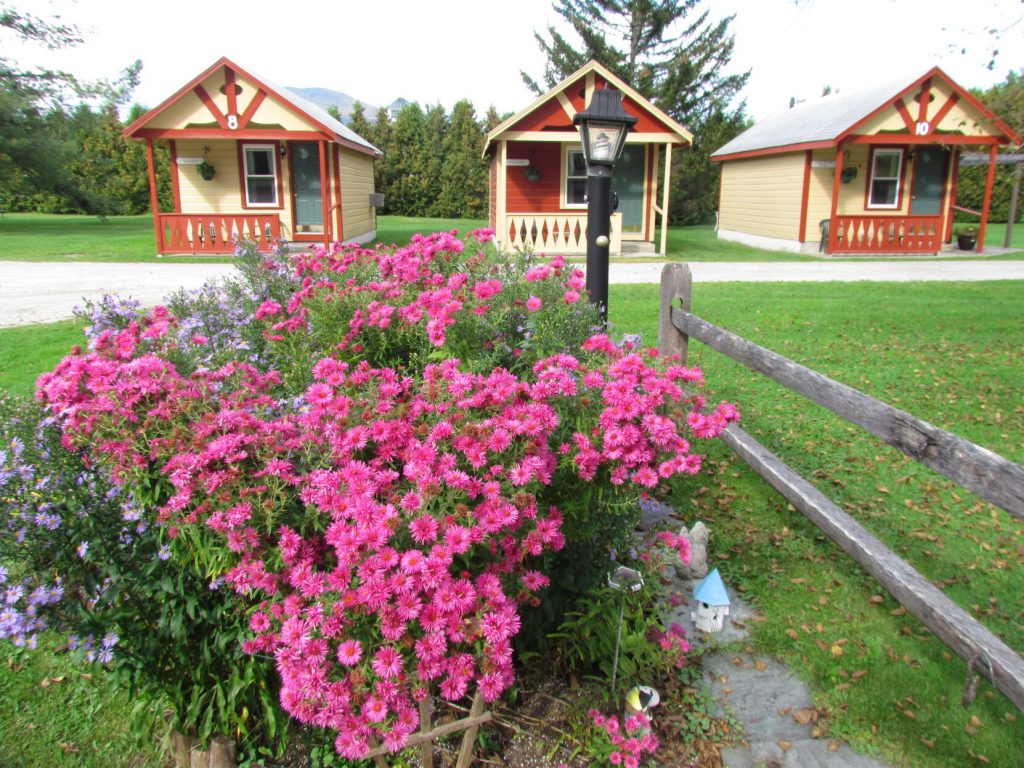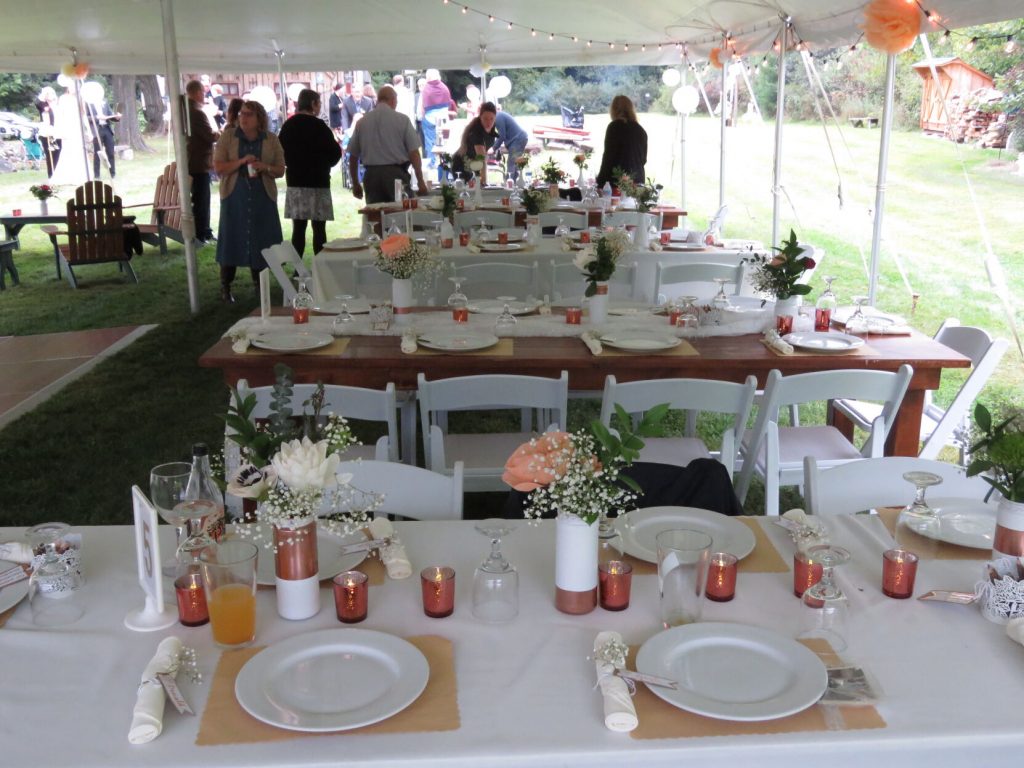 The socially conscious traveler might also note that Casablanca Motel is a woman owned and operated business (kitty roar!). Linda and Diane are hard-working on-sight proprietors there to attend every need, making the motel a puuuurfect oasis for family reunions, wedding parties, or simply a cozy weekend escape. In addition, many cabins are dog-friendly and listed at very affordable rates, the last of which means Kitty may budget herself a little something extra when she hits Manchester's famed designer outlets (three meows!) that are just a mile down the road.
Here's lookin' at you, Kitty!
To book: 800-254-2145 or 802-362-2145, casablancamotelVT@gmail.com
When Miss Kitty gets all Wuthering Heights …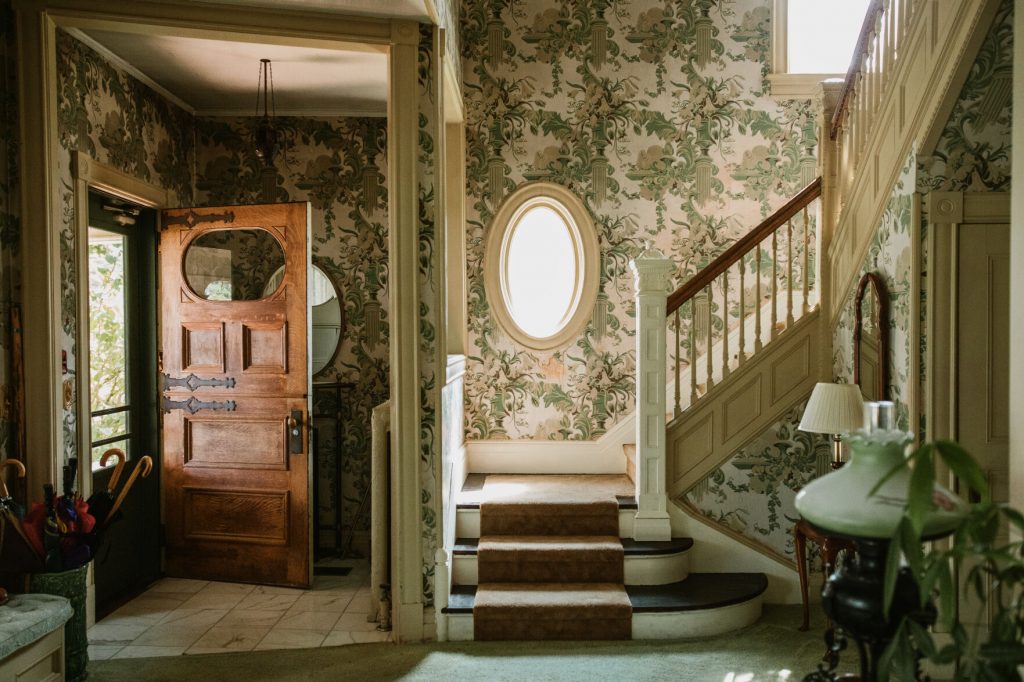 BENNINGTON: If one holds this Kitty's passion for architecture, there is no better treat than a weekend at South Shire in Bennington. A beautifully preserved Queen Ann Victorian, South Shire has all the grandeur and romance of the late 19th century while maintaining an intimate and attentive setting.
Here the journeyer may choose from nine spacious rooms, each equipped with private bathrooms and decorated with individual period furnishings. If one is feeling especially luxurious (or perhaps has maybe just finished reading Wuthering Heights), this Kitty suggests the Otto Suite: Think sweeping valences, a Georgian fireplace, and a particularly impressive canopy bed in which one might imagine (not this kitty of course) that a brutish Heathcliff could really do some ravishing.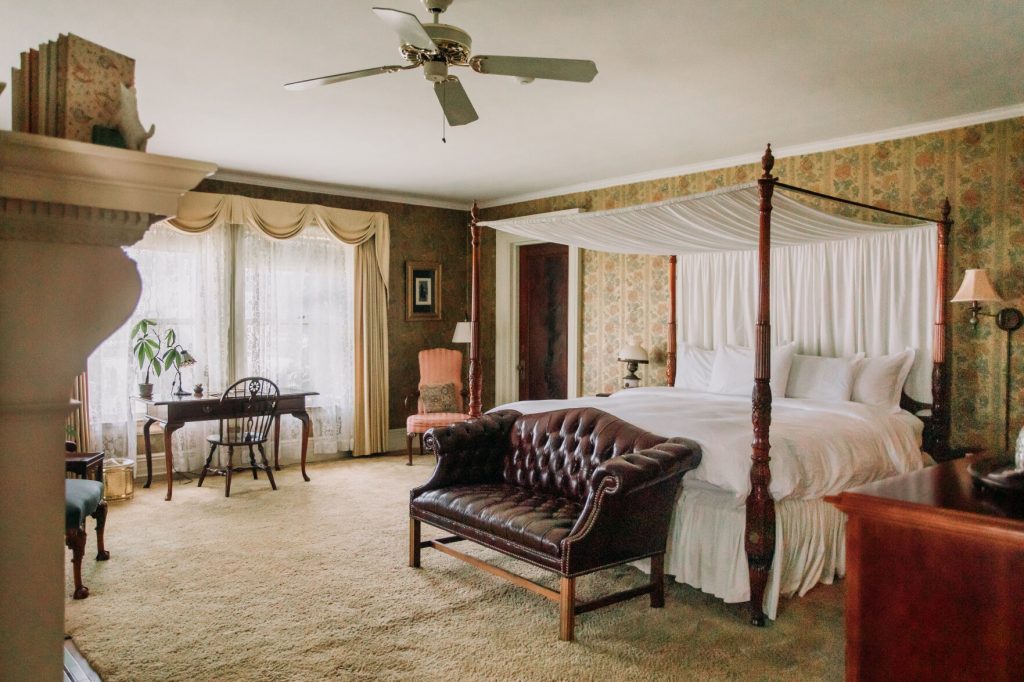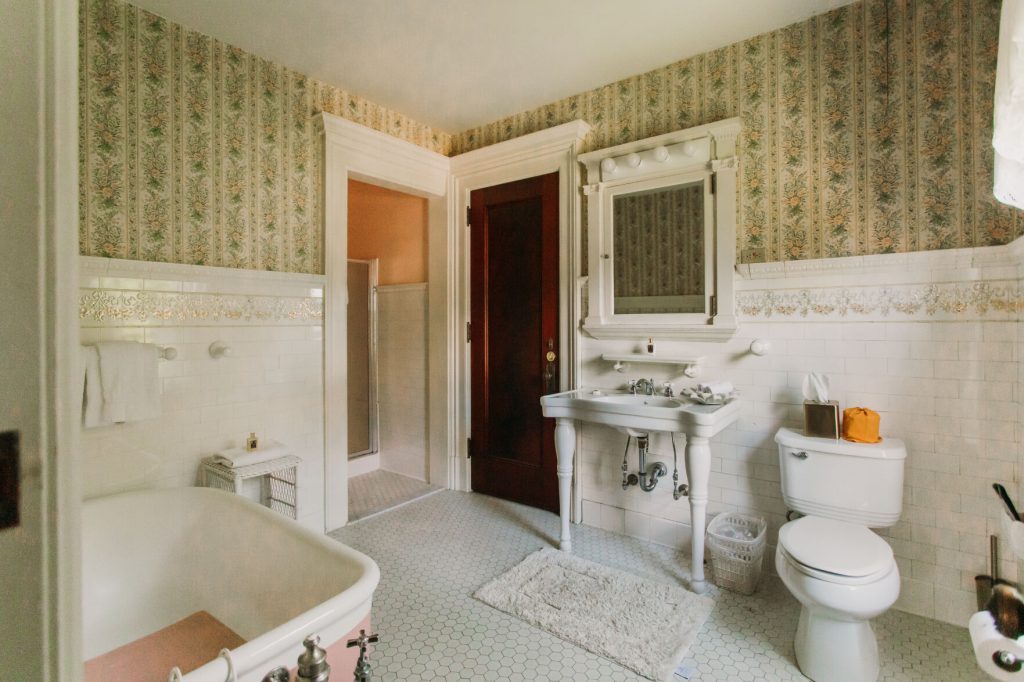 However, the dining room at South Shire is unmatched in its pomp and outright splendor. A true homage to the Gilded Age, the walls here are laced with Corinthian cornice and flutter with plaster puttie. In this impossibly elegant setting, an a la carte breakfast made with locally sourced ingredients is served each morning, and in the afternoon, one may enjoy a formal English Tea.
Side note on the dining room: Next month will be the soft opening of South Shire's premier restaurant, "Cuisine of Siam," where owners Jariya Wannapat and Joseph Polito will specialize in Royal Thai, a select cuisine that uses only the freshest ingredients and ensures the integrity of authentic Thai recipes.
To book: southshire.com, 802-447-3839
When Miss Kitty gets all Louisa May Alcott …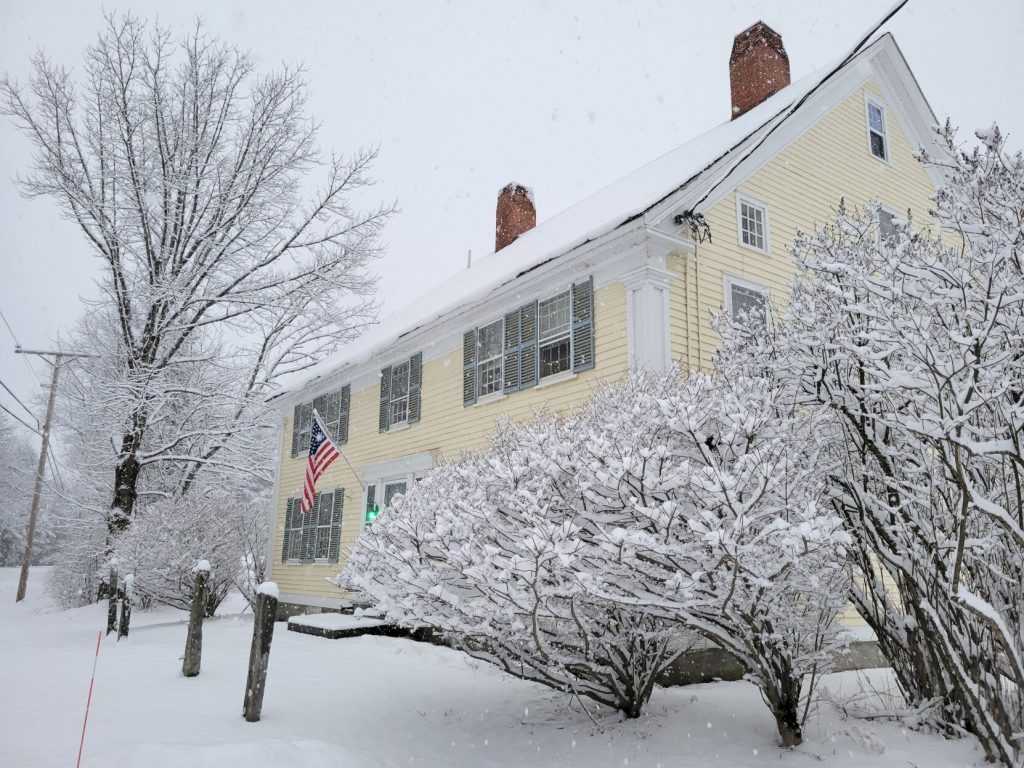 CHESTER: If the journeyer seeks the quintessential Vermont experience, they must visit Franklyn Farm Inn, nestled on an idyllic stretch of countryside near the confluence of river and railroad. Originally built in 1780 as a stagecoach rest-stop and tavern on the old Green Mountain Turnpike, the inn is a historical diamond that harkens to amalgamation of simpler-times-meets-early-industrialism in Vermont. Guests may choose from eight sun-filled rooms and suites, spacious in size with wide pine floorboards and furnishings so classically New England that one might suspect Alcott's March sisters to be flitting about the dining room downstairs.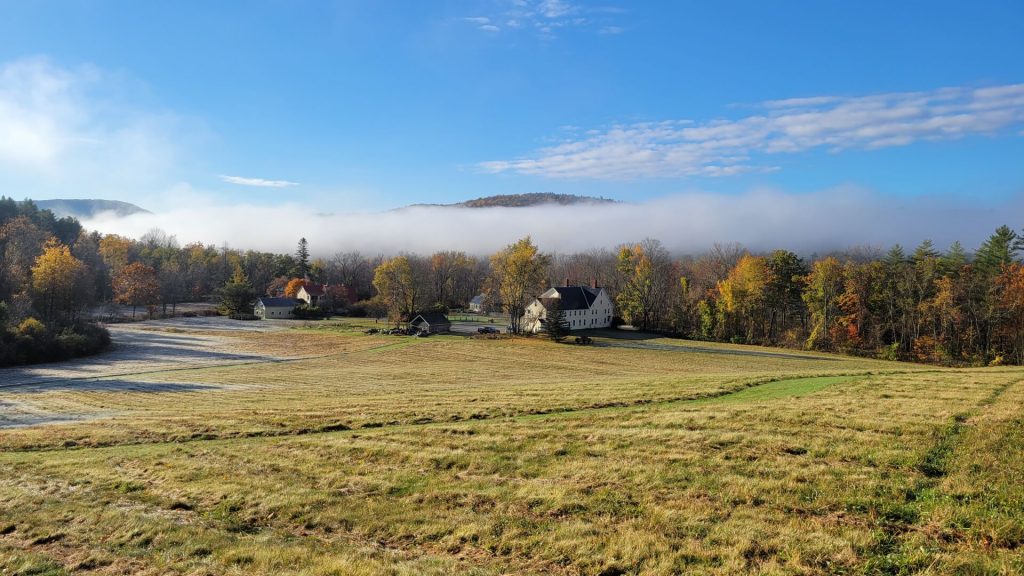 One must take advantage of the 35 acres of farmland where Franklyn Farm Inn rests: Relax by the pond outside the inn, take a dip off Rainbow Rock, or simply cozy up with your tom cat by the fire pit outside. For day trips, visit the historical Calvin Coolidge Homestead or take a ride on the Green Mountain Railroad. Other nearby attractions include Green Mountain Sugar House, Camp Plymouth State Park, Quechee Gorge, Bartonsville Covered Bridge, and Harpoon Brewery and Taproom.
Bonus: Mitches Maples is a neighbor of Franklyn Farm Inn so all guests will enjoy, along with fresh baked goods, Mitches maple syrup with breakfast.
To book: franklynfarminn.com, 802-875-2206, information@franklynfarminn.com
When Miss Kitty finds harmony among the savage landscape …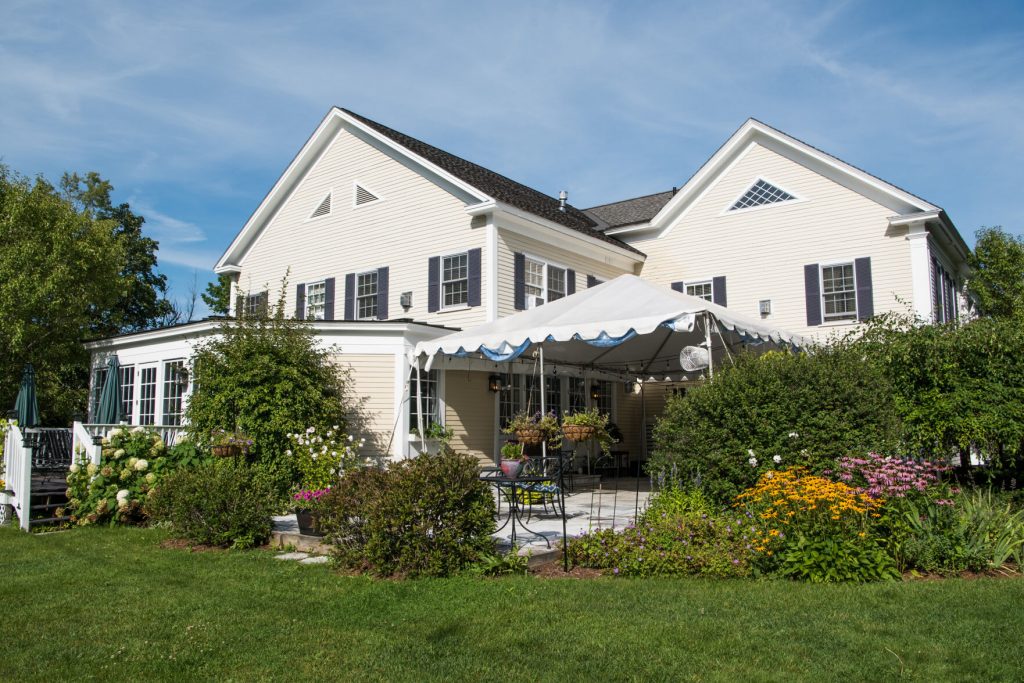 MANCHESTER: Obviously, a big kitty shout-out must be given to one of the fiercest and most majestic of kitties. Reluctant Panther is a luxury hotel with 20 dazzling rooms and suites on an elegant colonial estate to boot with English gardens and mountain views. Here a kitty will enjoy a tub in her marble en-suite bath, after which she may wrap herself in one cozy Frette robe (all kitties loooove Frette bathrobes) as she lounges on her four-poster bed by a crackling fire.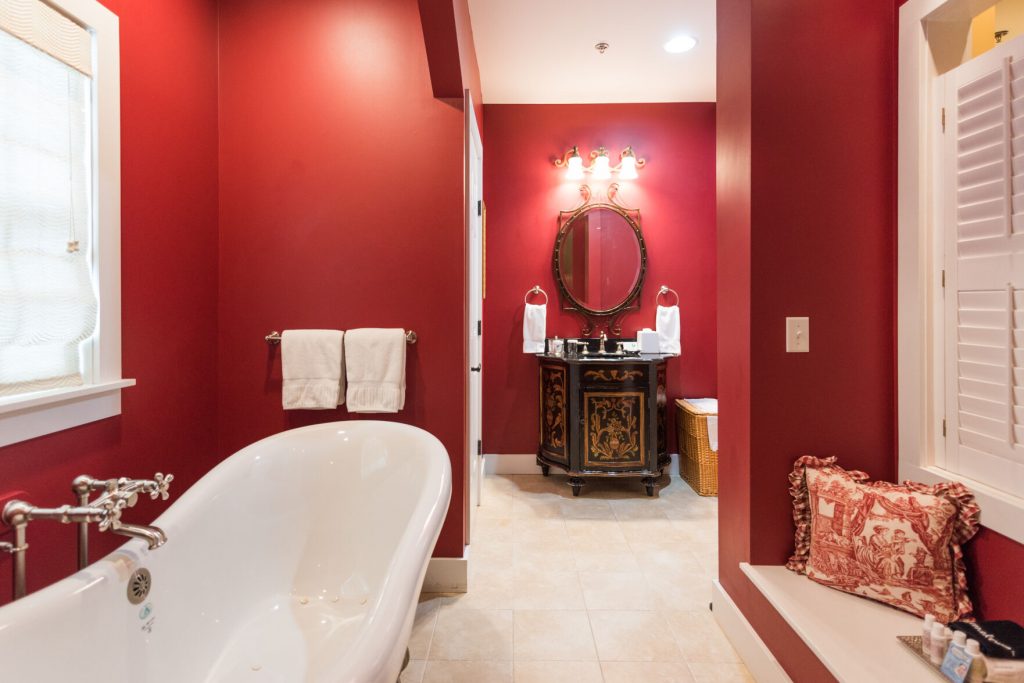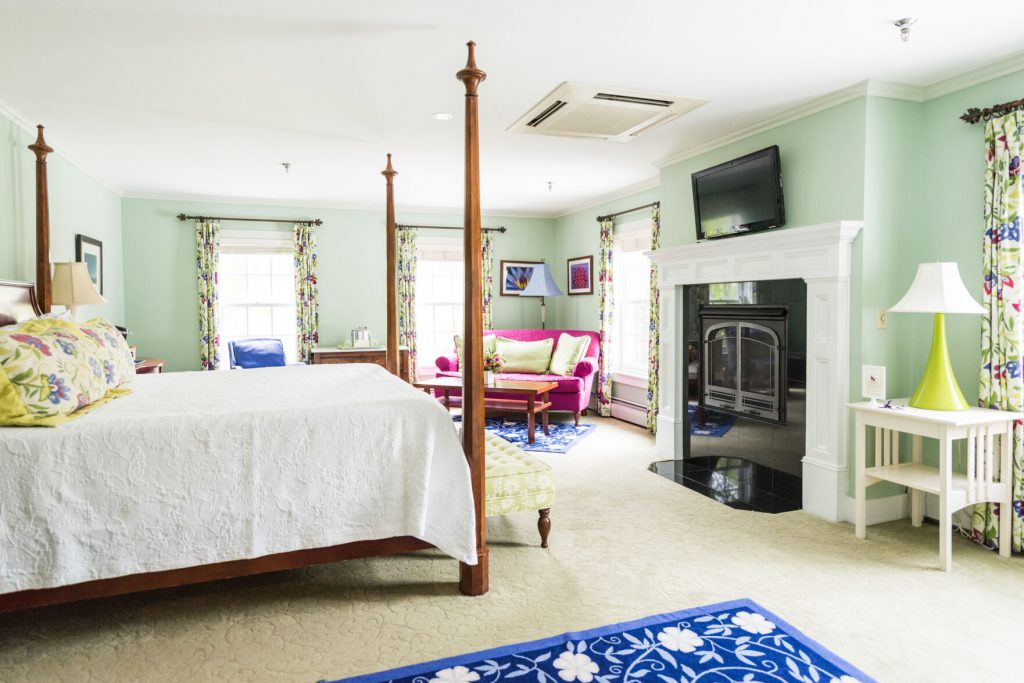 Do: Ask for the Pierre La Motte suite. Named after the Colonial French Captain thought to have established the first European settlement in Vermont in 1665, this luxurious suite is decorated in appropriate colonial style with antique furnishings and artwork worthy of Sotheby's auction house.
Don't: Miss out on the Reluctant Panther Restaurant. Whether one chooses to dine Al Fresco on a covered terrace or enjoy a formal dinner in the modern dining room, all will encounter a sophisticated menu and, most importantly, an unsurpassed wine list. The annual recipient since 2008 of The Wine Spectator Award of Excellence, Reluctant Panther has, (kitty has said this before), a cellar to purr for. To start, pair the Schramsberg Vineyards Brut Rose with Lobster Brie Fondue. For dinner, there is no better emulsion of flavor than to sip a Borolo, La Spinetta while eating the Reluctant Panther's famed pistachio stuffed lamb loin. Oh. My. Meow.
To book: reluctantpanther.com, 802-362-2568
This Kitty hopes you have been inspired to explore the unique reaches of her cherished green mountains. On topics of lifestyle and fashion in Vermont, do stay tuned for periodicals such as: "I Give Up" or "Has Yeti Become the New Chanelle?"
Until next time fellow Kitties, take care, drink well, and be thankful you are not camping!
Xoxoxo
Miss Kitty