By Susan Smallheer, Vermont Country
Toys — soft, cuddly animal toys — are what Mary Meyer Stuffed Toys is all about.
The Townshend company designs and produces dozens of different kinds of animal toys and gifts, and has since 1933, when Mary Meyer and her husband, Hans, moved to Vermont from New York City. They moved to Townshend in 1942.
Hans Meyer's dream of being a farmer didn't pan out, much to the delight of stuffed toy lovers of all generations. He turned the family's focus to his wife's side business of making small stuffed animals — and the company, now close to its 90th year, is being guided by the third generation of Meyers.
Mary and Hans Meyer's son, Walter Meyer, ran the company from 1955 to 1990, and died in March 2019.
Four of his sons (and Mary Meyer's grandsons), Kevin, Steven, Michael and Peter, have run the company since 1990, and all live in Windham County. The company operates out of a sprawling yellow and white headquarters on Route 30 outside of Townshend Village. Inside the building is a small museum (now closed to the public) devoted to the company, showing some of its earliest toys and photos of the young couple.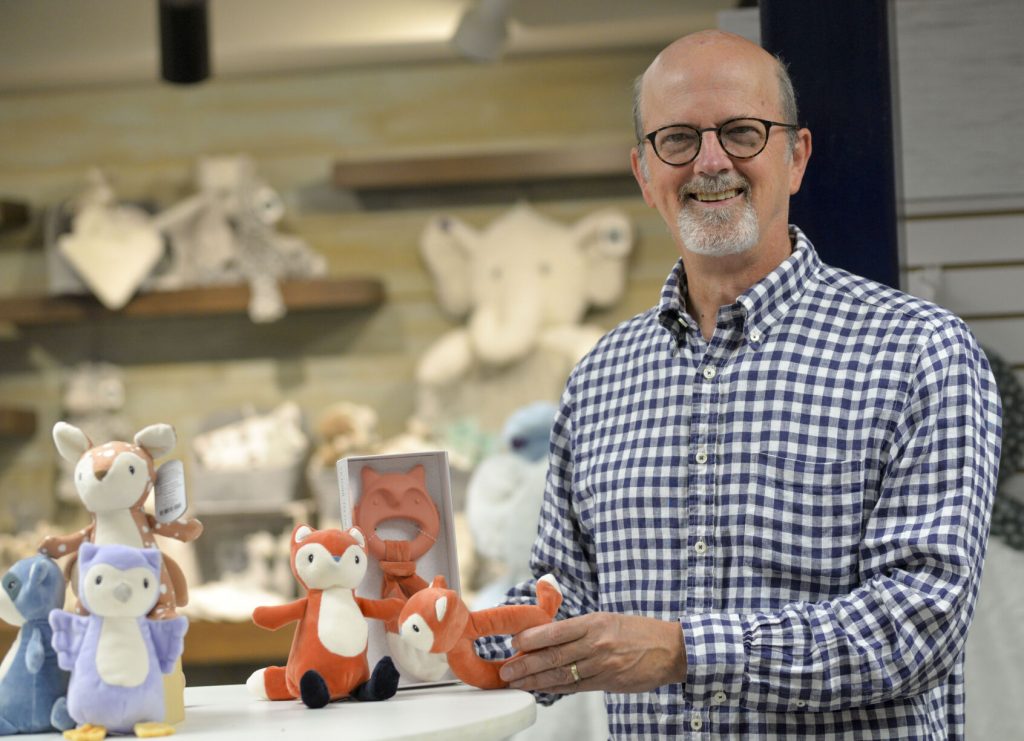 The company closed its retail store on Route 30 about 10 years ago, said Steven Meyer, vice president of marketing and design, but the toys are available at stores all over Southern Vermont.
Behind the yellow and white Vermont clapboards is a warehouse with boxes and boxes of soft and colorful toys, a virtual Noah's Ark: elephants, tigers, bears, deer, fawns, buffalo, kittens, puppies, cows, lambs, foxes, koala, owls, whales, chickens, lions, lobsters, ponies, monkeys and even a sloth.
They carry names like Cozy Toes and Loveys, which pair a teether with a special character small blanket.
Believe it or not, there's nary a doll in sight.
In a decidedly low-key order fulfillment strategy, employees push old Grand Union shopping carts around the warehouse, logging in with a smartphone-like device, as they put together the wholesale orders. Amazon, it is not.
The company does not do retail, Steven Meyer said. It was strictly a matter of economics: shipping a $20 teddy bear out of Townshend did not make economic sense. The company closed its Townshend store about 10 years ago.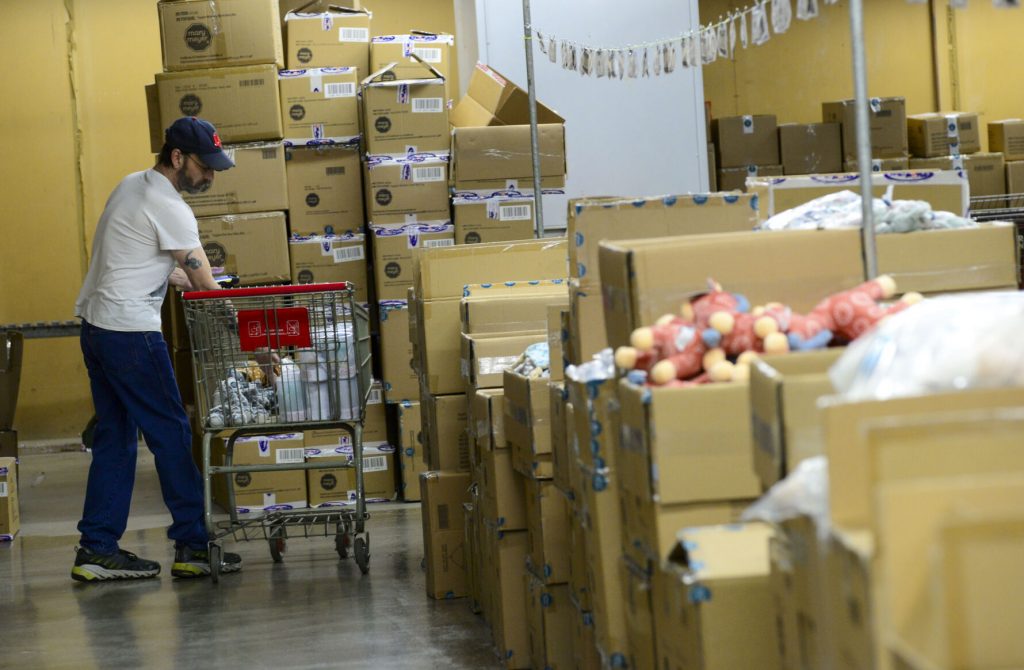 Wholesale orders average about $500, he said. There are a few big retail names in the customer base, such as Target and L.L. Bean and T.J. Maxx, and tourist draws like Yankee Candle in nearby Deerfield, Mass., ("We have a lot of product at Yankee Candle," he said) but most of the toys, baby items and books go to small baby-oriented specialty stores. The Mary Meyer sales staff goes to gift shows, rather than toy shows, he said.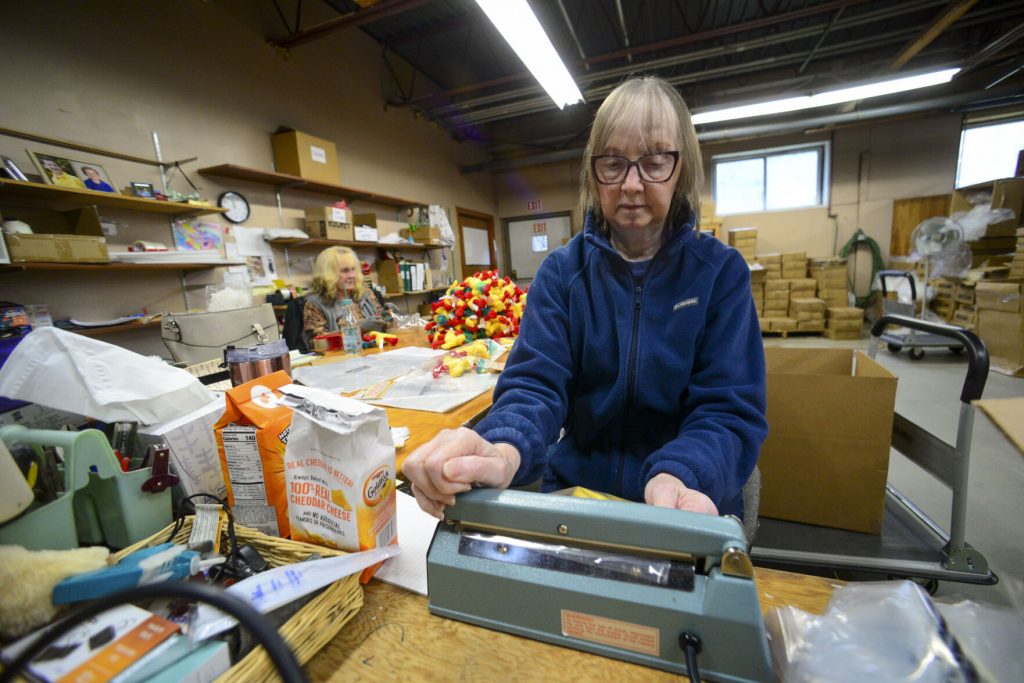 The toys are specialty items rather than everyday items, he said, describing the quintessential Mary Meyer client as looking for a special gift or two to bring to a baby shower.
While the toys are no longer made in Vermont, they are designed and conceived of in Townshend. Now made in China, in factories outside of Shanghai, the toys come back to Townshend, where workers select wholesale orders and ship them out to toy and gift shops all over the United States and beyond.
Every day, a FedEx tractor-trailer drops off an empty trailer, to be filled with Mary Meyer toys, he said.
Among the other Meyer children: Kevin is the CEO, Michael runs the warehouse operation, and Peter, the computer and shipping systems.
Steven Meyer, one of the sons who leads the company, is the lead designer for the company, and he and his co-designer Margaret Nixon design the toys, the baby mats, the board books and other toys and gifts that made up the company. "Sixty to 70 percent of the company's business is baby," he said.
Three years ago, Mary Meyer updated its logo to match the trend toward babies, he said. The logo now just includes the words "Mary Meyer" on a dark green emblem. "It's quiet, it's understated," he said.
Still family-owned, Mary Meyer has evolved over the years. Employees number at about 45, Steven Meyer said, while its height was in 1975, when 150 people made toys at its Townshend Village location.
The toy and gift business has shifted, Steven Meyer said, and 60 to 70 percent of its business is focused on babies — newborns and toddlers. Really big and expensive teddy bears are a thing of the past, he said. And the toy collectibles market has never recovered from the boom-and-bust of Beanie Babies, he said.
"Beanie Babies destroyed all that," he said of the collectible bear toy market.
Older children's toys are all about technology or franchise items — think "Star Wars," Legos and "Transformers" — while the young set still are tactile-oriented (hence the emphasis on soft fabrics and the satin ribbon Taggies).
Its most enduring toy is a stick hobby horse — although nowadays the horse has an audio box, and the horses come in a variety of breeds and colors, including tie-dyed.
But the firm's most popular items are the WubbaNub toys, another licensed product that marries a baby's pacifier with a Mary Meyer toy or soft blanket.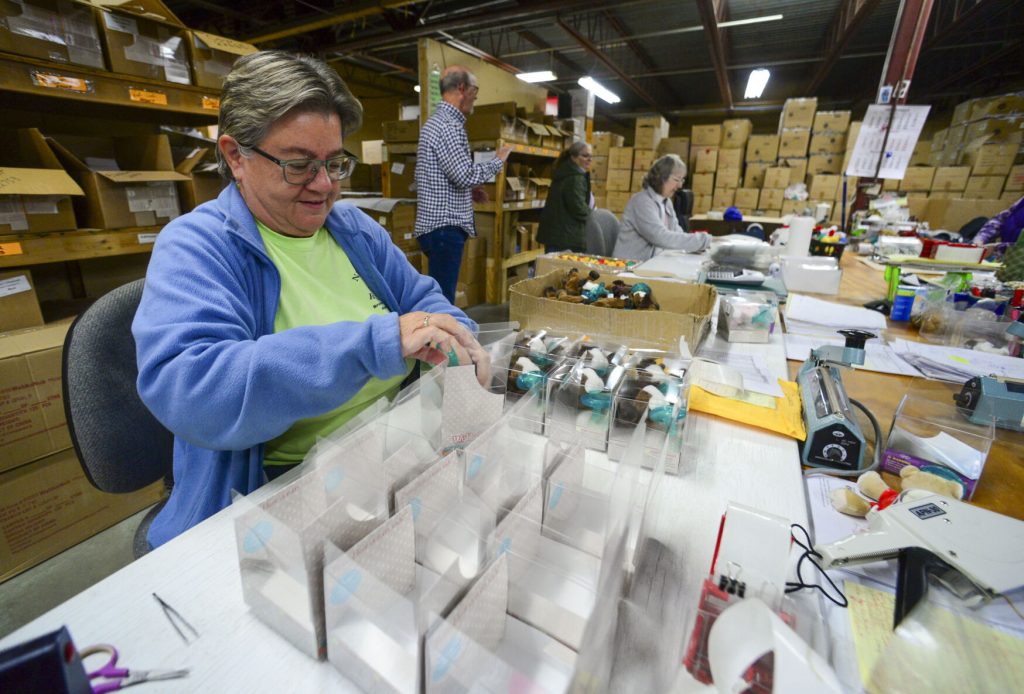 Mary Meyer makes toys for the WubbaNub company, and also makes its own toys, using the WubbaNub feature, under a licensing agreement, he said.
Laurie Nystrom has worked for Mary Meyer for close to 20 years. Recently, she was busy putting the perfect gift, WubbaNub animals, into clear plastic boxes. She said her group of workers had 46,000 toys that had to be labeled. Many of the toys have seasonal themes — snowflakes on a toy's sweater say holidays, she noted, as she deftly assembled the box and folded the WubbaNub inside its temporary home.
"We have a ton of different animals," she said, admitting some of them are "too big for my hands" to get them into the clear boxes. Other WubbaNubs are packaged in clear plastic bags.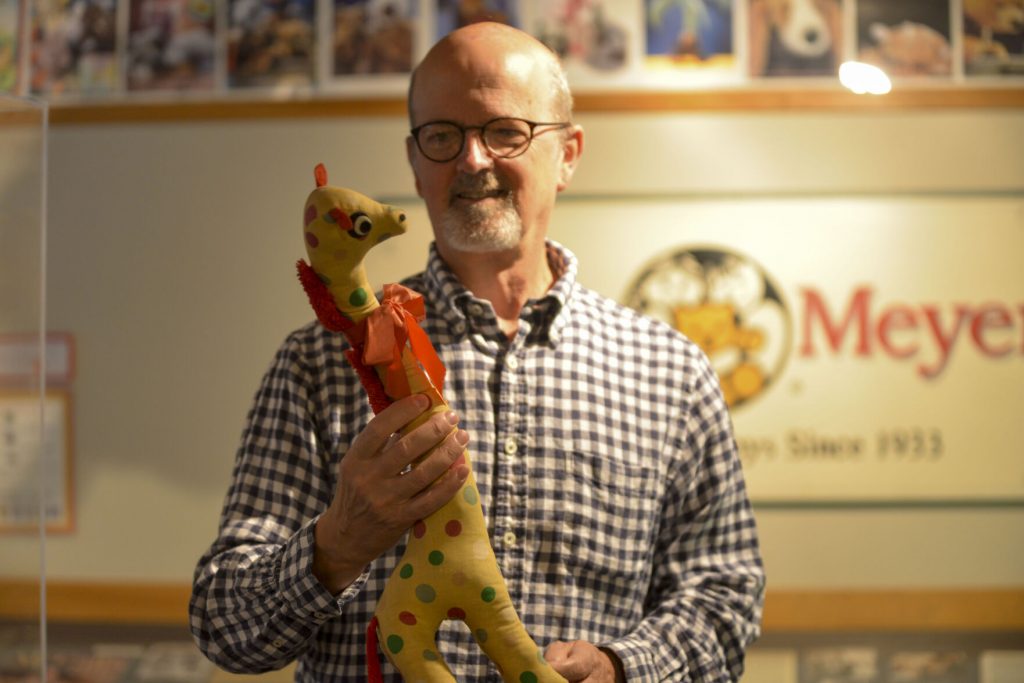 The company also has a partnership with mattress firm Tempur-Pedic for its bears, which are stuffed with Tempur-Pedic foam. Meyer said the bears are showroom accessories. He said one time he went into a mattress showroom in Cologne, Germany, and there was a bear on every bed.
A discovery by some Connecticut mothers 20 years ago resulted in "Taggies," soft toys embellished with folded pieces of satin ribbon along its edges. The mothers found that their babies loved the tactile feel of the ribbon, including the label, and started adding them.
The Taggies come in all sorts of different characters and items.
A walk-through of the Townshend facility reveals many employees with decades with the company, and Steven Meyer can name virtually all the different children (most often Meyer family members or the children of employees) that have appeared in the company's advertising in recent years.
His brother Kevin's granddaughter, Scarlett, is the cover girl for the firm's Baby 2022 catalog. She is Mary Meyer's great-great-granddaughter. She also provided instant market research, he said, when she grabbed a new item that joined a teether with a toy. Until then, the company wasn't sure of its success.
Another popular item for babies puts faces on food — think a cute face on an ice cream cone.
And right now, anything with a llama or a llama theme is popular with babies, their parents and grandparents.
Mary Meyer items range in price from $9 for an animal baby rattle to $55 for a baby mat — a large character made into a plush blanket for the baby.  
Meyer and Nixon, who went to art school together in Ohio, draw inspiration from a variety of sources, including a swatch book of irresistible soft-textured fabrics, the company's own list of popular items, and trade books, that give manufacturers tips on what colors and themes are popular the world over. Nixon has been with Mary Meyer for 30 years, he said, and they share a large airy office, filled with toys — past, present and future.
The company has even started publishing children's books, to go with some toy characters. The board books are slightly larger than many children's board books, and Steven Meyer and Nixon collaborate closely on the design and the illustrations, he said.
"Also as far as product goes, look for board books, wood toys and silicone baby toys next year," he said.
"We're not ready to retire, and there is a eye on the fourth generation taking over," he said.
Susan Smallheer — has been reporting for the Brattleboro Reformer since 2018. Before that, she was a reporter, statehouse reporter, bureau chief and editor for the Rutland Daily Herald in Vermont for many years. She lives on a small sheep farm in Rockingham.