By Jim Therrien, Vermont Country
The fall — from Sept. 23 to Dec. 21 — is when Vermonters and visitors alike are hoping to get elevated and witness some breathtaking beauty.
Fortunately, Southern Vermont, in both Bennington and Windham counties, offers an almost endless array of mountain peaks, overlooks, scenic drives and hiking trails that could compete for anyone's personal autumn favorite.
Many agree that Route 100, which winds up through the middle of Vermont for more than 200 miles, from Massachusetts to the Canadian border, offers the greatest scenic sensory overload.
Not only are the long-distance views often spectacular, but classic pastures, wood stands, farm fields, quaint Vermont villages and recreation resorts stream past along the way.
Routes 11 and 30, which loop roughly over the northern sections of Southern Vermont, offer similar scenery and attractions.
Route 7A along the state's western border and Route 9, which links Bennington to Wilmington (where Route 100 crosses) and Brattleboro, provide easy connections throughout the region.
But these larger highways (in Vermont terms) also offer a few of the region's magnificent views — with options for both the hiker and vehicle access at hand.
Below are just a sampling of the traditional lookout sites treasured by leaf peepers and natives alike. Others can always be discovered around the next curve while exploring Vermont's scenic two-laners.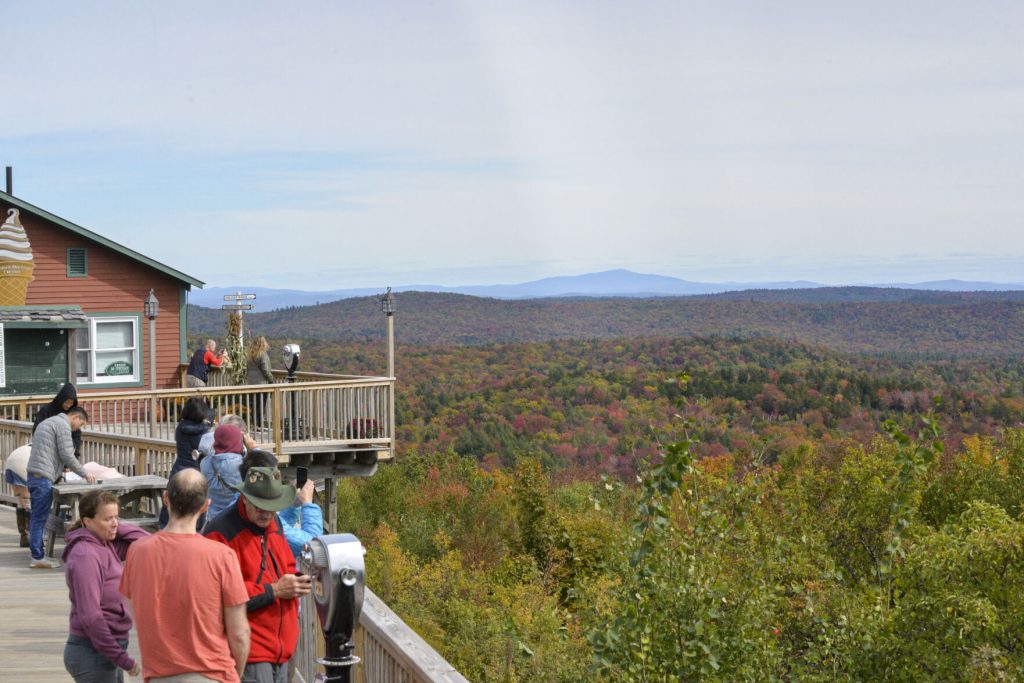 Hogback Mountain
Hogback Mountain in Marlboro is on the site of a historic early downhill ski area, dating to the first skiing boom after World War II. The landmark scenic overlook on busy Route 9 is probably the most familiar in Southern Vermont.
A 100-mile view toward the south, east and west offers a wide expanse of rolling mountain terrain. Hogback is almost directly opposite some of the scenic lookout overlooks on the Mohawk Trail (Route 2) in Massachusetts, so there is every chance someone on that side might be staring back at you through a set of those coin-operated tourist binoculars.
The Hogback Mountain Country Store offers a wide range of gifts, specialty Vermont foods, apparel and more, as well as extensive observation decks for viewing and, of course, taking photos.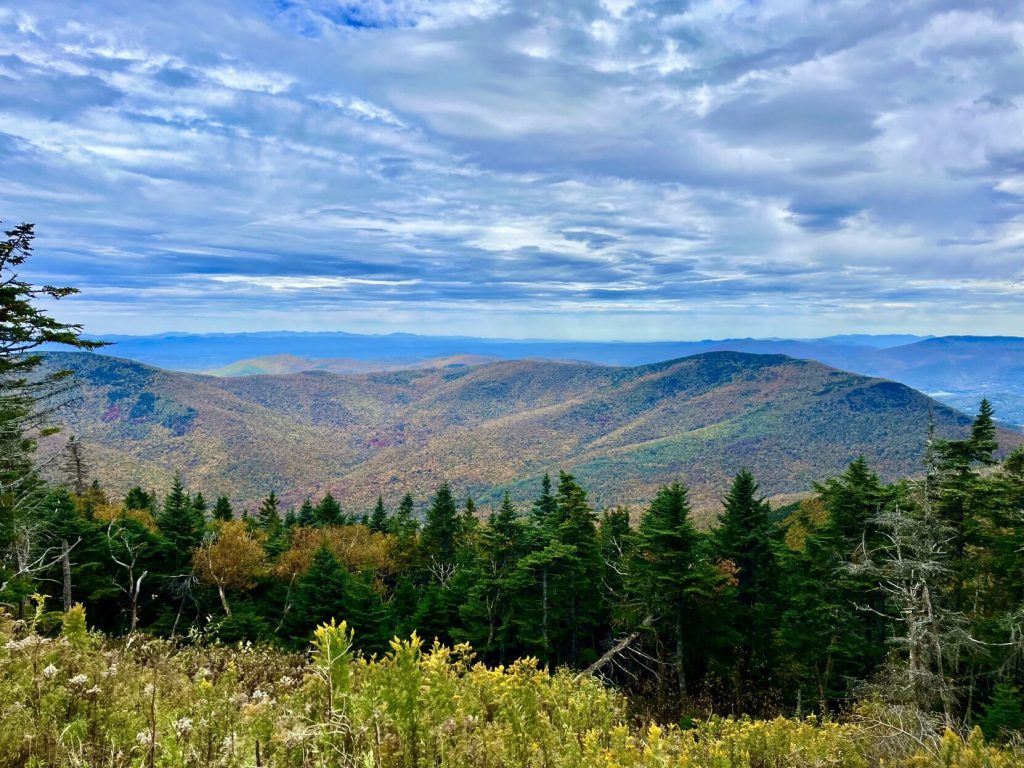 Mount Equinox
In Bennington County, Mount Equinox provides one of the grandest and widest mountain vistas anywhere — and it can be reached either by car or via hiking a trail. Entrances to the drive are in the Northshire and in the Taconic Range along the New York-Vermont border.
The Skyline Drive up Mount Equinox is celebrating its 75 anniversary this year.
Access is off Route 7A in Sunderland, south of Manchester. There is a toll, which during October foliage season is $30 for a car and driver, and $5 for each additional passenger. It's free for children under 10, according to its website.
Mount Equinox, at 3,848 feet, is the highest peak in the Taconics and offers views of Vermont, New York, New Hampshire, Massachusetts — and on clear days, Montreal's Mount Royal.
There are pulloff locations along the drive, a visitors center and observation decks on top.
Hiking to the peak might not be for the casual hiker, because of the steep sections and the elevation, but there also are trails along the base of the mountain.
Access to trails can be found off West Union Street near Burr and Burton Academy in Manchester.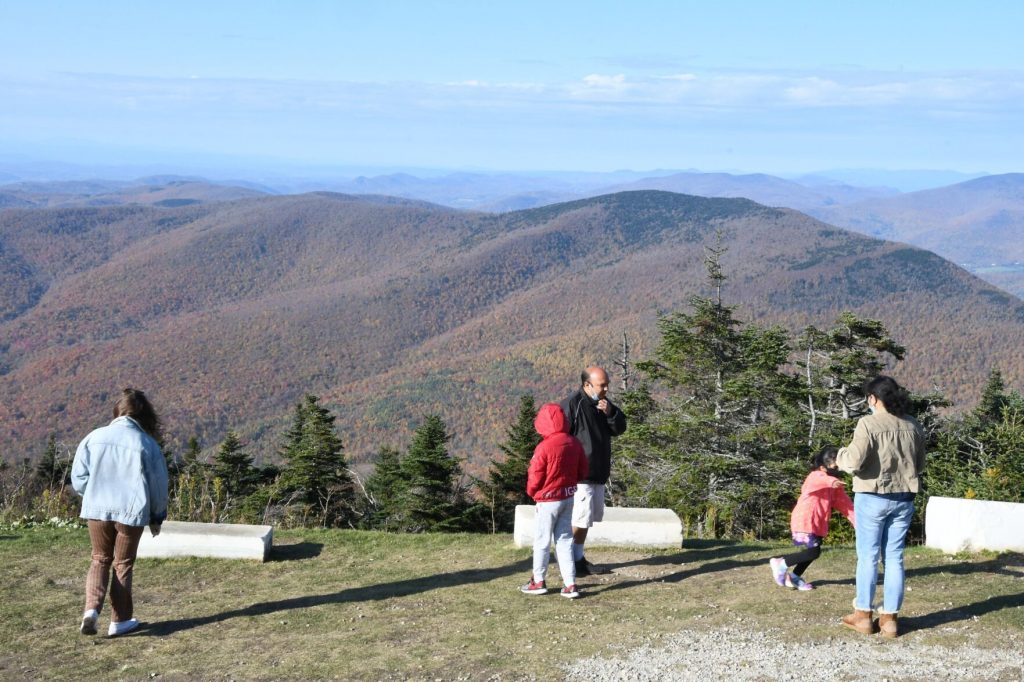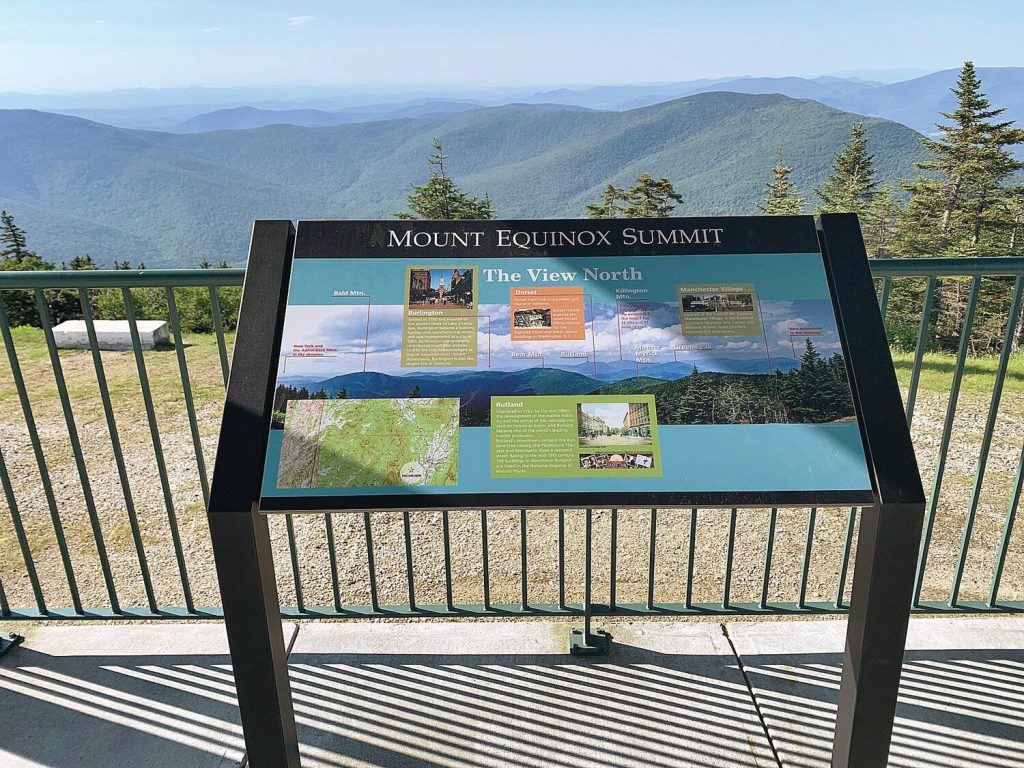 Putney Mountain
Putney Mountain near Newfane is an easy hike that offers spectacular views from the top.
The 1,647-foot peak is also famous for eagle- and hawk-watching. Thousands of raptor sightings are typically made by watchers during the annual fall migration.
The Putney Mountain Hawk Watch, established in 1974, is the only autumn raptor watch in Vermont that is monitored full time.
More than 200 species of birds can be spotted at the summit, including ospreys, northern harriers, goshawks, Cooper's hawks, kestrels, merlins and even a peregrine falcon from time to time.
The loop trail can be used for hiking, snowshoeing and running. It is open year-round, and each season offers its own views.
Visitors will need to leave the dog at home, as they aren't allowed on this trail.
Get there via Putney Mountain Road off Route 30.
Stratton Mountain
Stratton Mountain is a 3,940-foot mountain in the Green Mountain National Forest and considered the highest peak in Windham County and the southern Green Mountains.
A section of the Appalachian Trail and Long Trail, which run together at that point, is marked with white blazes. It travels to the summit of Stratton Mountain.
Vista openings along the trail include beautiful views of Somerset Reservoir to the south.
Of course, Stratton Mountain is also an all-season resort, with shopping, lodging and multiple trails for both winter and warm weather sports.
Ski lifts and a gondola provide rides to the top, or there are hiking trails from easy to advanced.
The Stratton Mountain resort and village can be reached from Route 7 in Manchester Center and over Route 30, east toward Winhall.
White Rocks/Bald Mountain
Bennington's White Rocks outcropping is a familiar vista that is along a trail to the peak of Bald Mountain.
It is a local favorite destination and can be accessed near a small trail parking area in town. Information and a map about the trail can be found at the trailhead at 449 North Branch St.
Bald Mountain also can be reached via the West Ridge Trail from an access point off Route 9 in Woodford. There is a map at the North Branch Street location.
The panoramic view from the White Rocks is primarily toward the Taconic Range and New York to the west, with Mount Anthony in Bennington, looming to the left.
Jim Therrien — reports for the three Vermont News Media newspapers in Southern Vermont. He previously worked as a reporter and editor at The Berkshire Eagle, the Bennington Banner, The Springfield Republican and the former North Adams Transcript.