Pandemic wreaked scheduling havoc on Green Mountain marriage ceremony
By Susan Smallheer
UpCountry Magazine
SAXTONS RIVER — Ruth Rowell and Brendan Hackett set the date: June 6, 2020.
Then COVID hit.
And they set another date, Oct. 24, 2020.
And they even got the coronavirus, together, before vaccinations became available.
And they set another date, June 19, 2021.
And set another date, Oct. 23, 2021.
In the time of COVID, you have to be persistent.
The couple, who first met while students at Bellows Falls Union High School in Westminster, ended up waiting 18 months before they could have the wedding they wanted at the Chapel of the Snows at Stratton Mountain, with a reception at the Stratton Club.

In all, the couple sent out four different "Save the Date" cards, first for June 2020, and then October 2020, and then June 2021, and finally Oct. 23, 2021, which turned out to be their wedding day.
Eloping was never really an option, said Ruth, who now goes by Ruth Hackett after her Oct. 23 wedding, with 130 friends and family in attendance. Even a small wedding, with a big party afterward, wasn't what they wanted. So they waited, and rescheduled, and rescheduled. And rescheduled.
"We were convinced it was going to happen," she said. "We wanted a wedding, for all our friends and family."

Ruth grew up outside of Saxtons River, and Brendan in neighboring Westminster. They've known each other since they were 16. They went to their senior prom together, and both ended up at the University of Vermont in Burlington, where they were a couple until they weren't.
But they reconnected when both were living and working in Boston after graduation, and got engaged in June 2019. Now both 28, the couple recently moved back to Burlington, as Brendan has a new job at GlobalFoundries in Essex Junction, as a principal automatic engineer.
Ruth brought her job with her to Vermont from Somerville: She works remotely for Brandeis University, working on admissions and student accounts.
It was her formidable organizational skills that kept the wedding — originally planned for early summer, and then to the fall, and then back to summer, and finally back to fall — on track, with all the decisions that have to be made to hold a wedding, and all the constant changes.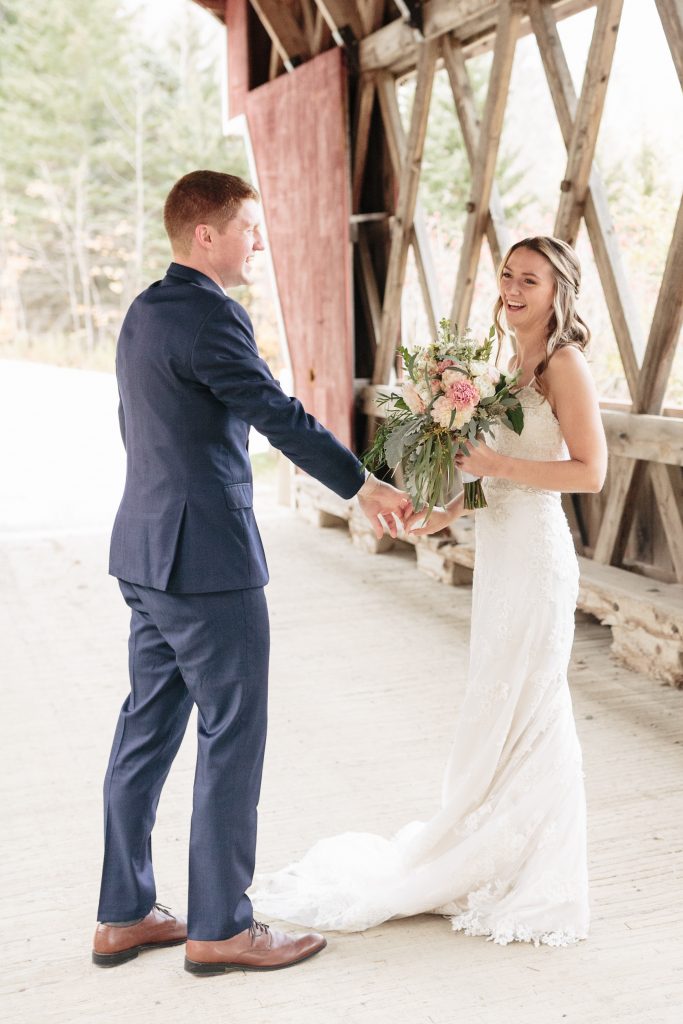 "We definitely never got close to a wedding until this year. We had a lot to do. It was hard to plan," she said. "We were trying to err on the side of caution."
Ruth said the couple chose Stratton Mountain because it had everything they wanted: a church ceremony with the reception nearby, room for friends and family to stay overnight, and a dance floor.
Guests could walk the short distance from the Chapel of the Snows to the Stratton Club, or they could take the shuttle bus system. Friends and family could book rooms at the resort, and the couple's DJ could keep everyone on the dance floor.
At one point, an option of 25 people at an indoor ceremony was a possibility, she said. But there couldn't be a buffet, and there wouldn't be a dance floor. And there would have to be waiters taking orders, she said.
"We could have had a wedding with 20 percent of the people we wanted, but in order to have the vision of what we wanted, we waited," she said.
In the end, the couple invited 165 people, with 130 people attending. "A handful had to cancel because of exposure," she said. And some older people stayed home out of concern about exposure, she said.
Ruth said the only casualty of the oft-pushed-back wedding was their original photographer, who had to bow out because of an earlier commitment.
And according to Brendan, the only extra cost were all those "Save The Date" cards they had to mail out.
The couple didn't lose any deposits, and all their vendors were understanding, Ruth said.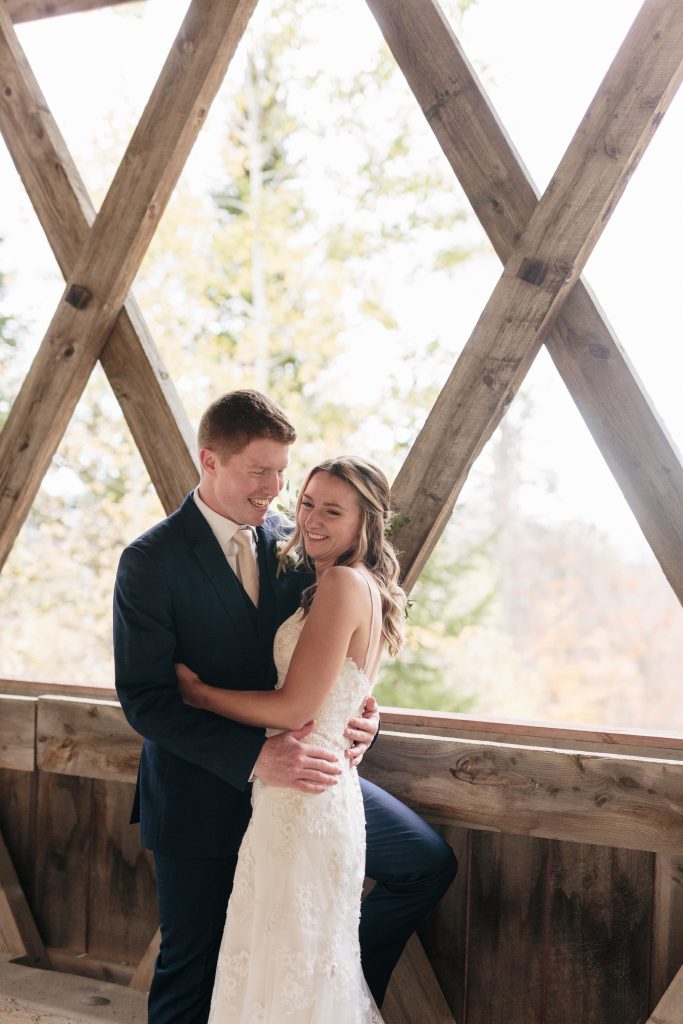 But questions came up: Was her originally strapless wedding gown too summery for October? Was the "cinnamon rose" chosen for the bridesmaids' gowns suitable for the late fall? And what about the flowers? Did flowers chosen for June still look right for October?
After the third cancellation, "We both got discouraged," Brendan said.
One concession, she said: Wedding decorations were ordered without a date.
Chapel of the Snows was built by Stratton Mountain a few years after the resort opened in 1961. The nondenominational chapel hosts everything from weddings to funerals, as well as different faith services.
Stratton Mountain event planner Valerie Ryan, who worked with the Hacketts, said the resort started moving fast in April 2020 to encourage couples to move their weddings to 2021. The process involved a lot of Zoom calls and sharing state regulation updates.
"A few weddings decided to cancel, and most chose to have a very small backyard wedding with immediate family, and all of them shared pictures with us," Ryan said. "That really meant something to us at the resort; it meant we did our jobs well during difficult times. We did the right thing, and people wanted to share their joy with us."
"Stratton was awesome," Brendan said.
Richard Anderberg of Newfane, of the West River Mission of Townshend, performed the ceremony for the couple. Anderberg is a deacon for the Catholic church, not an ordained priest.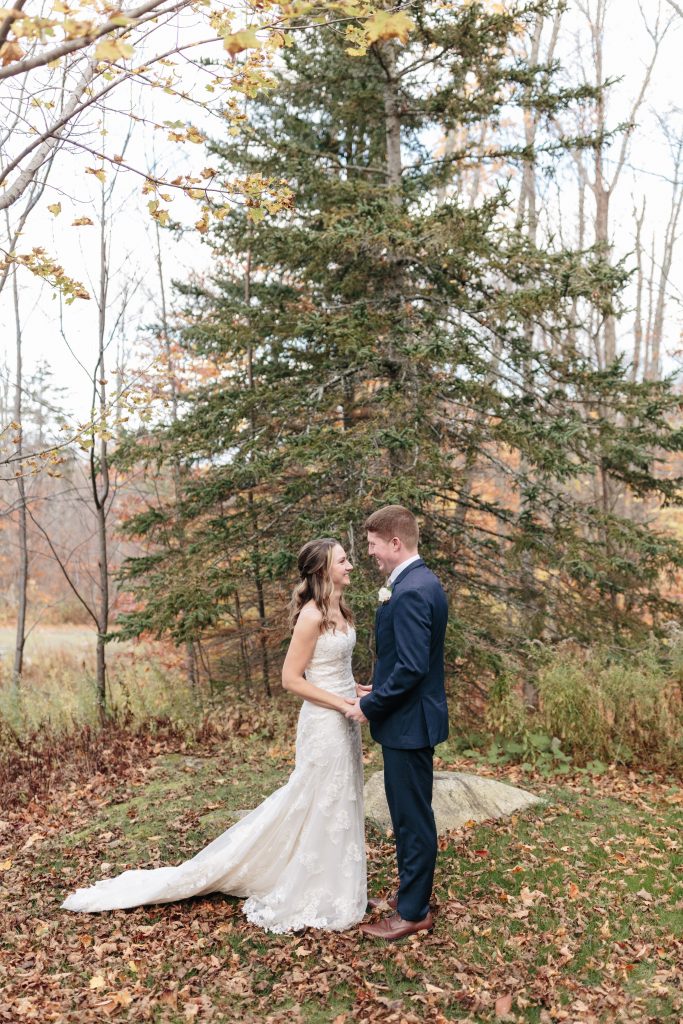 Married to his wife for 50 years, Anderberg said he has been performing weddings — but not wedding masses — for about 15 years.
Anderberg said he often performs destination weddings for out-of-state couples coming to Stratton or other locations in the West River Valley.
COVID-19 meant there were no weddings for a year, Anderberg said. Finally, in summer 2021, couples could start scheduling the weddings they wanted.
While the Hacketts did end up with the wedding of their desires, COVID-19 did make it harder — if not impossible — for some of their far-flung friends to make it to Vermont for the celebration.
One of the couple's closest friends was stuck behind a travel ban in Germany, which ended up being lifted right after the wedding. "He tried his darnedest," Brendan said.
"We had the wedding we actually wanted," Ruth said. "I was very pleased with everything. Nothing went wrong."
"We've been lucky," Brendan said. "It's been a tough two years."