Pair of wedding-reliant Southern Vermont businesses deftly dodge the COVID-19 pandemic
By Bob Audette
UpCountry Magazine
Brides and grooms and their loved ones aren't the only folks who needed to shift nuptial plans because of COVID-19.
Part of the wedding economy in Southern Vermont, florists and bakers had to adapt in different ways to outlast the effects of the coronavirus. They found different ways to work, located new suppliers and were able to keep their products on wedding tables in homes and small venues around the region.
"We were concerned about how things were going to go," said Elizabeth Wilwol, co-owner of The Gift Garden in downtown Bennington, which offers signature floral pieces, plants, fruit, gourmet baskets and other special gifts for all occasions.
Being able to provide contactless pickup and curbside service right at the start helped maintain the stability The Gift Garden needed to weather the early, uncertain months of COVID-19. Restaurants were closing, people were postponing weddings, and most funerals were outside service only.
And then there were supply chain issues; some flower farms temporarily closed, uncertain of demand and how to best protect their workers.
"We had to source from other places," said Wilwol, who has operated The Gift Garden with her husband, Dwain, since 2015. During the height of the pandemic, she wasn't always able to travel to see the product, and that made her a little nervous. But things turned out OK.
"I was pretty impressed with some of the farmers and growers who reached out to people to sell their products," Wilwol said. "It was quality stuff."
Even though weddings are back on for many people, they have shrunk in size, Wilwol said. Still, during the height of the season, she was making floral displays for two to three weddings a week.
"We learned to change and adapt to the situation," she said. "Nothing stays the same."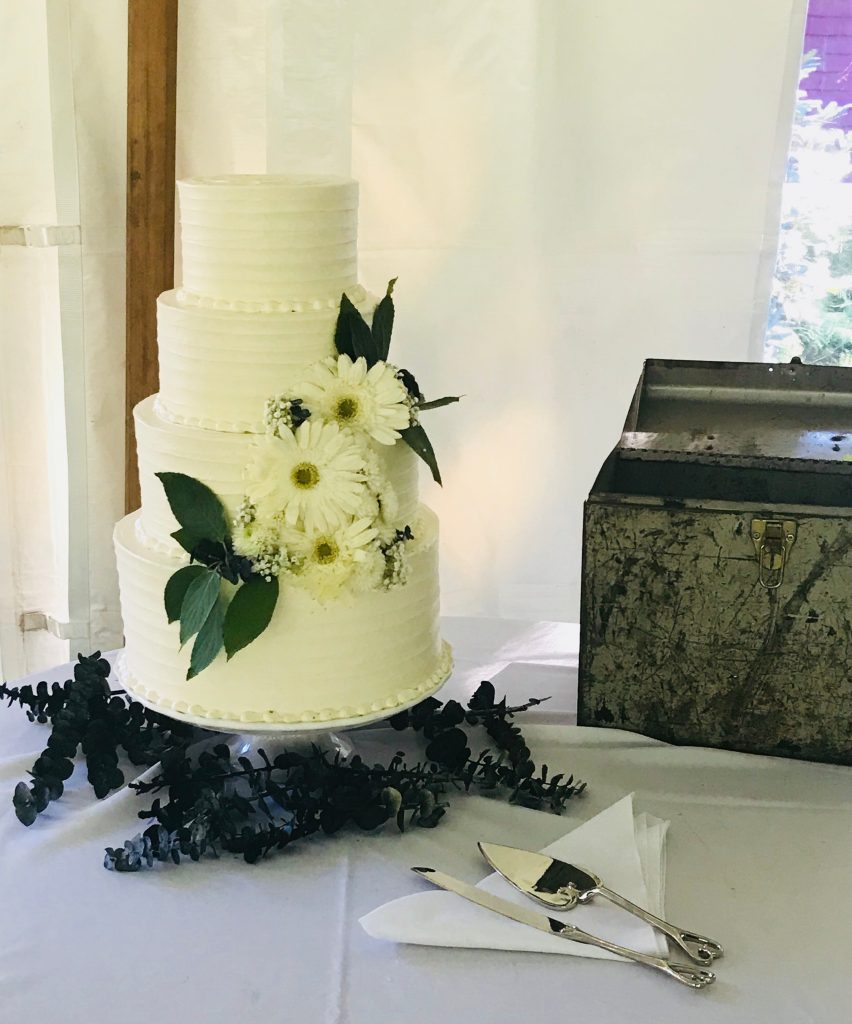 Screeched to a halt
Britni Christiansen, owner of Top Tier Baking in Guilford, remembers March 21, 2020, well. That's the day the whole world seemed to screech to a halt.
"I had three weddings booked that day," she said. "One canceled, one moved the date to be determined and the third went from 200 to 10 people."
Christiansen said before the pandemic, weddings and events were her "bread and butter."
She also baked desserts for the Whetstone Station Restaurant and Brewery in Brattleboro, and her cupcakes could be found at the Vermont Country Deli Market, the Guilford Country Store and Stratton Mountain.
All those places shut down for a while, as the service industry figured out ways to operate safely.
"Volume in general went downhill," Christiansen said.
When things started to open back up, she said, her time was split between baking and raising children home from school.
"It was a tricky wedding season to maneuver," she said.
Her products are back in the restaurant and back on the shelves at the ski hill.
"The cupcakes sell like crazy," she said.
And while weddings and events haven't returned to pre-pandemic levels, she said, the word around Southern Vermont is that 2022 will have a booming wedding season.
"I'm preparing myself for a busy summer," Christiansen said.
Bob Audette has been writing for the Brattleboro Reformer for close to 15 years. When he's not working or hanging out with his 6-year-old son, he can often be found on one of the many trails leading to the summit of Mount Monadnock, in southern New Hampshire.