It's my favorite season!!
OK, not yet, but hopefully it will be by the time you read this. Anyone else get ragey when it's still 80 degrees in October? And I say this as someone who is perpetually cold. Seasons are meant to change.
Fall is, or should be, when the temperature is perfect (with maybe a sweater — see Miss Kitty's column for some guidance on a fall wardrobe shopping excursion), the bugs have gone back to the underworld, there is no snow to complicate things, and the timelessly pleasing scent of burning leaves is always in the distance.
But I think my favorite part is that it's officially "spooky season," the time of year that culminates with Halloween. It's like the winter holiday season, but better. Holiday cheer can feel forced, but seeing as life is inherently spooky and scary, nothing needs to be forced for the current season.
Leaning into real-life, local horror stories is "Haunted Vermont," now up at Bennington Museum. In this issue of Vermont Country, reporter Alexander Belogour and photographer Stewart Cairns take us inside the exhibition that includes possessions of the North Bennington resident and author Shirley Jackson, known for contributions to gothic literature; "spirit art" from Solomon Jewett, a famous Vermont collector; and original articles from the days of the Bennington Triangle disappearances. For more on the Bennington Triangle — Vermont's version of the Bermuda Triangle, also named for its disappearances — staffer Bob Audette has us covered with an interview with the fellow who coined the phrase.
Side note: Do you believe in ghosts? This is one of my favorite questions, going back at least as far as when I watched "Real Scary Stories" on the Family channel in 2000. The show called for stories of real-life hauntings from then-youngsters like me, then filmed the investigations. To this day, I want to hear all tales of the paranormal (but I do prefer ghosts to demons). More on this later.
But for fictional scares, film columnist Dan Tebo is back with his take on a selection of creepy movies set in the woods. And since you can't have a scary movie without liquid courage, and for that, writer Gordon Dossett takes us through some fall beer options. If you're more of a cider drinker, staff writer Michael Albans shows us the inside of Little City Cider Co., a cidermaking operation right in Bennington.
If you plan to hit the farm stands, Vermont News & Media nutrition columnist Katharine A. Jameson and photographer Kristopher Radder take us to Harlow Farm in Westminster, and even give us a recipe using local produce.
Thrifters, collectors and reality TV-watchers: New Vermont Country contributor and thoughtful reviewer Robyn Jensen gives her take on "American Pickers," a History Channel show that visits antique collectors and negotiates for their treasures — and that is paying a trip to Vermont this fall.
Something else to look forward to is the sixth annual New England Street Food Festival, in its new, bigger iteration on Brattleboro Common. Staffer Chris Mays tells us what's in store.
In North Bennington, I take us inside the process of papermaker (I learned of this art form only when I did this story) Michelle Samour.
And, of course, we celebrate the color green here in the Green Mountain State: writers Jennifer Brandt and Tory Rich give a lowdown on some local cannabis operations.
Oh, and back to Miss Kitty: Our favorite frisky columnist is back with guidance on a perfect autumn day date in Southern Vermont.
Fingers crossed that the season changes so we can, too. And if you have any local ghost sightings or your own "Real Scary Stories," hit me up at gmangiaratti@reformer.com.
---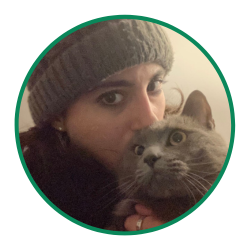 Gena Mangiaratti, whose first name rhymes with henna, is arts and entertainment editor for Vermont News & Media. She regularly falls behind on grocery shopping, which leads to picking up bread from the nearby Vermont Country Deli, which leads to impulse purchases of local wares. She lives in Brattleboro with her cat, Theodora, who can be followed on Twitter, @fedoratheodora.