By Gena Mangiaratti, Vermont Country.
I recently heard someone ask how everyone is enjoying their fall this summer.
In early June, when I visited an open house event at Naulakha, "The Jungle Book" author Rudyard Kipling's house in Dummerston, there was a need for a winter hat. Nights are still chilly. I still use a space heater in the mornings. The good news is, it's possible to go for a run without melting into the asphalt. As of late June, it remains a wonder when the other shoe that is real summer will drop.
If you determine Southern Vermont is the place to wait out this fall-summer (fummer?), Miss Kitty is back with her take on colorful places to stay in the region. And whether the temperature suits hot coffee or iced coffee or even spiked coffee, staffers Gordon Dossett, Bob Audette and photographer Stewart Cairns have you covered with an extensive list of tasty caffeine options.
Indoors and outdoors, summer concert series abound. Reporter (and local musician) Chris Mays and I highlighted two in Brattleboro at Saxtons River Distillery and the new Bar 580, respectively.
Ever wondered what factors actually determine a good glass of wine? New contributor Lucas Woods, a sommelier — which I learned via Google search means "wine steward" — gives us a detailed low-down. Back Road Ramblers' Tara Schatz is back and has us covered with a list of swimming spots. For an unusual earthbound experience, Gordon Dossett takes us to a spot in Manchester where visitors can get to know birds of prey on a personal level.
To highlight a budding new industry in the Green Mountain State, we welcome new contributor Jeff Diehl, who brings us along on a visit to some cannabis growing operations in Vermont.
And of course, back with his comforting, sardonic presence is movie columnist Dan Tebo, with a list of beach trips we can take from the couch.
It's not the beach, but if you're just needing life to slow down, book a stay at Naulakha — which I write about in this issue — for an experience from long before "doomscrolling" was a word.
Stay cool, or warm. 
---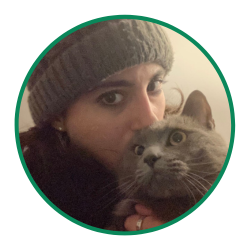 Gena Mangiaratti, whose first name rhymes with henna, is arts and entertainment editor for Vermont News & Media. She regularly falls behind on grocery shopping, which leads to picking up bread from the nearby Vermont Country Deli, which leads to impulse purchases of local wares. She lives in Brattleboro with her cat, Theodora, who can be followed on Twitter, @fedoratheodora.