Arts venues sustain Brattleboro's rich organ legacy
By Bill LeConey, Vermont Country Magazine
BRATTLEBORO — When Henry Danaher performed a free concert on the historic Estey pipe organ at Epsilon Spires on a weekday afternoon in December, he wasn't merely "tickling the ivories" on joyous advent chorales of the holiday season.
He was actually building upon a tradition and legacy unique to Brattleboro. It was almost as if the founders of the Estey Organ Company — which transformed this Southern Vermont town into a manufacturing mecca of the instrument more than 150 years ago — were looking down in approval, and admiring their own handiwork still in use all these years later.
"With instruments like these, it's kind of like a conversation," said Danaher, the director of music at the Church of Christ at Dartmouth College in Hanover, N.H. "The instrument really determines the tempo and the register, and every instrument is completely another personality, so you have to rediscover the music that you've learned and think about it in a new way."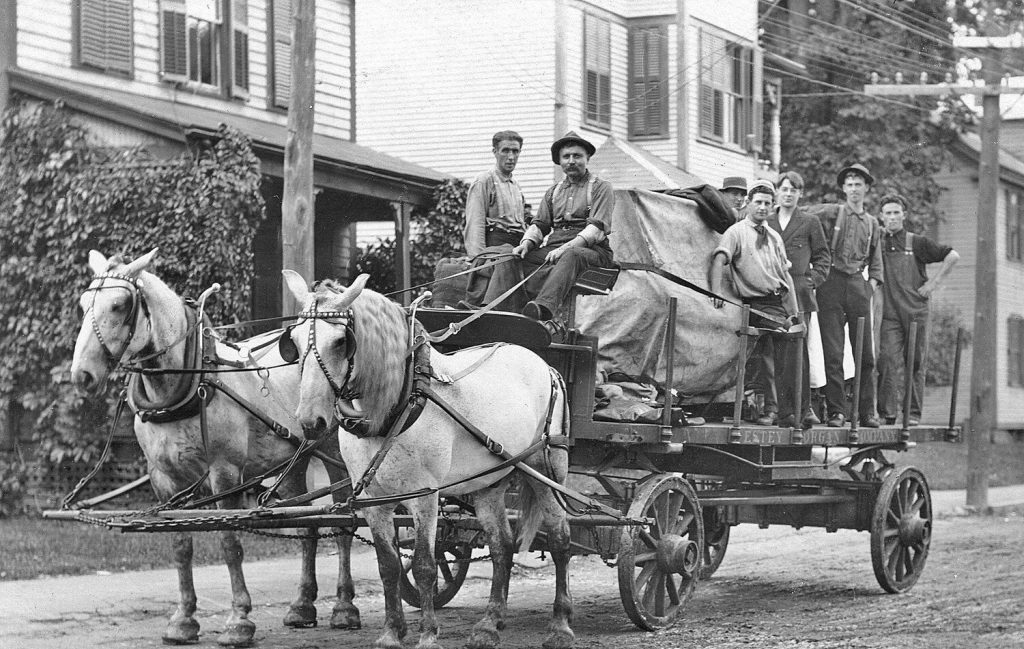 Several of the pieces that Danaher played that day were written during the era when the Estey organ at Epsilon Spires was built, in 1906. At times soothing and soft, at times boisterous and dramatic — with percussive chimes adding bursts of color to the mix — the Estey pipe organ under Danaher's masterful control filled the sanctuary with all of its "personalities."
"It really turns a building into an instrument," Danaher said. "It's like the whole building is singing. That's one thing that's special about the organ. I really feel like you're inhabiting it for a while."
The massive pipe organ is vital to Epsilon Spires, originally the town's First Baptist Church, which bills itself as "a center of communication, illuminating the relationships between creative arts, natural sciences and sustainability using multimedia platforms" (epsilonspires.org). The arts venue features the organ in everything from experimental drone performances to monthly classical concerts to silent film accompaniment — which is appropriate, since many of the Estey organs were key fixtures in movie theaters during the era of silent films.
"There's such a wide range of sounds that it can produce," said Epsilon Spires director Jamie Mohr. "We try to have a wide variety, and you get to see all the different characters that can come out of that. A lot of the organists are very excited about building their own program where they can show their own influences, where it can range from very old and Baroque, to modern and everything in between, and sometimes in the same show. And we've had organists from around the world, from Taiwan, Hong Kong, from Shetland Islands, and from all over the U.S."
The silent film series has been a hit. Accompanist Ben Model, one of the top players in the country, has provided live pipe organ soundtracks to Fritz Lang's "Metropolis" (1927), and the Buster Keaton films "The General" and "Steamboat Bill Jr." Model plans to return this spring for a screening of "Safety Last!" starring Harold Lloyd.
World-renowned organist Dennis James is also returning to Epsilon Spires in March for a suspense program showcasing silent films by Alfred Hitchcock. In October, James performed a live soundtrack on the Estey for the centennial celebration of F.W. Murnau's silent classic "Nosferatu."
Epsilon Spires has also featured performers like experimental Canadian composer Sarah Davachi — who provided immersive deep listening in the sanctuary with performances on pipe organ, strings and pedal steel drones.
It's hard to imagine the company's founder, Jacob Estey, a former plumber, envisioning those sounds when he purchased a bankrupt Brattleboro company in 1850 that made melodeons, a category of reed instruments that includes accordions. Together with his relatives, Estey took the business from a failing endeavor and built it into what would eventually become the largest manufacturer of reed and pipe organs in the world.
An entire neighborhood (called Esteyville) sprung up around the large factory complex in Brattleboro, which included over 20 buildings of unique slate architecture, now listed on the National Registry of Historic Places. One of the buildings now houses the Estey Organ Museum, which is open from May through October and features many of the company's "artifacts," some of which are still operable. Its website is esteyorganmuseum.org.
The Estey Company employed a large workforce, many of whom were highly specialized craftsmen, including woodcarvers, designers, engineers and inventors from Europe. Estey produced more than 500,000 reed organs and 3,000 pipe organs before closing its doors in 1960. If the company had taken advantage of the switch to electronic synthesizers earlier, Estey may have bridged the divide quicker and continued operations.
The Esteys were original founders of the First Baptist Church (now Epsilon Spires), and the "Sanctuary Organ" was given as a gift to the church in memory of Jacob's son, Julius. The organ was revised (electrified) in 1958, but its tonal features remain, for the most part, untouched.
The company offered its products at cost to local churches, in part to serve as examples of the quality of the product and hopefully increase sales. Often, the organs became inseparable from the buildings in which they were housed. Such is the case with the Opus 300 at Epsilon Spires.
"You know, it's got a mystical sound. It's kind of got like a mammoth feeling to it," Danaher said. "And I feel like playing the organ's a little bit of an untapped resource, you know. Especially since there are so many instruments waiting to be played everywhere. And I'm just grateful that some folks have decided to maintain this and make this concert possible. I'm lucky."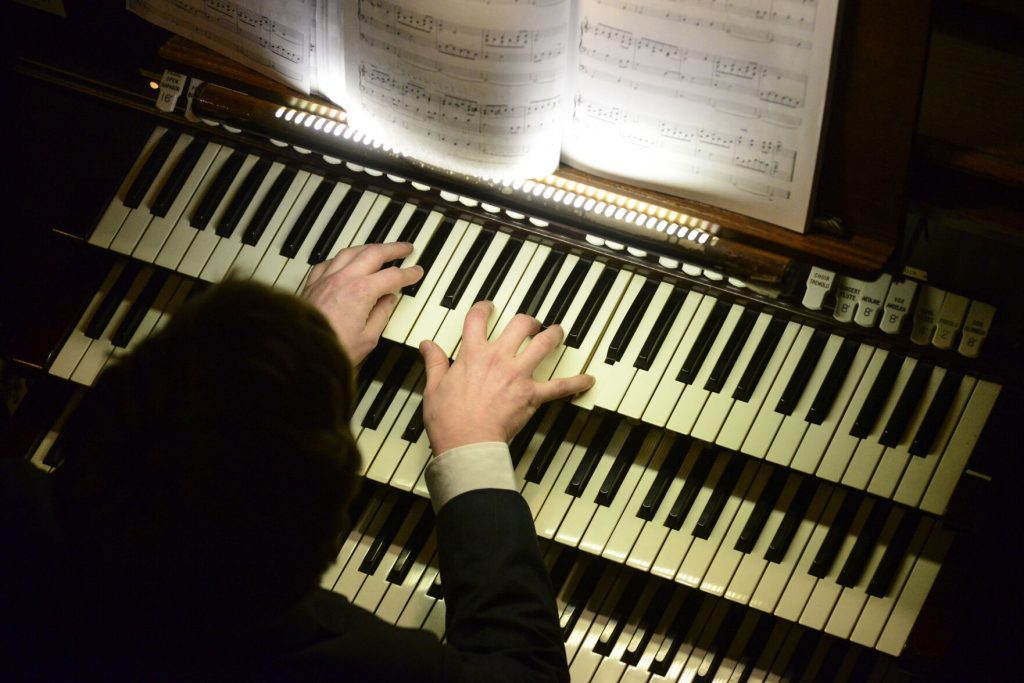 There are other Estey organs still in use in Brattleboro, and throughout New England, but none serves as diverse a purpose as the one at Epsilon Spires. That's an inspiration to Robin Johnson, owner and general manager of the nearby Stone Church, the remarkable and handsome "high Victorian" Gothic building that is now one of the premier concert venues in New England.
The Stone Church was built in 1875 by the Unitarian Congregational Society, and it houses an Estey pipe organ that was originally installed in 1914 and rebuilt in 1948. The Estey organ is not currently operable, but Johnson would like to change that.
"It's one of the coolest features we have. It would be great to use it and to revive it. It's the thing that people ask about first, so that's why it's always remained on our minds," said Johnson, whose family refurbished the old All Souls Unitarian Church as a concert venue in 2016.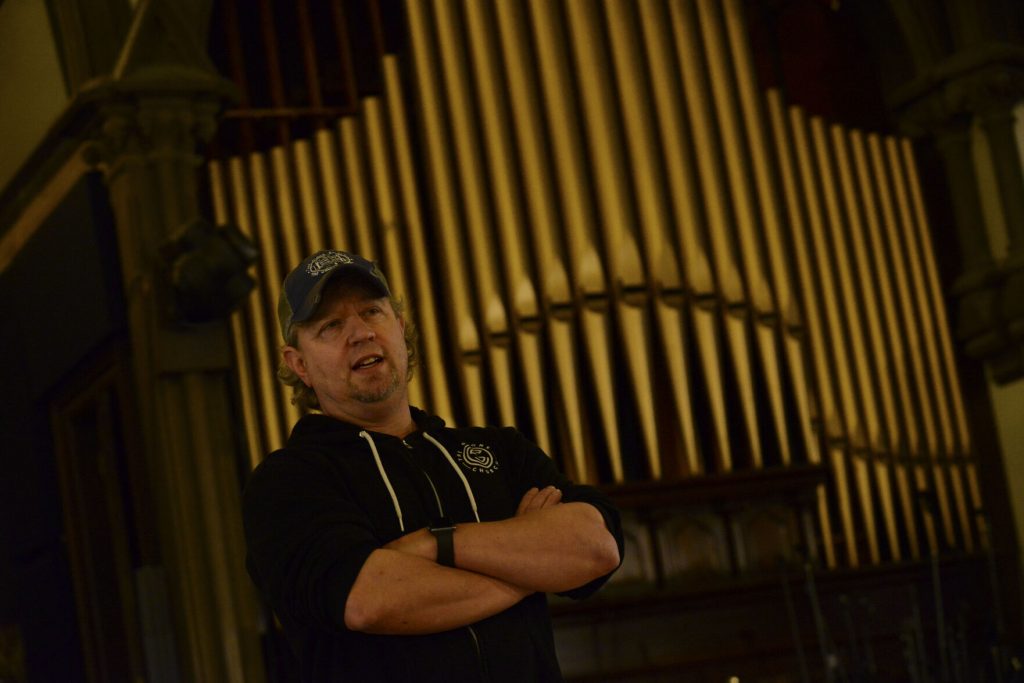 "The thing we toy with sometimes is that, if we're not going to do it, it's a ton of unused square footage behind there and below, where the blower is, a giant motor that pumps air through it. So, it's like all this great space we could use. But we can't quite give up on the dream of making it work, so that's why it stays as is."
Johnson said local pipe organ expert Larry Nevin, who also maintains the Epsilon Spires organ, has thoroughly studied the Stone Church Estey and reported that the organ "works" themselves are not in bad shape.
"I don't think it would be ridiculous money because we wouldn't try to restore the old console," Johnson said. "What we would probably do is digitize it — build a new console and plug it in and play it like a MIDI (Musical Instrument Digital Interface)."
Johnson said musicians who come in to the Stone Church for concerts, especially keyboardists, ask him about the pipe organ all the time.
"It's a pretty standard question. A lot of times they'll say, 'This may be a funny question, but,' … and we just cut them off. 'No, it doesn't work.' I don't even wait for the question any more," he said with a laugh.
Some day, the question may get an affirmative answer. And the legacy of the Estey Organ Company will continue for generations to come.
Bill LeConey is night news editor of the Brattleboro Reformer,  Bennington Banner and Manchester Journal. A longtime sports reporter and editor in Atlantic City, N.J., he enjoys good music, good food and good drink. He was also once the frontman for a marginally successful psychedelic punk grunge band.