Locally-based Hammond organist Kris Yunker will host the first in his series of "Funk Nights" at the Stone Church in Brattleboro Wednesday at 8 p.m.
Yunker, who has played in various projects and bands including Goose, Alan Evans Trio, On The Spot Trio, Jen Durkin and the Business and Soulive, will perform tonight with guitarist Fuzz Sangiovanni (Caravan of Thieves, Deep Banana Blackout) and drummer Eric Kalb (Sharon Jones, Deep Banana Blackout, Charlie Hunter). For tickets and more information, go to stonechurchvt.com.
Following is the story we wrote about Yunker earlier this month in Vermont Country Magazine.
BRATTLEBORO — Keyboardist Kris Yunker has played all sorts of organs and pianos, from vintage Fender Rhodes, Ludwigs and his beloved Hammond A100, to modern synthesizers hooked up with MIDI technology. But the only instrument that really "scared" him was a church pipe organ he dabbled with as a youngster growing up in Texas.
"I was just playing a couple of notes, and I felt the power wielded by it and it was, like, kind of frightening," said Yunker. "I was like, 'Oh my god, I don't know what to do with this.'"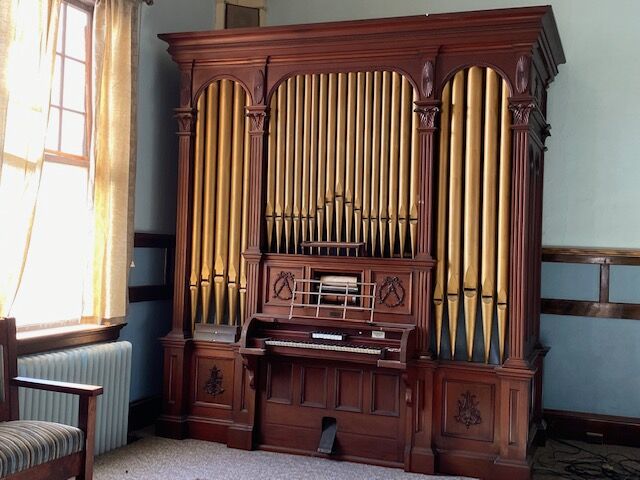 He long ago overcame any fears and has gone on to a stellar keyboard career, but he remains intrigued by the idea of mastering an instrument such as the Estey pipe organ at The Stone Church in Brattleboro. And he may just get the chance: in February, Yunker will begin a monthly afro-funk-soul "residency" at the Church, one of the top concert venues in New England. He plans to bring in special guests, including former American Idol finalist Elise Testone, Boston-based soul singer Toussaint the Liberator, members of the Connecticut funk-rock band Deep Banana Blackout, and maybe even members of his ever more popular former band, Goose, currently challenging Phish at the top of the jam band mountain.
"I was talking with (Stone Church owner) Robin (Johnson) about it, and I thought it would be good to get a funk night going in Brattleboro," said Yunker, who lives in Guilford. "I think there used to be one at the old Metropolis (Wine Bar), but I thought it'd be great to get it into the Church, which is a really cool spot. We'll start off with trying it as a monthly thing, the first Wednesday of every month, and if it starts going off we might want to turn it into a weekly thing."
As the keyboardist for Alan Evans Trio, On The Spot Trio (with his musical "brother," guitarist Danny Mayer), Jen Durkin and the Business, Wubakia and many others, Yunker has been rising in the music scene with a very unique style that includes rich and soulful soundscapes alongside heavy grooves from his left hand bass lines. Influenced by the likes of legendary jazz keyboardists such as Oscar Peterson and Herbie Hancock, as well as rock and funk pioneers such as Stevie Wonder, Ray Manzarek and John Medeski, he eventually became hooked on the Hammond, which he calls the "focal point" of his extensive live gig array.
"I always have the Hammond, and then I'll add different keyboards around that," he said, "whether it's a MIDI controller for bass, or other sounds that I use on my computer, or I'll bring in a clavinet. Sometimes I'll bring a Rhodes. It just depends on the gig. I pick and choose my hefty instruments. They all weigh a lot, and they're vintage, so they require maintenance inevitably, so I'm picky and choosey about what I take out."
Yunker calls the Hammond organ "one of the toughest built things ever in America," likening it to a 1950s refrigerator.
"It's kind of amazing, really. It was like the competitor of the pipe organ. The pump organ was made for homes so you can have kind of the pipe sound because it's got reeds in it, but the Hammond organ was the first electric organ made to just be a stand-in for pipe organs for churches that couldn't afford the large pipe organs. And then this guy built a Leslie speaker for it to toss the sound around. Even though Hammond didn't want his organ sold that way, the instrument just became an iconic piece of American music, rock and roll, all music over the ages. It's become an iconic piece for that."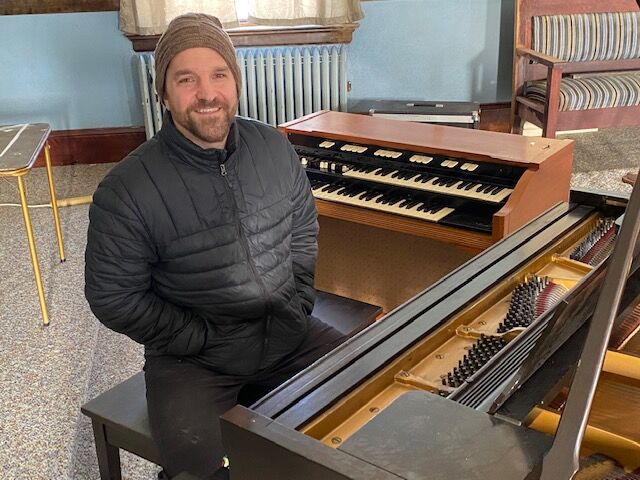 Originally from Indiana, Yunker has lived all over the country, including lengthy stops in Texas, Hawaii and Santa Cruz, California. He settled in Southern Vermont partly because one his musical partners, Alan Evans, has a studio in Irving, Mass., but also because the town of Brattleboro "spoke to him."
"I wanted to be close enough to the city but also in nature, because I do better and feel more inspired whenever I'm in a more natural surrounding. And also I love the community of Brattleboro and it surely has great, conscious-minded people."
Yunker is currently recording and giving lessons in a studio at the old Shriners Club building in Brattleboro, which owner Steve Heim is converting into a hub for music recording and performance. The space also includes an old Estey player organ, which fits perfectly with Yunker's passion for vintage instruments.
Yunker toured with Goose for about a year, in 2016, right before they started "picking up steam," as he puts it. He remains friends with them, especially percussionist Jeff Arevalo, and doesn't resent their current success at all.
"That's so cool, I'm really happy for those guys. They definitely deserve it."
Bill LeConey is night news editor of the Brattleboro Reformer,  Bennington Banner and Manchester Journal. A longtime sports reporter and editor in Atlantic City, N.J., he enjoys good music, good food and good drink. He was also once the frontman for a marginally successful psychedelic punk grunge band.