By Gena Mangiaratti
Vermont Country
MANCHESTER — Do you think of yourself as a more likely witch … or vampire?
If you lived in New England during the tuberculosis outbreaks of the 18th and 19th centuries — more than 100 years after the Salem witch trials — there is a chance you would have been suspected a vampire.
This is what happened to Rachel Harris Burton, who died of tuberculosis (then called "consumption") during what came to be known as the New England vampire panic.
Harris Burton is buried in Factory Point Cemetery in Manchester Center. According to her headstone, delicately carved with floral and angelic imagery, Harris Burton died in 1790, at age 21. This year, Vermont Folklife Center, of Middlebury, through a partnership with the William G. Pomeroy Foundation called the Vermont Legends & Lore program, supported the Manchester Historical Society in commemorating Harris Burton's story.
The vampire scare in Manchester is recounted in "The Early History of Manchester," a 1860 manuscript by Judge John S. Pettibone. The first wife of Captain Isaac Burton, Harris Burton died about a year after they were married. Captain Burton remarried Hulda Powel, who also soon fell ill.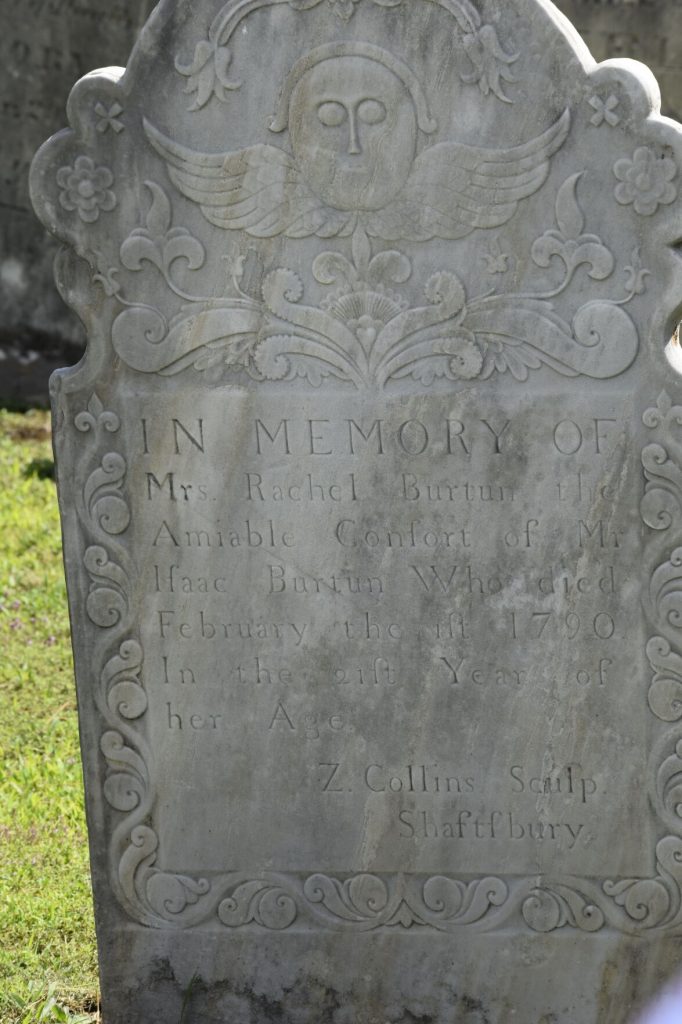 During tuberculosis outbreaks of the late 18th century into the late 19th century, members of the same families often fell ill within a short time of one another. In search of a reason, family members blamed the illness on those first dead having become undead — returning from their graves to suck the blood of the rest of the family.
In the case of the late Harris Burton, her husband's friends and family came to believe that if they removed and burned his first wife's vital organs, she could no longer prey upon his second wife. She was exhumed in 1793, and in a large ceremony officiated by Timothy Mead and attended by between 500 and a thousand people, her liver, heart and lungs were burned to ashes on the blacksmith's forge of Jacob Mead. (At that time, what is today Manchester Center was known as Mead's Mill.)
"Timothy Mead officiated at the altar in the sacrifice to the Demon Vampire who it was believed was still sucking the blood of the then living wife of Captain Burton," Judge Pettibone's manuscript reads.
This was February 1793. Hulda Powel would die in September of that year.
More than 220 years later, in a ceremony at the entrance of Factory Point Cemetery, town officials, history buffs and Vermont Folklife Center associate director and archivist Andy Kolovos unveiled a marker in memory of Rachel Harris Burton. Under the words "Manchester Vampire," the sign bears her name, her story, and points visitors in the direction of her grave.
Shawn Harrington, curator for the Manchester Historical Society, said he learned of Harris Burton's story from Pettibone's manuscript. When he read that her organs were burned in Jacob Mead's forge, he deduced that she was likely buried in Factory Point Cemetery. He notes that Mead's Mill became Factory Point by the 1840s, then Manchester Center in the 1880s.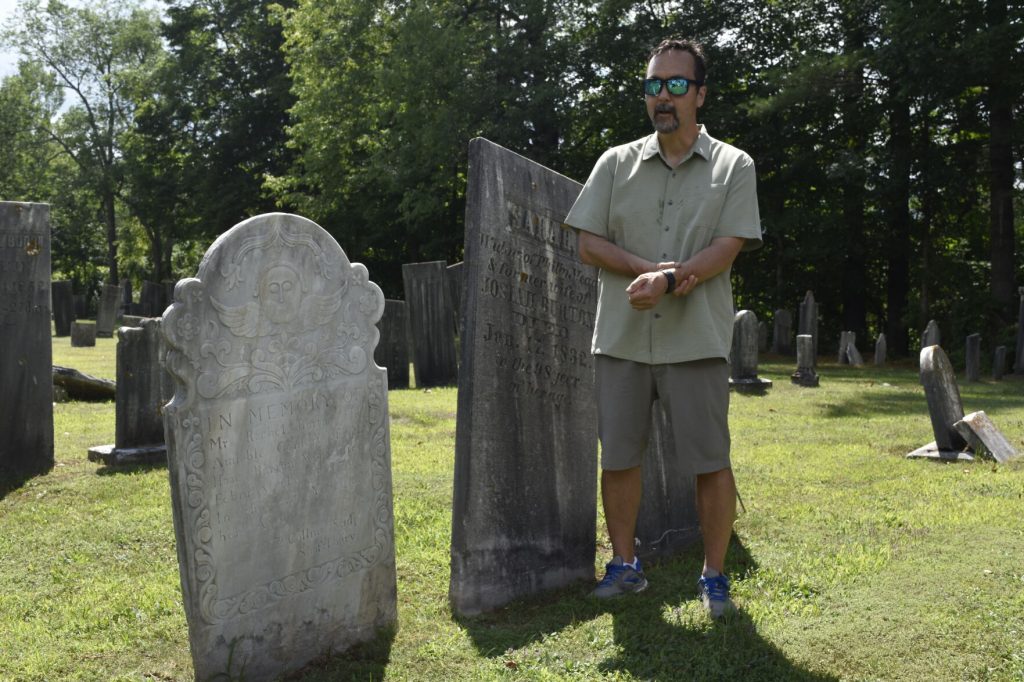 "So I just went walking through Factory Point Cemetery," Harrington said. "And she has a very distinctive stone that was carved by Zerubbabel Collins, which was a very famous family of carvers, who actually signed their grave stones as the sculptors, which is fairly unusual."
There is now a page on the town website, findable by Google-searching "Manchester Vermont vampire," that details Harris Burton's story and provides a link to Pettibone's manuscript.
"Today, we're celebrating the life of Mrs. Burton," Town Manager John O'Keefe said at the recent ceremony. "Maybe we'll provide some clemency at the next Select Board meeting for what she had to endure in her post-life state."
Gena Mangiaratti — whose first name is pronounced "Jenna" — is arts and entertainment editor for Vermont News & Media. When not newspapering, she can be found running, drawing and writing fiction. She lives in Brattleboro with her cat, Theodora.