Biennial festival by Sandglass Theater set for Sept. 9 to 18
By Susan Smallheer
Vermont Country
PUTNEY — Sofia Padilla grew up in Mexico City, and it was there, after drama school, she fell in love with puppets.
"They are more magical, you can make them fly," she said of her decision to choose puppets over acting.
Padilla and her partner Davey Steinman and their Paradox Teatro will be coming to Putney in September for the Puppets in the Green Mountains Festival, to present their "Migraciones/Migrations" show, and bring their unique puppets with them. Their show includes life-sized puppets, sand drawings, digital media and live music.
It is the 11th edition of the biennial festival presented by Sandglass Theater, which draws puppeteers from all over the world to Putney, with some performances also planned for Brattleboro. This year, puppeteers from Mexico, the United States, Ghana, Kenya, Germany, Czech Republic and Jordan are coming to Vermont.
This year's theme is "Roots and Wings," which takes its inspiration from a quotation from German poet Goethe about what parents should really give to their children as their legacy, a sense of belonging and freedom.
"As Sandglass looks forward to the next generation of artists, community leaders and citizens, Goethe's words take on a contemporary urgency. With one foot in the knowledge of who we are and where we have come from and the other in the creative possibilities of the imagination, Roots and Wings inspires us to make informed, positive choices and be active citizens in our world today," said Shoshana Bass, co-artistic director at Sandglass.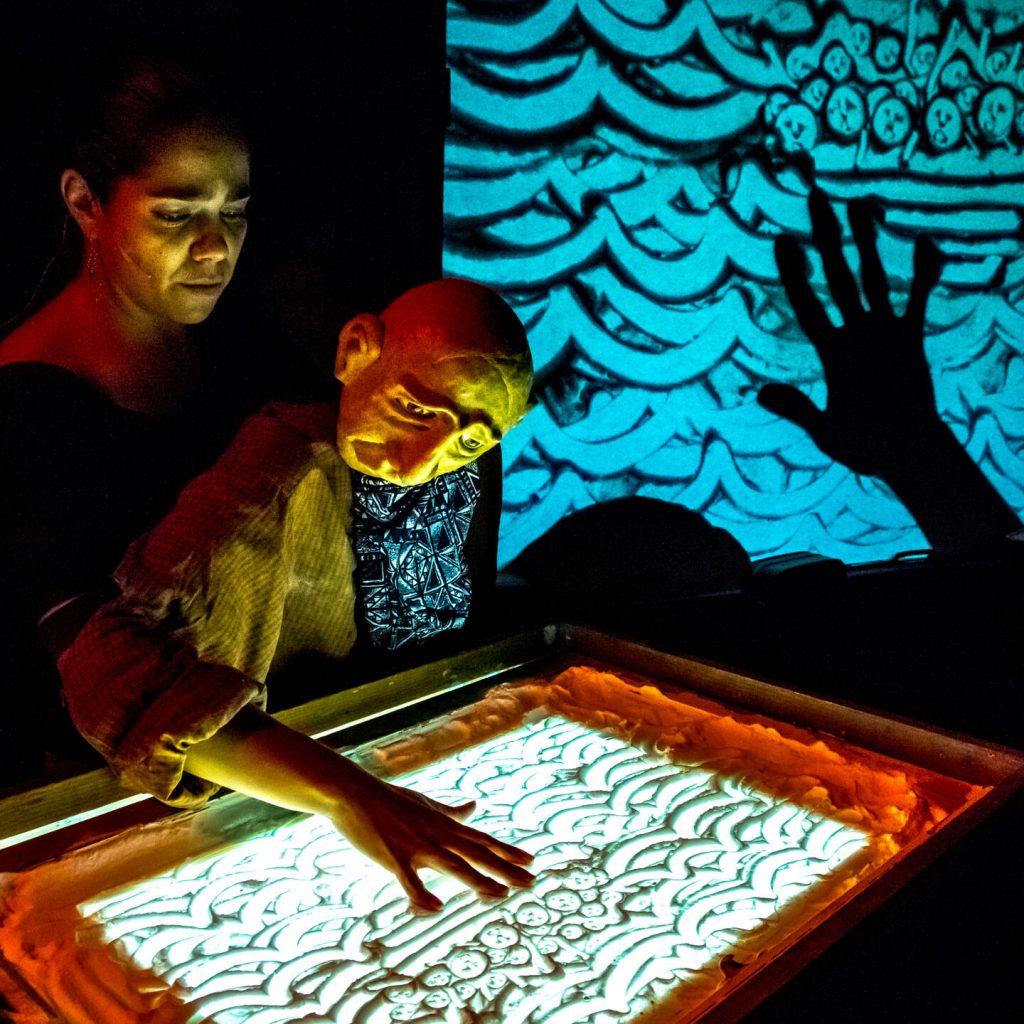 Founder Eric Bass said Sandglass, when it was founded in 1982, was "dedicated to evocative images, and to full engagement with the life of puppets and where they led us."
Bass said the arts organization's name "encompassed several aspects of who we were and who we became: a combination of our two languages (the glass of the English hourglass and the sand of the German Sanduhr), of our sense of history, our sense of fragility, our sense of continuity."
"In 40 years of work and relationships, I do not believe that we have lost these origins. The Puppets in the Green Mountains festival is a fitting place to celebrate these 40 years. It is a celebration of the art form that has sustained us all this time, and of the community that has embraced us, nurtured us, and expanded our relationships. This is an opportunity for us to thank you."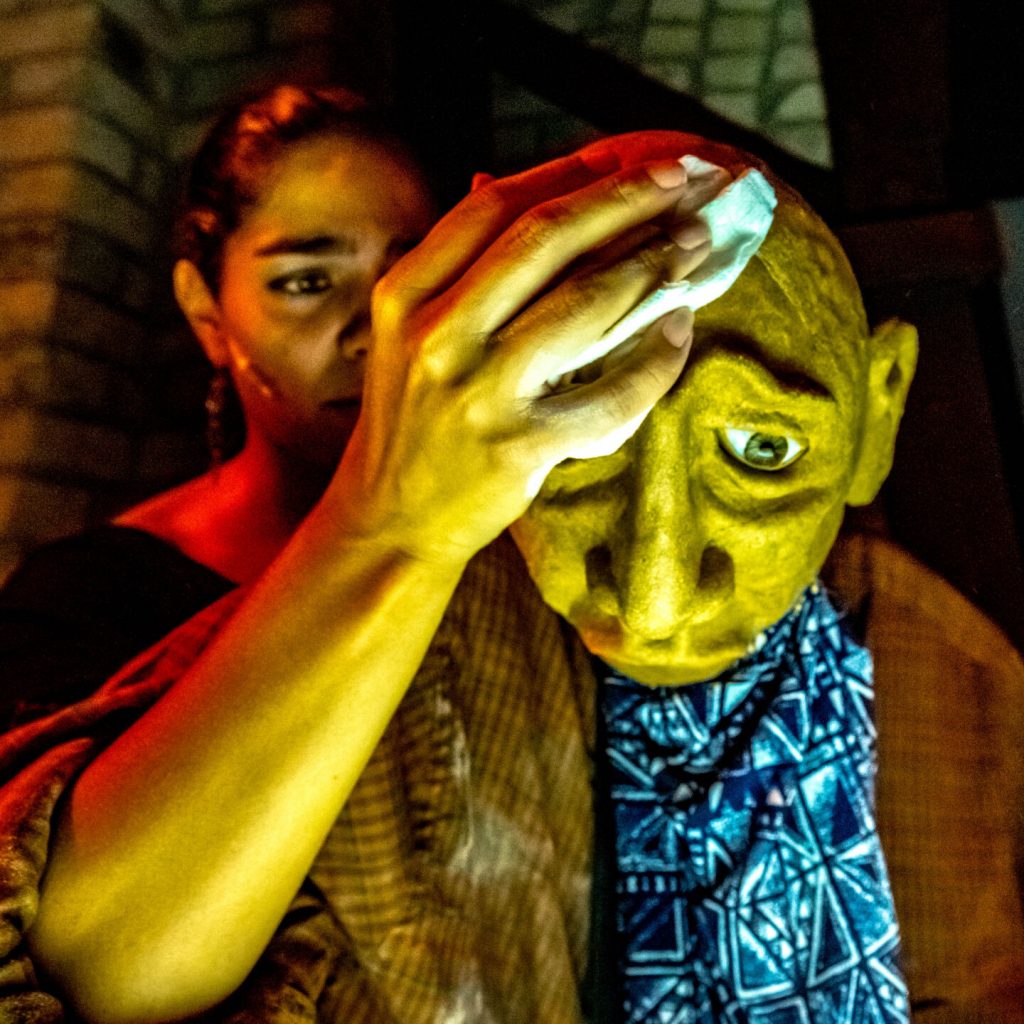 This year, for the first time since the coronavirus pandemic shut down many arts performances, the festival will run for 10 days, from Sept. 9 to 18. There will be shows for children, adults and families at different locations in Putney and Brattleboro.
Padilla, in a telephone interview from Boston, where she and Steinman were performing "Migraciones/Migrations," said Vermont's famed Bread and Puppet Theater was a big influence on her artistic career.
She said the overtly political Bread and Puppet helped inspire her and Steinman to inject more political messaging in their work, and produce "Migraciones/Migrations," which is about the border and immigration problems between Mexico and the United States.
Padilla and Steinman presented the show in Mexico City in June and July, before moving to the Northeast, with tour stops in Boston, Portland, Maine; Portsmouth, N.H., and Putney, among other places.
Padilla said she considered herself a member of Bread and Puppet, and she performed with the troupe in Chicago earlier this year. She plans to return to Vermont's Northeast Kingdom, home of Bread and Puppet, later this year.
"Vermont is a dear part of my life," she said, noting she and her partner met at Bread and Puppet.
She said the Migraciones/Migration show was originally slated to be performed more than two years ago, but the pandemic got in the way.
So, she said they made some updates and adjustments. "We did add a couple of scenes," she said.
She said her style of puppet theater was "much more emotional, it has very few words," but relies on Steinman's music and the sand painting imagery to convey a lot of the message.
"It's about refugees around the world," she said.
While the current Ukrainian refugee exodus because of the war with Russia isn't mentioned specifically, the disruption and dislocation is universal, she said.
This year's festival offers engagement for any theater lover, social activist, or those looking for art that examines our roles and responsibilities in this world, the company's leaders say.
Sandglass also received a 2022 grant from the Arts Council of Windham County to present the puppet performers from Kenya and Ghana from Krystal Puppeteers, for their show "Tears by the River," which is based on a classic folktale.
Krystal Puppeteers from Kenya will weave a tale filled with music, dance and memorable characters about the dramatic roots of a river's name and how it influences its modern day inhabitants in "Tears by the River."
Theater Waidspeicher from Germany will present a poignant tale about loss of home and fleeing from war in "When My Father Became a Bush." Any attendees of the 2015 festival may remember this company's beautiful production of Romeo and Juliet.
Dafa Puppet Theater (Jordan/Czech Republic) will offer a story about exile and dreams in "War Maker."
"Migraciones/Migrations" (Mexico/United States), presented by Paradox Teatro, follows a photojournalist's compelling visual journey to learn the story of refugees migrating across sand, water and shadows performed in English and Spanish.
In Judy Saves the Day, Sarah Nolen (Boston, Mass.) will offer a modern interpretation of the traditional "Punch and Judy" in a hilarious, timely, hand-crafted farce that the whole family will enjoy.
Sandglass Theater's newest work, "Flushing," is a collaboration with award-winning playwright, Linda Parris-Bailey, about race, legacy, identity and the process of making room for someone else.
All venues of the Puppets in the Green Mountains Festival are wheelchair-accessible. Assistance can be provided for priority seating and parking. Two of the performances will be offered with ASL interpretation. Sandglass Theater welcomes people of all abilities, and strives to provide programming that is inclusive and accessible to all.
Find a complete list of shows and venues at puppetsinthegreenmountains.net
Susan Smallheer — has been reporting for the Brattleboro Reformer since 2018. Before that, she was a reporter, statehouse reporter, bureau chief and editor for the Rutland Daily Herald in Vermont for many years. She lives on a small sheep farm in Rockingham.