Herbalists practicing in Southern Vermont
By Patricia Herlevi
Vermont Country correspondent
When Brattleboro acupuncturist and herbalist Timothy Scott was earning his undergraduate degree in psychology and general health sciences, he found that the medical model he studied compartmentalized the mind and body. His quest led him to Eastern medicine, which promotes the connection of mind, body and spirit.
"It outlined a way of life that incorporated acupuncture, herbal medicine, diet, exercise and mental practices to strengthen the body and mind. It also provided thousands of years of history successfully treating disease and imbalances people experience," said Scott, of Green Dragon Botanicals.
After Scott set up his holistic practice, he came across and studied with herbalist Stephen Buhner, author of "Healing Lyme." Scott said the invasive plant Japanese knotweed can be used to treat the tick-borne Lyme disease.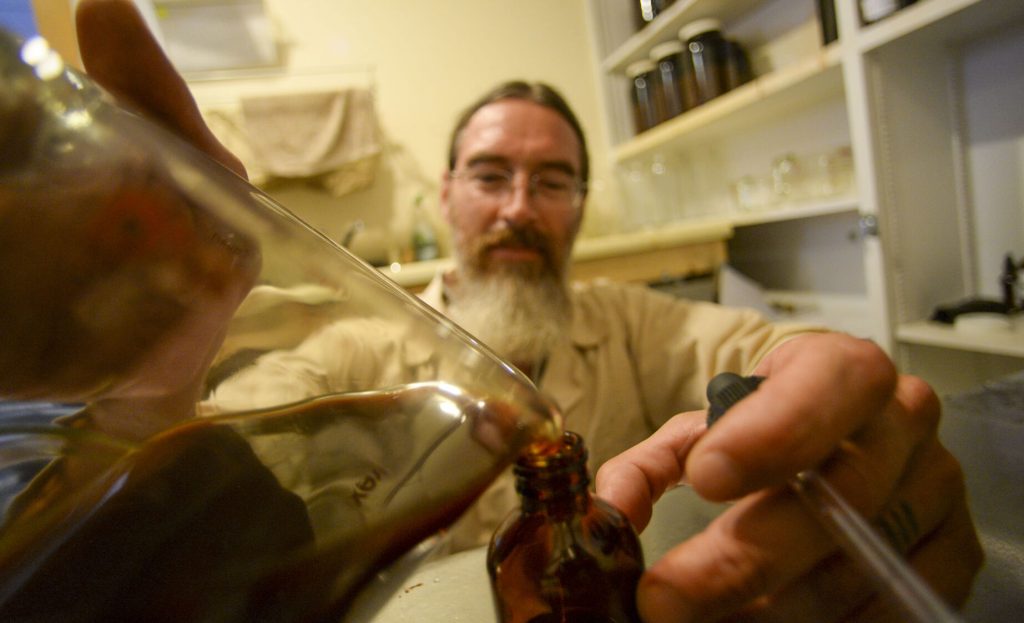 "Buhner had discovered Japanese knotweed was spreading in nearly the same trajectory and at the same rate as Lyme disease was spreading throughout the Northeast, and the plant contained the perfect attributes to help treat the infection and inflammation in the different areas of the body Lyme creates," he said.
It's not unusual for a healer to experience the adage, "Healer, heal thyself." When Scott suffered the consequences of a tick bite, he put Japanese knotweed to the test.
"I became sick and experienced this disease's turmoil firsthand. It was a long process (as it is with many folks suffering with Lyme disease). I used the herbs to help get my life back and be free of Lyme. I have since been bitten and infected other times, and exclusively relied on the herbal protocol to help," Scott said.
In Putney, herbalists Amy Enoch, of Solidago Botanical Arts, and Susan Stanton, of Rambunctious Botanicals Apothecary, work with the healing properties of both cherished and invasive plants. Similar to Scott, Enoch diverged from the conventional medical model while she was at nursing school, and she began a search for a more holistic approach for healing. In 2001, she found her answer.
"I've always been a holistic thinker and began second-guessing my choice to go into nursing school. I began working with the Bach flower essence Wild Oat," Enoch said of the grain that is supposed to help with nerves and decision making. "Within three days, I saw a poster for a 10-month herbal training in Saxtons River."
She ended up studying with Brendan Kelly — herbalist, acupuncturist and founder of Jade Mountain Wellness in Burlington — for three years.
In 2001, the first plant remedy Enoch produced was white willow bark, used for headaches and pain.
"The herbal tinctures I have in stock have certainly changed, developed and expanded over the past 20 years. In the early years, I worked with plants that I came to know through studying with Brendan. The choice of which herbs to include in my apothecary is really more of an organic process, working with the plants that are in abundance around me at any particular point in the growing season."
Depending on the season and location of where she's residing, the herbalist has harvested and worked with red clover, yarrow, St. John's wort and motherwort, a favorite for menopausal women.
"I spent one year on a biodynamic farm in Benson, Vermont, where they had huge motherwort plants, so that year I had lots of motherwort to offer. I believe the plants that we need the most, show up for us in abundance. And with the onset of COVID-19, I started focusing on lung health, immunity and nervous system herbs."
Enoch notes that herbalism is not just about the humans who use them. For her, a herbalist practice helps "to make whole ourselves, our communities and our planet."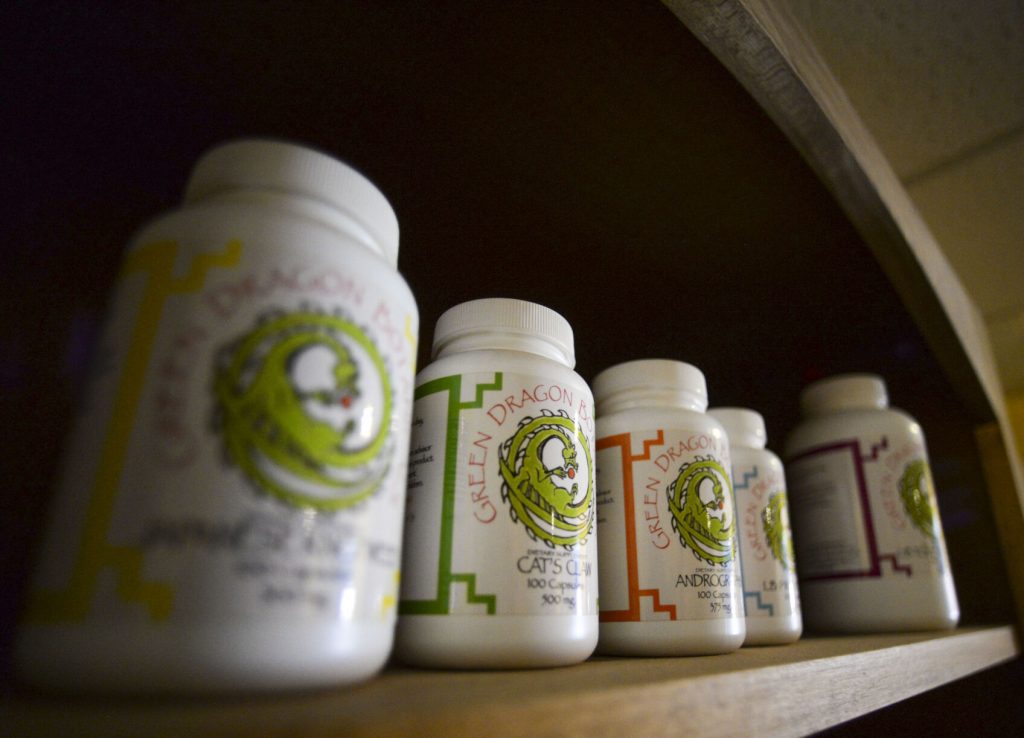 Stanton practices at her office, a few blocks from the Putney General Store. Stanton also practices medicine off the beaten path, venturing into folk remedies during the height of hyper-consumerism in the 1980s.
"I was led to studying herbs with my first teacher, Rosemary Gladstar, in the 1980s when my personal health journey, my deep love of plants and a dream pointed me in her direction. At the time, I didn't know any herbalists, and it was definitely not on the mainstream's radar in this country like it is now," said Stanton.
In addition to practicing herbal medicine, Stanton also works in the health and wellness department at the Brattleboro Food Co-op, where her wisdom of herbs helps customers find the right holistic remedies for their health concerns.
"I notice that our locally grown bulk tulsi (holy basil) sells well, soothing people's nerves all year round. Elderberries and turmeric are always popular, too. But off the top of my head, there are over 50 medicinal herb species that are purchased on a regular basis," said Stanton.
As far as her own practice, "I work with a variety of people, animals and health issues. Lately, it seems like a focus has been chronic and acute infections, [such as] chronic migraine. I particularly like to do weed walks and help people connect to plants that grow in their neighborhoods. This includes some of the species considered invasive and native species."
As these herbalist devotees note, studying plant medicine, wild crafting, growing and harvesting plant medicines is a way to reclaim your health, with the plants that might be growing right outside your front door.