By Gordon Dossett, Vermont Country Magazine.
A watchful goatherd named Kaldi around 850 CE may be responsible for our consumption of coffee. Kaldi's goats were staying up all night and even dancing, according to old stories and the internet (reliable sources all). The goats, Kaldi noted, had been munching beans from a nearby shrub. He took the beans to monks, who thought the beans must be the work of the devil and promptly threw them into the fire. The first roast supposedly created such a delightful aroma, though, that those gathered knew it came from a heavenly source.
Now … if you've ever smelled a coffee roast, the "heavenly source" might seem more like burning asphalt roofing. And what thought process then would lead to grinding or boiling these heavenly beans and making a drink?
But then again, imagine the poor yet inspired human who looked at a cow's udder and said — "ah, milk!"
So — let's embrace the Kaldi legend.
Yes, he stands at the start of that long road that led to coffee today in Manchester, Vermont.
To seek out coffee in town, which of the four basic groups below best fits you?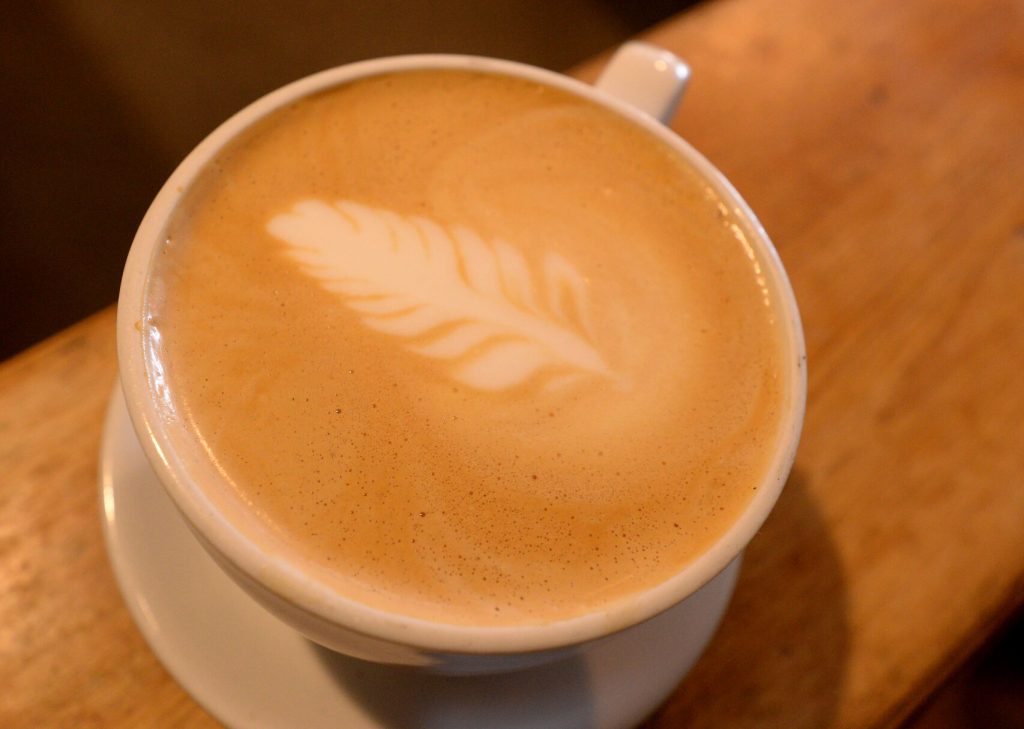 1. Caffeine seekers.
Just like the dancing goats, you people crave caffeine to function, and any old gallon of coffee will do. Pull up to Dunkin' Donuts, McDonald's, Willoughby's Depot Eatery or Stewart's, or grab caffeine with breakfast at Nippers, The Little Rooster, Up for Breakfast, or Bob's Diner. (Fun fact: the longer and hotter the roast, the darker the bean — and the more caffeine is removed. Want caffeine? Drink lighter roasts.)
2. Coffee fans.
You people taste the overtones of marzipan, molasses and blackberry. Or, if you're like me, you may stumble to identify licorice notes or hints of bamboo, but you like the full mouthfeel of coffee — and you know a fine cup of coffee when you taste it.
You have two good choices in Manchester.
Charlie's Coffee House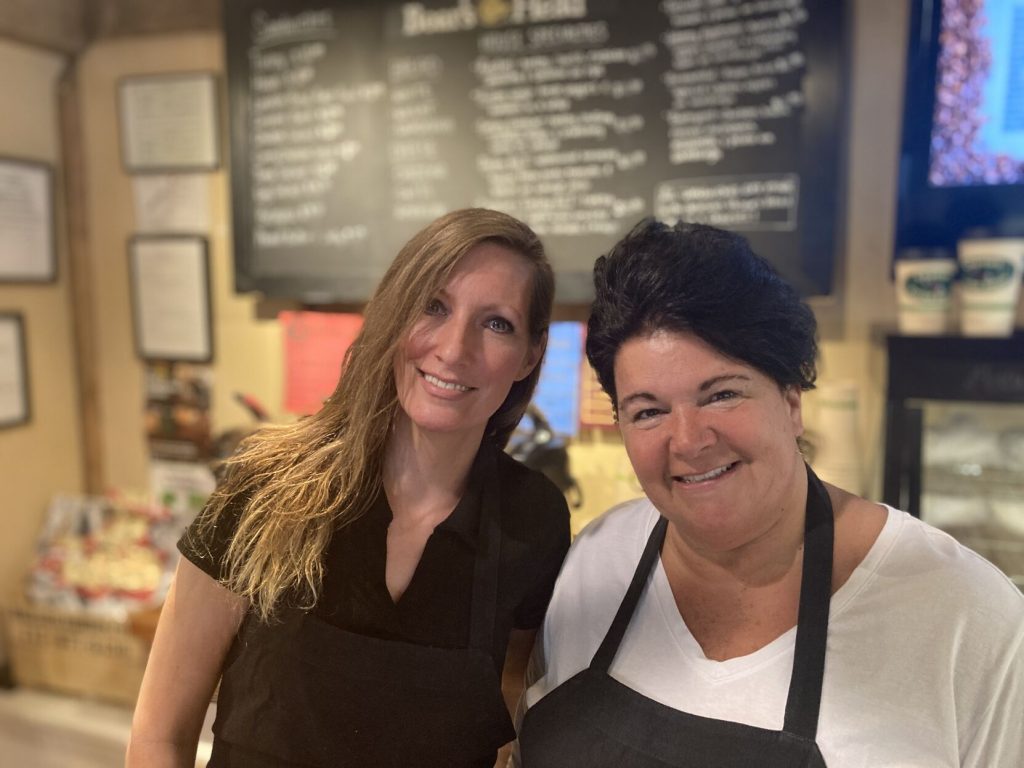 Manager and sometime baker Kimberly Stone and barista extraordinaire Melissa Glazier lead a team serving Mocha Joe coffee, roasted in Brattleboro. Simple black coffee? You have a choice of roasts — decaf to dark — all stored in pump thermos and changed often to keep fresh. The Café au Lait is smooth and tasty, the Cappuccino full-bodied and creamy. The iced mocha with peppermint blends the rush of coffee with sweetness and just the right touch of mint: Melissa even remembered my daughter had ordered it two days earlier.
Bonnet & Main.
Owners Suzanne Fontaine and Fiona Morton take their coffee seriously, serving a wide range of cappuccino and espresso from Equal Exchange, employee-owned Fair Trade and the Little Vermont Coffee Company. The black coffee is smooth and full, cappuccino and cafe au lait foamy and luscious. Bonnet and Main has a nice lounge area, and the cafe connects to the Northshire Bookstore. Although open only until 4 p.m., Bonnet and Main surprisingly serves alcoholic coffee (more on that below).
3. Starbucks lovers.
(Not the Taylor Swift kind.) Love it or hate it, at least Starbucks helped drag Americans away from Sanka and coffee steeped on burners to attain flavor notes of a roasted tire. A secret Starbie source suggests these tips to enhance your Starbucks experience.
Be nice. Maybe Starbucks screams multinational monolith, but that doesn't entitle you to purge your aggressions onto anonymous baristas and demand, oh, one and three quarters pumps of pumpkin spice and scream, "No — do it again!" Slow your roll, buster.
Be patient. Yes, your hometown Starbucks in Bigtown, America employs a human inflatable tubeman barista who exchanges frothing coffee and cash as you whiz by at 24 miles per hour. Good on him. But here in Manchester, population 1/600 of Manhattan, be happy to have a smiling human in an apron.
Order cream and sugar on the side if you want to doctor your own cup. Oddly, cream and sugar are not set out.
Try the blonde espresso, a barista favorite. It's sweeter and smoother than regular espresso.
Try an iced shaken espresso, also smoother. Cannot be ordered with light ice — since shaking near-boiling liquid in partially-filled shakers creates a hazard. Skeptics: please try at home.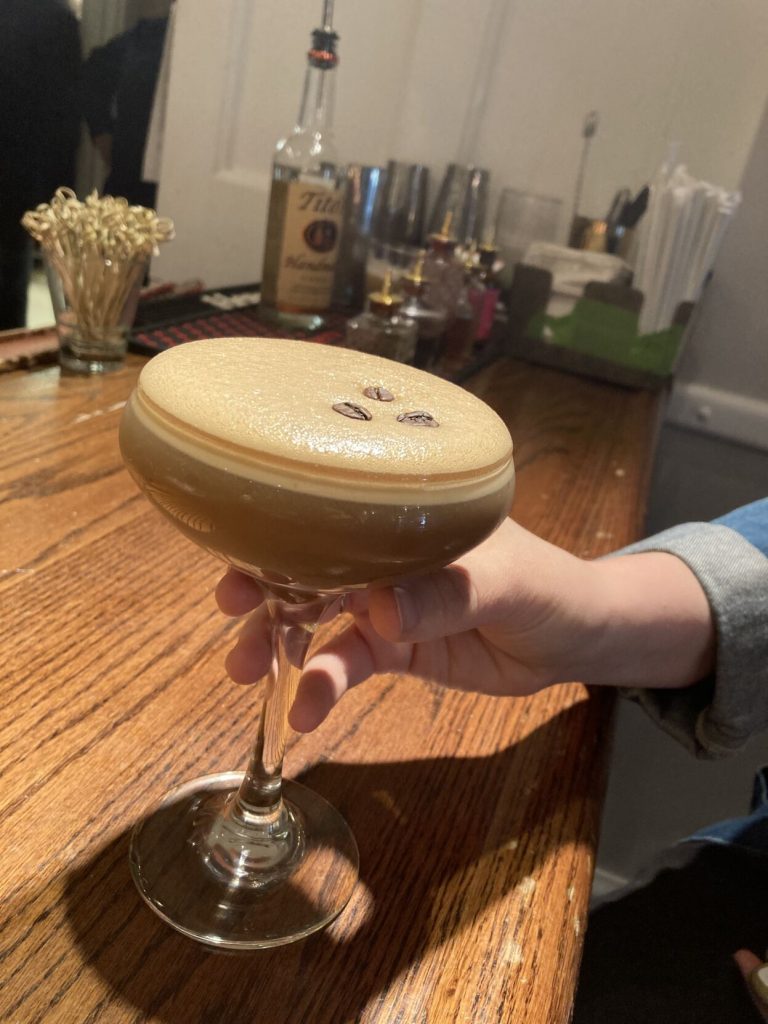 4. Coffee tricksters (alcoholic coffee).
You people love outsmarting your bodies by mixing a depressant (alcohol) and stimulant (coffee). (Ok, alcohol, confusingly, may be a stimulant and depressant. I believe a goatherd named Kaldi discovered alcohol — but I digress.) You coffee-alcohol people have three destinations in Manchester, considering the old-school standard Irish coffee and the new retro-'90s Espresso Martini.
A fussy traditionalist, I aver that Irish coffee must have: a shot of Jameson, Tullamore Dew or Bushmill's whiskey, or an even fancier Irish whiskey, strong enough to taste; a teaspoon of sugar stirred in; fresh, decent coffee; thickened cream (not poofy whipping cream). Drink the coffee through the cream; fling aside any proffered straw. Feel a silky, semi-sweet, jolt of Riverdance in your mouth and a rumble into your prefrontal cortex and down your veins.
The Espresso Martini, created by a British mixologist in the late 1980s, danced itself into the 1990s, took a seat for a decade or two and then jumped back onto the dance floor lately. Bartenders mix vodka, coffee liquor and espresso, and traditionally float three coffee beans on top (representing health, wealth and happiness).
Bonnet & Main.
Even though it closes at 4 p.m. daily, some locals and tourists think: what the heck, it's 5 o'clock somewhere, so let's splash some coffee and alcohol together. And — surprise! — Bonnet & Main has the best Irish coffee in town: Served in a flared glass, its layering of heavy cream perfect for sipping through. Its Espresso Martini of vodka, espresso, Kamora and chocolate liquor will kick-start your holiday or weekend, no matter the time: a balance of sweet and smooth.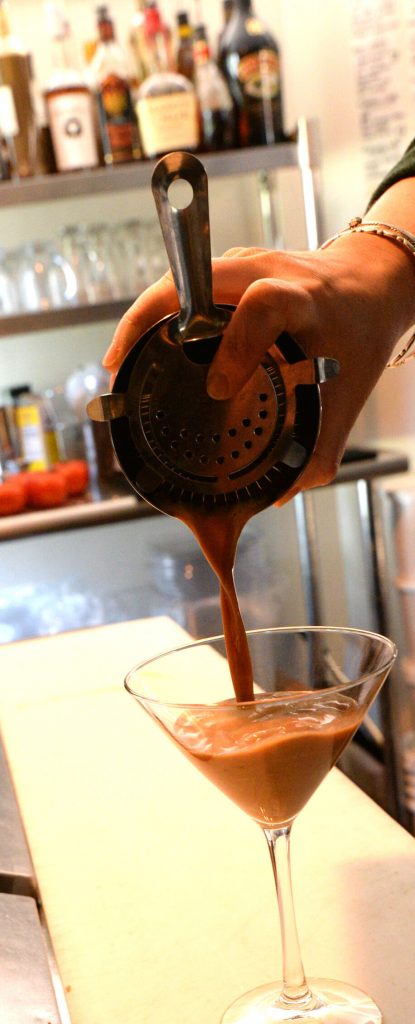 The Copper Grouse.
For its Espresso Martini, Patrick, the genial bartender, blends Tito's vodka, pre-cooled espresso, simple syrup and Perc Coffee Liqueur (winner of the in-house taste test, from Vermont's Saxtons River Distillery). Slightly sweet, it pleased even our taster who doesn't like sweet coffee drinks. The Irish coffee gets a pleasing jolt from its Tullamore Dew, sipped through its heavy cream.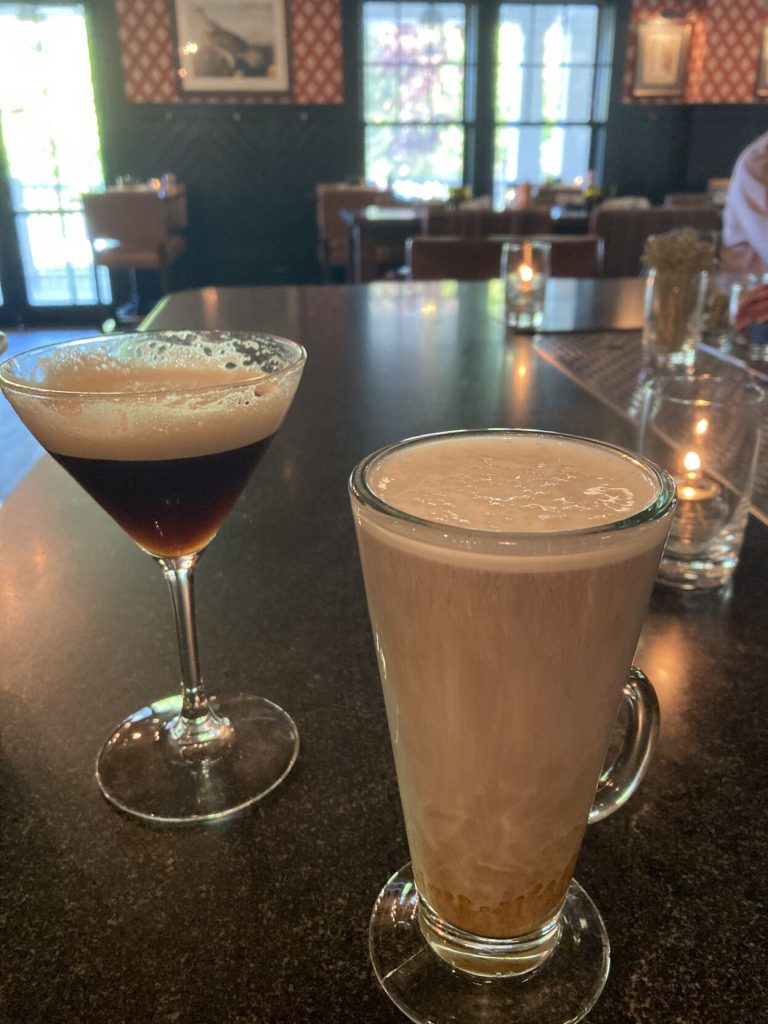 The Equinox.
The hotel's Marsh Tavern blends Tito's, Kahlua and a splash of Bailey's for an Espresso Martini that skews sweet, but is still tasty and satisfying. The Irish coffee relies on Jameson, but the sugar is blended into a small tower of whipped cream. Trying to sip through the whipping cream would result in a mini-pieface. One of the tasters gobbled up the sweetened whipping cream: what remained was a skim of cream and bitter whiskey coffee.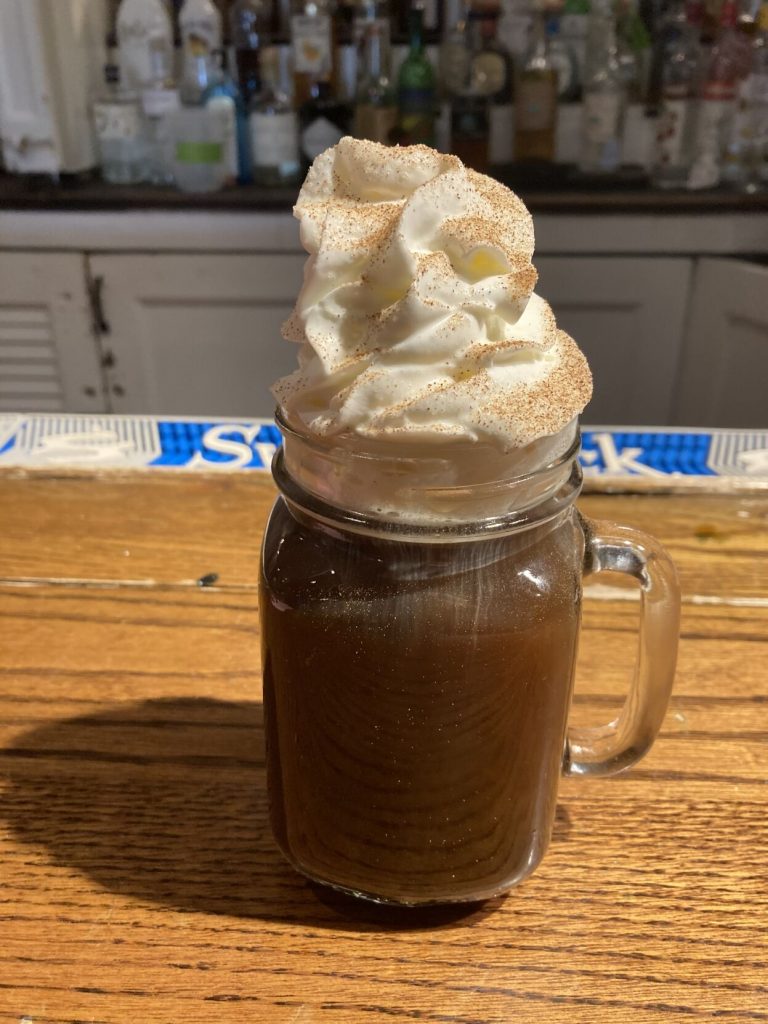 If you, like one of us tasters, has an eye out for creaminess in Espresso Martinis, here's our verdict: most creamy: Bonnet and Main; moderately creamy: Equinox; least creamy: Copper Grouse.
Wherever you go in Manchester, I hope you raise a toast to Kaldi, the unheralded goatherd, and enjoy your coffee.
---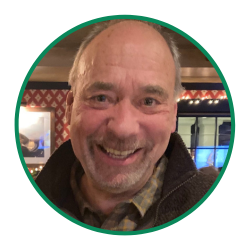 Gordon Dossett traded the traffic and urban ugliness of Los Angeles for the Green Mountains. He lives with his teenaged children, a cat and a dog, packing urban sprawl into one home. He likes making to-do lists and losing them.