By Shane Covey, Vermont Country Magazine
BRATTLEBORO — Each winter in Brattleboro, a couple of legends are generally spotted traveling high in the sky.
One is Santa Claus.
The other is Spencer Knickerbocker.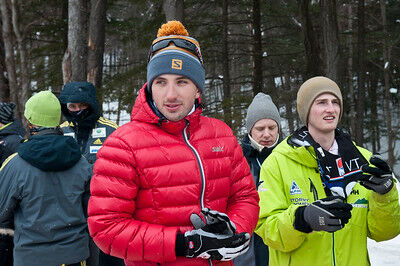 "I always tell people that I'm retired," Knickerbocker joked on Dec. 2. "I will compete again. You can lock it in."
The 30-year-old was referring to the 2023 Harris Hill Ski Jump, set for Feb. 17 to 19. This will be his 14th straight competition.
"It's pretty incredible to be up on top of the hill, have your name announced, and hear the roar of the crowd. It's pretty surreal."
Knickerbocker is the hometown favorite each year, having started out in Memorial Park's Junior Jumping program in 2004 and going to Brattleboro Union High School from 2008 to 2009.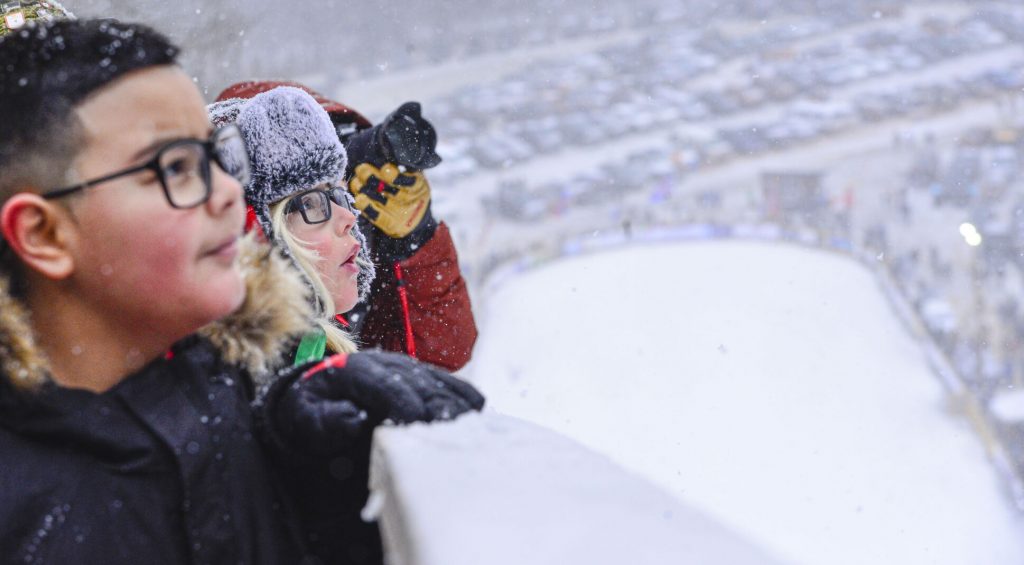 In front of a record crowd last February, he was one of 41 jumpers at the event's 100th anniversary celebration. The competitors came from as far away as Alaska, Colorado, Norway, Iceland and Slovenia.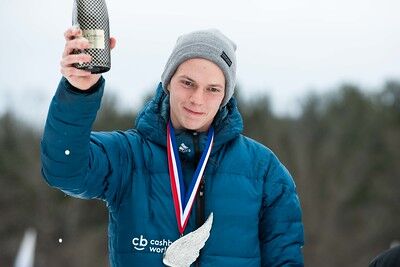 "I compete in the Masters Class now, so it's a lot of fun and there's no pressure."
Knickerbocker is best known for being the first to use Harris Hill's brand new 90-meter jump in 2009.
"I was only 16 at the time, so I was pretty nervous. It was a huge honor to be asked to take the inaugural jump."
He explained that it's important to stay calm and relaxed prior to each attempt.
"You're definitely a little nervous and then you're just focusing on a good jump. When you have a good jump, it's one of the coolest feelings ever. It feels like you are flying."
Knickerbocker, the executive director of the Marlboro Nordic Ski Club, soared 74.5 and then 84 meters on day one of the 2022 competition. His Sunday jumps measured 79.5 and 82 meters.
"It's the only time I jump each year," he pointed out. "I'm pretty active in general. I cross-country ski a lot, I run in the non-winter months, and I also do some slalom water skiing."
More than 40 of the world's top up-and-coming male and female ski jumpers from the U.S. and Europe are scheduled to compete in the 101st Harris Hill Ski Jumping Competition. The event will have a festive atmosphere for the whole family, with food, music, souvenirs and a beer tent.
The five judges will be scoring the jumpers on total distance and their style, all the way from the take-off to the landing and out-run.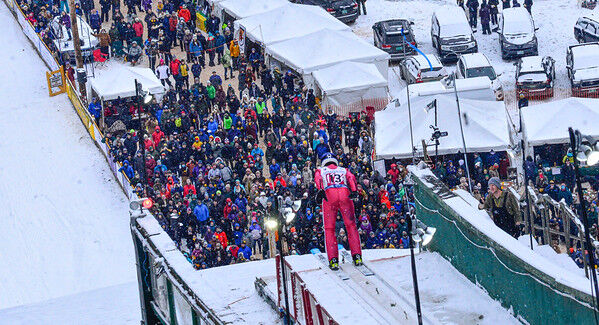 "I try to keep to myself, but I also like saying 'hi' to the people I know there," the local hero noted.
There were 5,400 fans for the 2009 event, which is when Knickerbocker was the first to fly off the newly renovated jump. During his streak of Harris Hill appearances, the hometown favorite has seen: U.S. jumpers sweep the podium (2012), the first Japanese competitor (2013), five-degree temps (2015), Slovenian Blaz Pavlik's record 104-meter leap (2017), a Nordic combined event added (2018), three female judges (2019), a cancellation due to COVID-19 (2021) and the Centennial celebration (2022).
In 2023, he will witness some night competition for the first time — on Feb. 17, a target jump under the newly installed lights will be the main event.
Shane Covey grew up in Brattleboro and has been the Brattleboro Reformer's sports editor since 2008. He previously covered sports for the Athol Daily News