Here are some other ways to enjoy Vermont this winter
By Tory Rich, Vermont Country Magazine
It's no secret that Vermont is home to some of the best skiing and snowboarding in the country. We're just set up for that sort of thing around here. The governor's office even made things official in 2012, declaring skiing and snowboarding as the sports of the Green Mountain State.
I have joked for years now that I am the worst Vermonter ever. In addition to not fishing or hunting, I've never participated in the snow sports. You see, I wrestled in high school. For the uninitiated, that meant that during the winter I was booked all Saturday, every Saturday, and in bed until about noon every Sunday.
Between being stationed in Yuma, Ariz., in the Marines followed by a five-year stint living in Las Vegas, I spent most of my 20s living in the desert. I've been back in Vermont for about four years now. When I tell people that I'm a native, but I don't ski, the response is usually visible confusion, as if I told them I didn't have my driver's license.
"[Shrug] It just … never happened."
I aim to change that and join the club at some point this winter. I don't exactly know how it works, but I can't help but imagine myself on the bunny slopes with a bunch of elementary schoolers, like a repackaged version of "Billy Madison." But I digress.
So whether you're a local like me and just never found the time to learn, or just visiting and seeking a way to break up a week on the slopes, you might find yourself looking for another way to spend your day in our fine state. Without any further ado, I give you my list of the best ways to stay active in Vermont that aren't skiing or snowboarding.
Sledding or tubing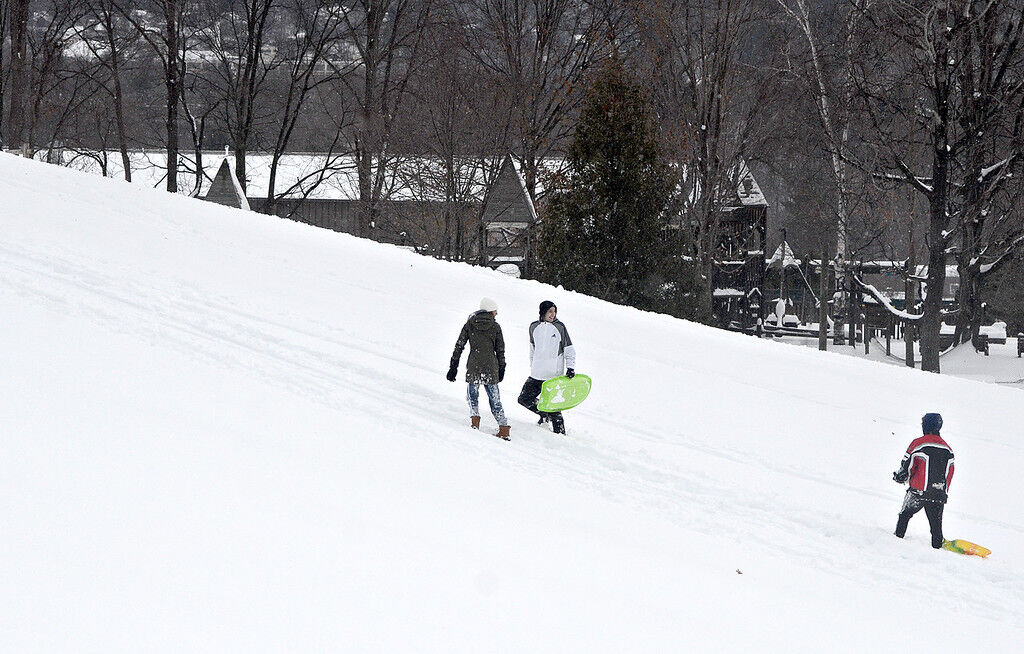 If you've got a need for speed, skiing and snowboarding aren't the only way to put Vermont's mountains and hills to good use. If you find the investment of time and money in lessons and equipment to be less than palatable, tubing or sledding are excellent alternatives.
The fun-to-skill level required ratio for launching yourself down a hill in a low-friction vehicle of some kind is quite high, and it's a great family activity. Between $10 and $20 will get you an adequate chunk of plastic to glide downhill on. Or, if your body requires something with a little more give to it, tubes are available with most retailers for just a bit more.
Going sledding or tubing is a great family activity sure to keep a smile not just on your kids' faces, but yours, as well. There's even a hard work/reward dynamic to it. Kids will be hustling back up the hill for "just one more time," and you might just forget yourself that you're getting quite a bit of exercise as you work your way back to the top for another boost of adrenaline.
Of course, that's if you're going the old-school route and finding your own hill. If you're willing to pay a little extra, ski resorts like Mt. Snow in West Dover or Magic Mountain in Londonderry offer trails for tubes, as well, which also means lifts to take you back to the top.
Snowshoeing and cross-country skiing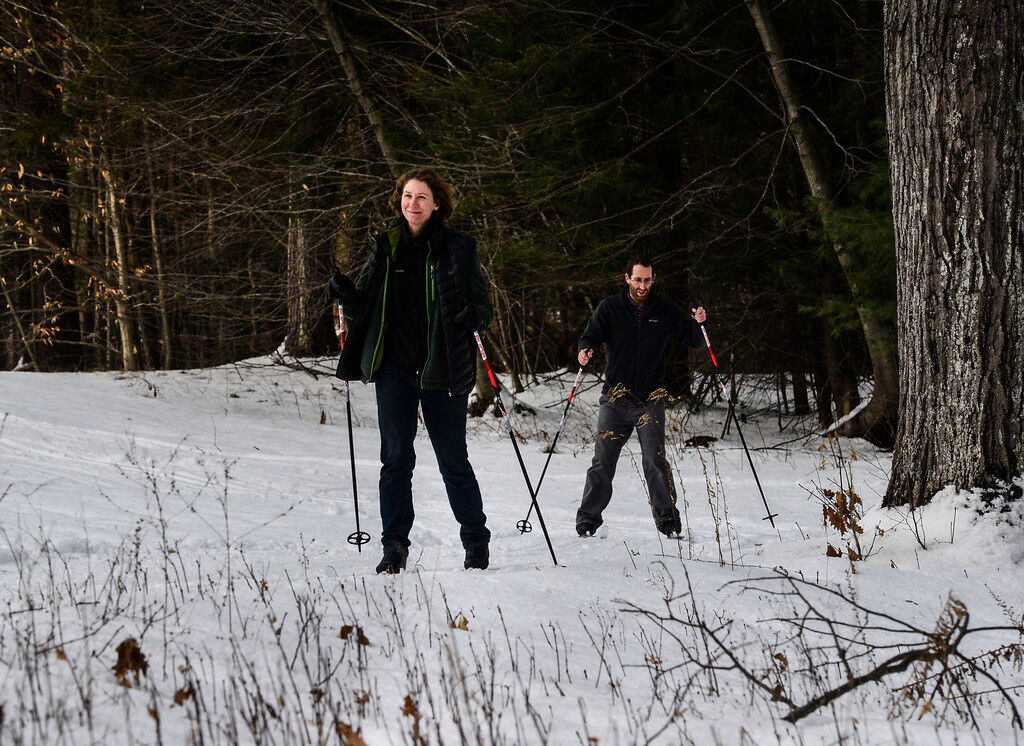 Vermont might be known for being most picturesque in foliage season, but there is no shortage of stunning views to be had from December through March. If you seek a place to quiet your mind and get some rest for your soul, Vermont might be second to none. There's a catch, though, as you'll probably have to find that peace on foot. It's worth the trip to those spots where once your feet stop crunching the snow, you can't hear a single sound.
Snowshoes or cross-country skis make traversing snow a much more enjoyable and efficient experience, but it's still fantastic cardio! Both activities burn about 500 calories per hour for a 180-pound adult, which is nothing to sneeze at.
There are those weird winters where there isn't much snow on the ground at lower elevations. In that case, I'll borrow the premise of Mitch Hedberg's old joke about escalators: "Snowshoeing is now temporarily hiking … sorry for the convenience."
Most of the time, though, snow on the ground isn't going to be an issue. If you aren't sold on buying your own pair, check out resorts like Stratton Mountain, where skis or snowshoes are available for $38 a day ($28 for kids 12 and under), as well as a small fee to use the trails.
However, if you want to blaze your own trail (and be able to walk freely with your dog), there are plenty of spots to explore, free of charge. Among my personal favorites are the hills on the old Southern Vermont College campus.
Pickleball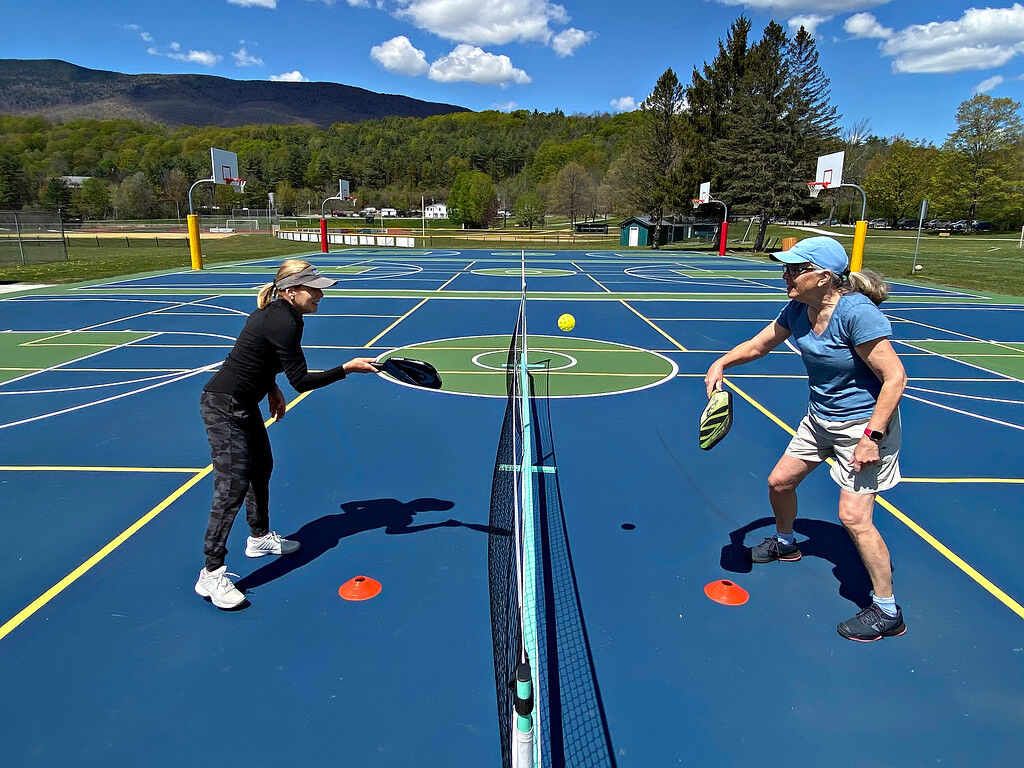 If you haven't heard of pickleball yet, you will. It's the fastest growing sport in the country. If you like tennis, or squash, or badminton — or any of the racket sports — you'll love pickleball. Even the way the relatively new sport was named is fun; Most accounts say "Pickles" was the name of the inventor's family dog that would steal the ball and run off with it.
While there are a few nuances that are easy to pick up after a few games, I liken pickleball to pingpong, but instead of standing behind the table, you're standing on it. Instead of a pingpong ball, you use a whiffle ball. This makes for a fast-paced game and an excellent workout.
While the skillset for both tennis and pickleball is similar, the learning curve is a lot shorter for the latter. Pickleball courts are roughly a quarter of the size of tennis courts, making spaces to play easier to find.
Less ground to cover means less mobility is required, and it generally comes down to a battle of reflexes and accuracy versus speed and power. This makes it a great activity for all ages; seeing players in their 70s and 80s isn't at all uncommon.
As the sport continues to catch on, pickleball courts (and opponents) are only getting easier to find. Multiple locations are listed for Bennington, Brattleboro and Manchester for places to play at places2play.org/state/vermont.
Tory Rich joined the Manchester Journal in September. Though he went to high school in Bennington, 10 years living in the desert has him re-learning how to be a Vermonter the right way. Tory might not have a musical bone in his body, and he doesn't sound nearly as good as he thinks at karaoke, but he loves live music and is in awe of those with musical talent.