Longtime rider soaks in 60 years of ski, snowboard history, A-1 accommodations, grog and grub, plus runs, runs and more runs
By Brooke Geery
Sponsored content contributor
Snowboarding and skiing are known for their speed — and I love to go fast — which is probably why, when I found snowboarding as a teen, I strapped in and never looked back.
But now, as an adult living in 2022, it seems like daily life is often moving too quickly. Things keep coming up, no matter how hard I try to slow down.
So, when I was given the opportunity to take a much-needed midweek vacation to Stratton to write this story, I was quick to accept the assignment and clear my schedule.
Only a few days later though, my fully clean plate had picked up several scraps I just couldn't throw away. With a pass to ride Stratton and a room at the Black Bear Lodge with my name on it, I figured I could cram "adult responsibilities" into the morning and make it to the resort with enough time to enjoy some fun cruising laps before the lifts closed.
I checked all the boxes a little after 1 p.m., slammed an extra cup of coffee and careened down Route 100 from my home base an hour north.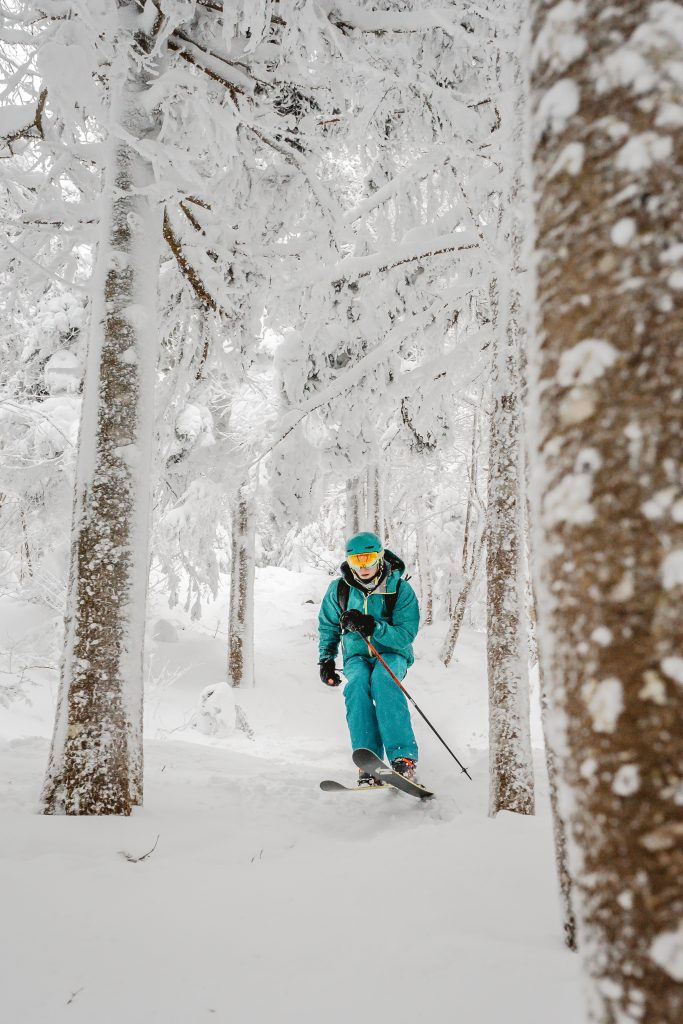 Unwinding at the mountain resort
I was amped to ride but really needed to relax. The snow gods knew it, and as I made the turn onto the Stratton access road, gentle snowflakes started to waft through the air. I could instantly feel myself start to chill.
It's a common theme on my visits to Stratton, of which there have been many. The resort itself is celebrating its 60th anniversary this season. As a Vermont-bred rider myself, I've been visiting for over 25 of those years. From family trips as a miniature skier, to my teenage years making the trek for the U.S. Open Snowboarding Championships, Stratton's claim as the birthplace of snowboarding holds special meaning to me.
It was the first place I saw a professional snowboarder in real life, and also a place where I pursued my own snowboard career, competing in big air events and staying up late to catch big-name music acts performing in the Village. Even last season, mid-pandemic, Stratton's dedication to snowboarding shone through as it hosted a streamlined version of the Vermont Open, which brought together the community in a safe, creative way for some fast turns under the gondola.
Mountain Time
While skiing and riding are at the heart of a mountain escape, Stratton offers activities like snow tubing, moonlight snowshoe tours, ice skating, fireside yoga, music … It's more than just a ski area, it's a winter wonderland complete with a full-service Village, where life proceeds on an easier-paced Green Mountain Time (far better than typical Eastern, Central and Pacific Standard peers).
Embracing the Stratton spirit, I breathed the fresh crisp air deeply and put on my gear in the parking lot. On the mountain, the crowd was small and super friendly. The lift ops staffer smiled as I explained I was trying to squeeze in as many runs as possible before they closed.
"You got it, buddy," they cheered each time I rounded the maze into Snowbowl Express.
New Stratton app keeps track of your stats
Using Stratton's new app, which I downloaded in the parking lot and logged into on my first gondola ride, I was able to see how I did. With a 2:30 p.m. arrival, I managed to clock five lift rides, rode 6,208 vertical feet and hit 20 trails. Satisfied with my stats, it was time to hit the bar, and the app let me know which ones were open on this less-frantic-by-the-minute Tuesday.
I opted for the Green Door Pub — another place full of snowboard history — just a short stroll away from the main base area. I enjoyed a $3 Narragansett tall-boy and watched with glee as the bartender brought out free (yes, FREE) wings. Great decor and fun locals aside, this is the best reason to visit the basement bar — they serve complimentary crispy wings.
Around 6:30 p.m., I finished my drink, wiped the remaining buffalo sauce from my face, and decided it was time to take off my snowboard boots. The snow was still falling for the walk through the Village, and the twinkle of Christmas lights and smell of pine harkened visions of "It's a Wonderful Life." I slowed my pace to enjoy it, and eyed the variety of shops I was much too tired to visit.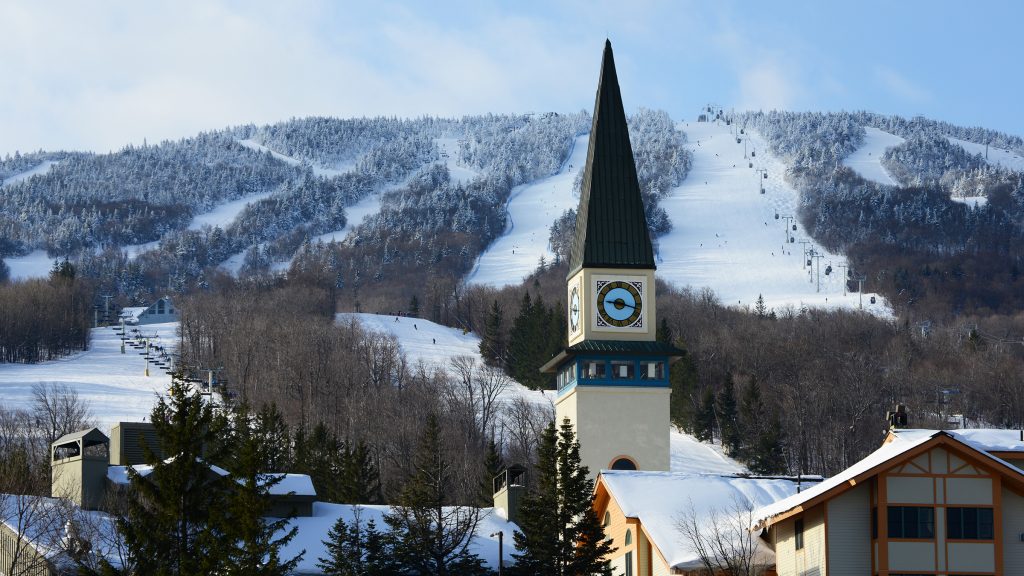 Built-in nightlife
Across the street, my hotel room beckoned. I figured I'd grab a shower, and then head back to the Village for a proper meal at Mulligan's. But, after I changed, I realized the spa was closer, and the bar and restaurant at Black Bear Lodge would save me a free shuttle ride back.
I saddled up to the cozy bar, where I was treated to a hearty meal, a great selection of tap beers and free entertainment from the bartender. He regaled me with his own tales of snowboard history, explaining to another bar patron how Stratton was the first resort to allow the fledgling sport, and he knew a guy who ALMOST partnered up with Jake Burton Carpenter to make it happen.
I sipped my draught beer and smiled; it was great to be with my people.
Wakey, wakey, eggs and bakey
In the morning, I woke up well-rested and made my way to the free (YES!) breakfast bar. My plans for the day were already weighing on me, but noshing on eggs, sausage and fresh coffee helped get me ready.
I was all packed and prepared to depart, but when I rolled my suitcase out to my car, I found it covered in a layer of light powder. I looked around at the fresh snow and quickly made an unplanned decision to spend the morning riding Stratton once again.
If the previous day had taught me anything, there's always time to take a few runs.
Brooke Geery is a freelance journalist and photographer who resides in the East Hills of Rutland Town. She spent 20 years living in Portland, Ore., where she ran the online snowboard media empire Yobeat.com in addition to doing digital strategy for brands as Nike, before returning back East to hunt mushrooms, skateboard Vermont's hidden concrete gems and write about local food, art and culture.