Summer Music Festivals in and around the Berkshires and Southern Vermont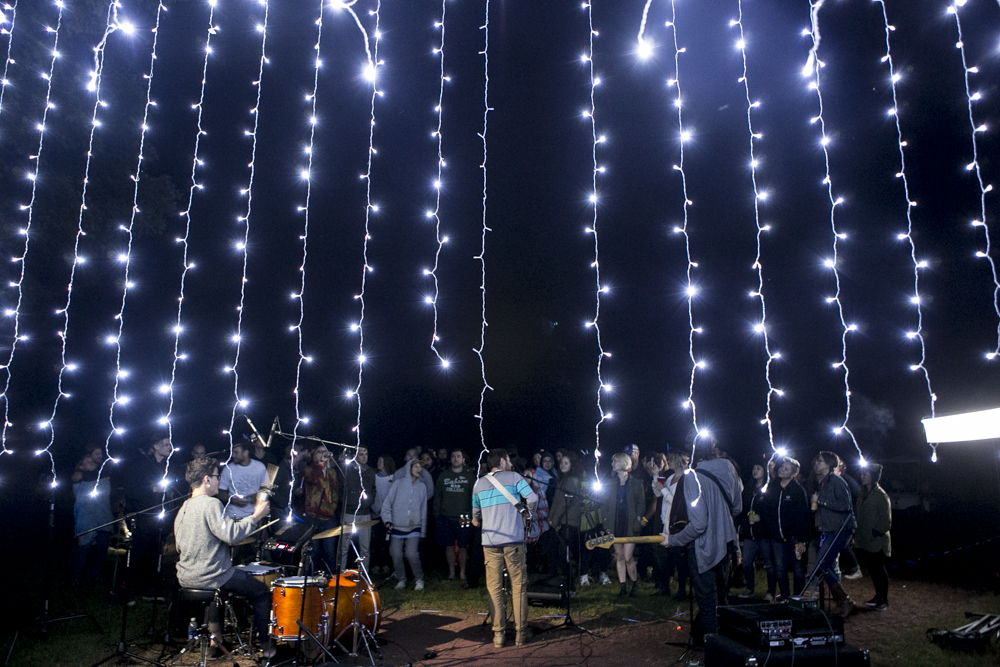 Welcome Campers
Camp Lenox, Otis, Mass.
welcomecampers.com
May 25-27
General admission: $400 to $500 plus ticket service fee. Private bunk and bus tickets (round trip from/to Brooklyn, N.Y.) available. Admission tickets include lodging, all meals and drinks, activities and music.
Who: Wet, Torres, Liza Anne, Ashe, Henry Jamison, Aisha Badru, Half Waif, Savoir Adore, Daisy the Great, Plastic Picnic.

Disc Jam Music Festival
Stephentown, N.Y.
June 6-9
discjammusicfestival.com
Tickets: General admission, $200; VIP, $450-$500; RV pass, $250; RV pass and electric hookup, $300.
Who: Lotus with Barber & Friends, The Floozies, John Kadlecik & the West Philly Fadeaway, and many more.

Taste of Country Music Festival
Hunter Mountain, N.Y.
June 7-9
tasteofcountryfestival.com
Tickets: one-day, $109; three-day, $195, three-day and camp access, $245; Outlaw VIP packages: $530 – $1,600
Who: Keith Urban, Rascal Flatts, Brooks & Dunn, Little Big Town, Brett Young, LANCO and more.

Mountain Jam
Bethel Woods Center for the Arts, Bethel, N.Y.
mountainjam.com
June 13-16
Tickets: four-day general admission, $179-$199; four-day VIP, $599-$649; VIP Box, $650; four-day Super VIP, $999-$1199
Who: Willie Nelson and Family; Phil Lesh and Friends; Gov't Mule, The Avett Brothers, The Revivalists, Joe Russo's Almost Dead, Dispatch, Alison Krauss and more.

Wanderlust
Village Lodge Road, Stratton, Vt.
wanderlust.com/festivals/stratton
June 20-23
Tickets: three-day tickets, $376.08; Friday tickets, $146.08; Saturday ticket, $156.08; Sunday ticket, $101.08. Premium tickets from $2,160.
Who: Yoga and music festival, featuring India Arie, Ziggy Alberts, MC Yogi, Abbie Galvin and more.

Solid Sound Festival
Massachusetts Museum of Contemporary Art
North Adams, Mass.
June 28-30
solidsoundfestival.com
Tickets: Weekend pass, $189; Kids pass, ages 6 to 10, $55; Friday pass, $74; Saturday pass, $129; Sunday pass, $74. Ticket price includes access to Mass MoCA's galleries. Price does not include service fee.
Who: Wilco, Courtney Barnett, Tortoise, The Feelies, Cate Le Bon, John Hodgman's Comedy Cabaret, Autumn Defense, Cup, Quindar, Story Pirates, DJ Funkhouser and many more.

Basin Bluegrass Festival
Brandon, Vt.
basinbluegrassfestival.com
July 11-14
Tickets: Weekend tickets purchased by June 25, $55 at the gate, $65. Friday and Saturday tickets, $25; Sunday tickets, $15; evening tickets $15.
Who: Redwood Hill, Danny Paisley & Southern Grass, Cedar Ridge, Dave Nichols & Spare Change, Seth Sawyer Band and more.

Green River Festival
Greenfield Community College, Greenfield, Mass.
greenriverfestival.com
July 12-14
Tickets: Weekend pass, $139.99 plus fees; weekend pass with camping, $179.99 with fees; Friday day pass, $44.99, with fees; Saturday pass, $69.99 with fees; Sunday pass, $64.99 with fees.
Who: First Aid Kit, Parsonsfield, The Wood Brothers, Tyler Childers, Angelique Kidjo: Remain in Light, The Devil Makes Three, The Record Company, Rhiannon Giddens, The Suffers and more.

Grey Fox Bluegrass Festival
Walsh Farm, Oak Hill, N.Y.
greyfoxbluegrass.com
July 18-21
Tickets: Festival with camping, $225; Thursday without camping, $75; Friday without camping, $75; Saturday without camping, $75. Children younger than 12 are free with ticketed adult. Vehicle pass is $35.
Who: Dry Branch Fire Squad, Billy Strings, Del McCoury Band, Leftover Salmon, Tommy Emmanuel CGP and many more.

Danby Olde Country and Bluegrass Festival
Powers' Fields, 245 Tifft Road, Danby, Vt.
danbyoldecountrybluegrassfestival.wordpress.com
July 25-27
Tickets: Weekend passes, $55 in advance, $65 at the gate. Thursday, $20; Friday, $30; Saturday, $30; evening tickets, $15. Kids younger than 15 are free.
Who: Josh Grigsby and County Line, Monroe Crossing, Beartracks, The Atkinson Family, Nick Anderson and Shady Creek and more.

Falcon Ridge Folk Festival
Dodds Farm, 44 County Road 7D, Hillsdale, N.Y.
falconridgefolk.com
Aug. 2-4
Tickets: Early Bird tickets, three-day with camping, $160; three-day without camping, $115, if purchased by May 15. Advance tickets on sale May 16 to July 10, three-day with camping, $175; three-day without camping, $130. Prices increase after July 11. Children ages 13-18, $65-$95. Single-day passes, Thursday, $20; Friday, $50; Saturday, $60; Sunday, $45. Children younger than 12 are free.
Who: Over 40 acts on four stages, TBA.

Green Mountain Bluegrass and Roots Festival Hunter Park, Manchester, Vt.
greenmountainbluegrass.com
Aug. 15-18
Tickets: Presale four-day pass, $135, $145 at the gate. $40 camping pass. day tickets: Thursday, $25, $30 at the gate; Friday, $50, $55 at the gate; Saturday, $50, $55 at the gate; Sunday, $30, $35 at the gate. Kids younger than 15 are free.
Who: Sam Bush, Mandolin Orange, Darrell Scott, Town Mountain, Donna the Buffalo, Martha Scanlon and Jon Neufeld, Mipso, Lonesome Ace Stringband, Chatham County Line and more.

Bethel Woods' Season of Song & Celebration: Woodstock 50th Anniversary
Bethel Woods Center for the Arts, Bethel N.Y.
bethelwoodscenter.org/the-museum/woodstock50anniversary
Aug. 15-18
Tickets: Aug. 15: Free; prices vary for the remaining days. Please check the website.
Who: Aug. 15: Screening of "Woodstock: The Director's Cut" on the field where Woodstock happened and a concert by Arlo Guthrie. Aug. 16: Ringo Starr and his All-Star Band, Arlo Guthrie, The Edgar Winter Band. Aug. 17: Santana and the Doobie Brothers. Aug. 18: John Fogerty: My 50 Year Trip